---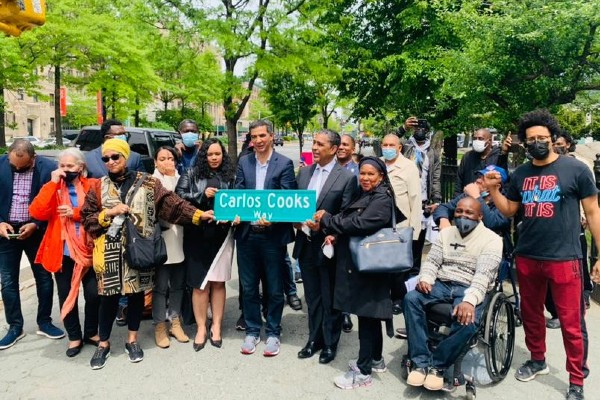 Today, May 7th, 2021, Council Member Ydanis Rodriguez was joined by elected leaders, and community residents to host a co-naming ceremony to honor the life and legacy of Black Nationalist and political figure, Carlos Cooks.
Carlos Cooks was a leader in the fight for Black empowerment and a key figure in the Black Nationalist movements of the 20th Century.
The northeast corner of west 166th Street and Broadway will be co-named Carlos Cooks Way.
Cooks was a key link in the history of Black American Nationalism between Marcus Garvey and Malcolm X, whom he influenced.
He administered the Advance Division of the Universal Negro Improvement Association (UNIA) after Marcus Garvey and founded the African Nationalist Pioneer Movement.
Cooks launched the African Nationalist Pioneer Movement (ANPM) in 1941 with the goal of making it "an educational, inspirational, instructive, constructive and expansive society… composed of people desirous of bringing about a progressive, dignified, cultural, fraternal and racial confraternity among the African peoples of the world."
Co-naming Ceremony Honoring The Legacy and Life of Carlos Cooks / Ceremonia De Nombramiento Conjunto En Honor Al Legado Y La Vida De Carlos Cooks /4 https://t.co/79rxfI8QoT

— Ydanis Rodriguez (@ydanis) May 7, 2021
Cooks coined the phrase "Buy Black" many years before it was popularized by others and was who first initiated the concept of "natural hair" as an issue of racial pride through his ANPM's Miss Natural Standard of Beauty Contest.
WP Engine – Get 3 months free on WP Engine's new eCommerce plans with coupon code ecommwpe10
"Carlos Cooks remains an inspiration to the Latino and the Black community. It was an honor to have a street co-naming in the Heights to cement the legacy of Carlos Cooks. We must learn from his accomplishments and continue the fight against racism and for the socio-economic empowerment of people of color in this country," said Council Member Ydanis Rodríguez. "I thank my colleagues in government Congressmember Adriano Espaillat, Assemblymember Carmen De La Rosa, and all of the community leaders and residents for joining us today."
Photo credit: Ydanis Rodríguez.
---