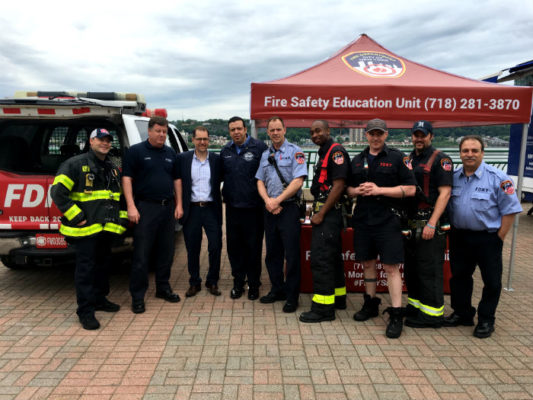 In partnership with dozens of local community organizations, health advocacy groups and city agencies,  City Council Member Mark Levine hosted his office's 4th Annual Community Health Fair this past Saturday in Riverbank State Park. The annual event drew in its largest crowd ever with nearly 800 community members taking part.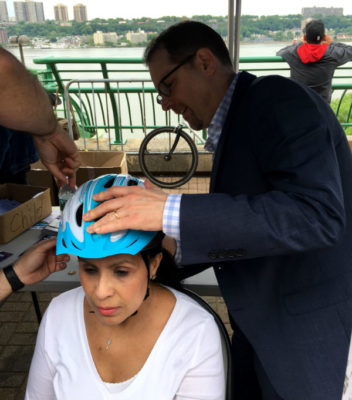 During the event, Council Member Levine gave away over 673 bike helmets for 304 Children and 369 adults with the Department of Transportation to help promote the City's Vision Zero initiative.
Additionally, nearly 100 families received free smoke detectors courtesy of the FDNY, and dozens of free health exams were conducted through partnerships with the New York  Presbyterian Ambulatory Care Network, the American-Italian Cancer Foundation, WellCare and Mount Sinai Hospital.
Performances and demonstrations were also conducted by Urban Yoga, Dances for a Variable Population and local cultural organization Mano Mano.
"Every year I look forward to hosting this event for the community," said Council Member Levine. "The importance of making informed choices about your health can't be overstated, and I am so proud that we were able to reach out to so many organizations and members of the community to give away free fitted bike helmets, access to free health exams, and to expose them to the dozens of health advocacy organizations who are rooted right here in our community."
Related Articles
---
VIDEO
---
"Dr. Harry Delany is a renowned Harlem born and raised surgeon, the son of the great jurist and civil rights leader, Hubert Delany...." This monthly post is made in partnership with Harlem Cultural Archives.