---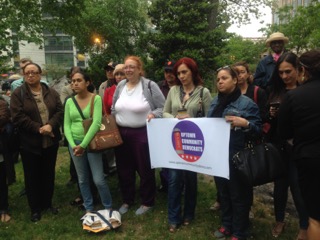 On Monday Wednesday, May 18th, 2015 from 6:30 pm to 7:30 pm the Uptown Community Democrats had its official launch at Mitchell Square Park, at the intersection of Saint Nicholas, Broadway and 167th street.
"We are proud to officially launch our club. We are opening a new space for all community members to participate and have a real opportunity to be heard. Our club will serve all members of the community regardless of their background", said Johanna Garcia one of the two Co-Presidents.
UCD has nine committees ranging from housing, immigration, education and youth, health, human rights, environment, economic development, public safety and infrastructure.
"As other officers of Uptown Community Democrats have said, this new democratic club is about educating members about the various roles and responsibilities of the various Democratic Party positions, holding forums for the education of democrats in Northern Manhattan and making sure that our new club, Uptown Community Democrats hold firm to its founding principals of honesty, integrity and transparency', said Robert Jackson. 
Uptown Community Democrats or UCD, is a new political club serving State Assembly districts 72 part A and B and 71 part A. At the launch, UCD unveiled its logo and website.
"Tonight, together we open a new channel to voice the concerns of the people throughout uptown Manhattan. If you look around, you will see the diversity that Johanna was talking about. We value diversity and we will protect it. At UCD, we believe in upholding our traditional democratic values of integrity, transparency, equality and accountability", said Manuel Casanova.
Uptown Community Democrats welcomes all new members and will continue looking to add more voices to our club.
Uptown Community Democrats, Mitchell Square Park at intersection of Saint Nicholas and Broadway, 167th street, New York, www.uptowncommunitydems.com
Manuel Casanova, 646-244-8630, ManuelCasanova@me.com
---