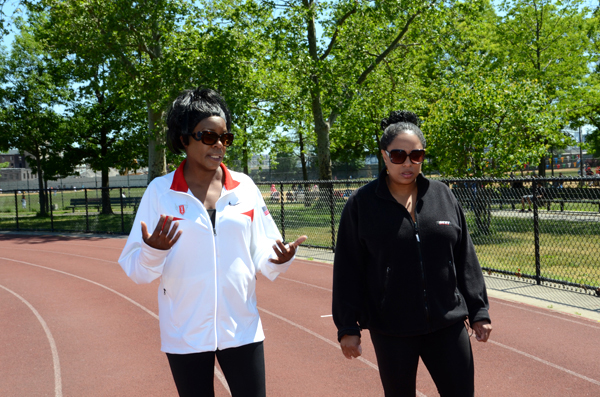 Olympian Diane Dixon still wears Team USA red, white and blue and holds an American Track and Field World record.  I would love to say I caught up with Diane, but I wouldn't dare try.
She did take time out of her training session to bring me up to speed on what it was like then and where she is now.  I first met Diane at the Jump Throw USA track event at the Millrose Games in Harlem.
Diane is the first American woman to win a World Indoor Championship in the 400 Meters and broke the American Record that stood for 20 years in 1991.  She competed in the 1988 Summer Olympics held in Seoul, South Korea in the 4 X 400 meters where she won the Silver medal with her team mates Florence Griffith Joyner, Denean Howard, and Valerie Brisco-Hooks.  It's 27 years later and these ladies still hold the American record.
Currently, the President of the Tri-State Olympians/Paralympians Chapter at United States Olympic Committee, I did have the opportunity to talk with Diane, in between coaching, right on the track.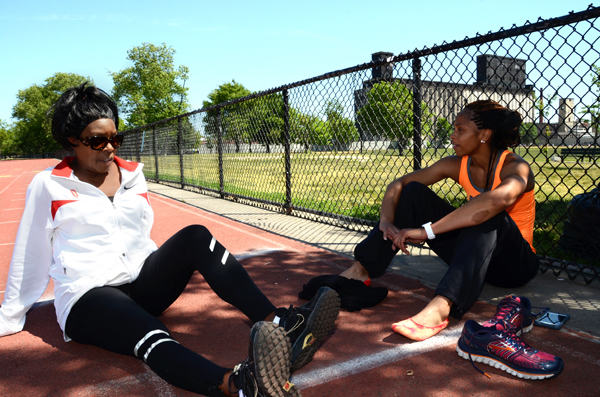 CC Minton: So tell me, how did you get started in Track and Field?
Diane Dixon:  I was 12 years old and I remember watching the Colgate Women's Games in Brooklyn, and saw Meredith Rainey.  I wanted to run track to keep myself busy and stay out of trouble.  My mom said, "running is for horses" so she said no.  My late Aunt Liz took me down to the games and tried signing me up for a team.  I asked who was the best coach and was told Fred Thompson.
CC Minton: So how did you go about joining the team?
Diane Dixon:  I was always a leader so I approached Coach Thompson and introduced myself and said, "I want to be on your team."  He said he already had 200 kids on the team and I said, "well you don't have me".
CC Minton:  So what was it like on the team?
Diane Dixon: I wasn't allowed to join the team.  My mother said it was ok for me to start competing in meets on my own. After my third meet, they put me in the seeded heat but at the time I didn't know what that was.  One of the officials came over to me and asked if I was Diane Dixon and said I was really good.  You made it into one of the fastest heats.  "All I want you to do is stay in your lane, cut the corner and just win". she said.  I won the finals and then made it to Madison Square Gardens.
CC Minton: Did you always know you wanted to an Olympian?
---
---
Diane Dixon: No, no, no . . . . I didn't even know what the Olympics were.  I just wanted to run, keep busy, win trophies and medals and be on tv.  I finally joined the Atoms Track Club and participated in different track events.  Once people see you and your times, it's no secret.  I was one of the fastest 14 year old in the country.  If you're good in high school, you'll be good in college.  I was offered over 200 scholarships and chose The Ohio State University.  My coach told me that I could make the Olympic team.
CC Minton: So, what are you up to now?
Diane Dixon: I am a consultant, coach, motivational speaker and President of the Tri-State Olympians/Paralympians Chapter at United States Olympic Committee.  I've been retired and self-employed for a number of years.  As a coach, I'd love to work with a division one college but NYC is really a tight market and people don't realize that I'm still in Brooklyn.  I like getting people out of their comfort zone and encouraging them to stay in shape.
CC Minton: What do you do to stay healthy?
Diane Dixon:  My son and I start the day out with a healthy kick.  We take a run down to the courts first thing in the morning.  We stay away from sweets, sugars and we drink lots of water to stay hydrated.  After he shoots about 200 hoops we head back home. As for me, I maintain.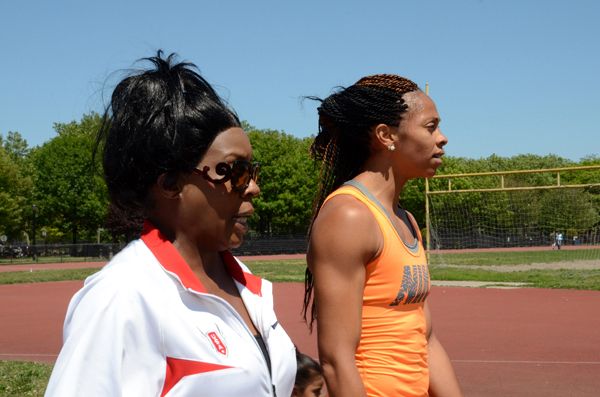 Diane looks forward to offering clinics and coaching sessions to adults and children.
For more – www.dianedixonplus.com
This article was originally published on August 2, 2015.
Photo credits:  Albert Trotman, Trotfilms.
No related posts found...
VIDEO
---
Harlem Cultural Archives is a donor and foundation-supported Historical Society, Its mission is to create, maintain and grow a remotely accessible, online, interactive repository of audio-visual materials documenting Harlem's remarkable and varied multicultural legacies, including its storied past as well as its continuing contributions to the City and State of New York, the nation, and the world.
Support Harlem Cultural Archives
and
click here to get more Harlem History
, Thank you.