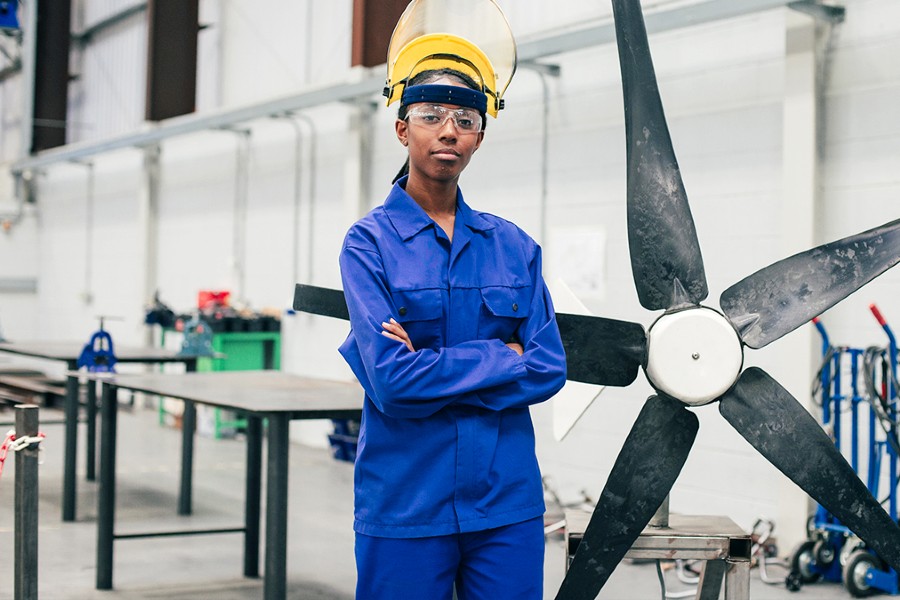 What Is The Offshore Wind Ecostsyem Fund?
Equinor and the New York City Economic Development Corporation (NYCEDC) have established the Equinor Offshore Wind Ecosystem Fund (the "Fund").
The Fund is a $5 million clean energy community fund to support sustainable growth, empowerment of underserved areas, and climate justice in the offshore wind ecosystem in New York City.  
Timeline
About the Offshore Wind Ecosystem Fund
The Fund is designed to provide historically marginalized and environmental justice areas and populations in New York City with opportunities to benefit from the emerging offshore wind industry. Throughout the development of this Solicitation, Equinor has worked closely with members of the New York City Economic Development Corporation (NYCEDC) and the Sunset Park Task Force to determine priority areas that will maximize the impact of the Fund by identifying and supporting stakeholders and geographies with critical needs. This includes supporting applications that make the offshore wind industry more accessible by furthering workforce development initiatives, creating obtainable career pathways, and/or elevating local businesses' and individuals' participation in the industry.
Application Overview
Eligibility
Applicant(s) must be based in, and conduct programs and operations in, New York City.
Applicant(s) must be registered to conduct business in the State of New York.
All Applicant(s) must undergo Equinor's internal compliance review process, known as Integrity Due Diligence (IDD).

The purpose of the IDD process is to ensure that Equinor manages risk by adequately understanding potential Fund Applicant(s) and future business relationships with them.
The goal of the IDD is to ensure that Applicant(s) do not engage in any of the following practices: illegal or unethical practices including direct or indirect involvement in corruption, human rights violations, labor rights violations, money-laundering, competition/antitrust law violations, environmental crime, or breach of international trade restrictions.

Applicant(s) can be a single organization, a collaborative venture between more than one organization, or a consortium of multiple organizations. In the case that the Applicant(s) is a collaborative venture or consortium, all parties will undergo the IDD process.
Both non-profit and for-profit entities as well as academic institutions are eligible to apply.
Eligibility relating to Applicant(s) organization's size and/or longevity may vary and will be decided on a case-by-case basis.

Awardee(s) that do not meet the minimum size/longevity criteria defined by the IDD process may be required to provide proof of additional sources of funding and/or proof of ability to secure additional funding.

Cost Sharing: If the award will not cover the entirety of the proposed program's budget, Applicant(s) must provide proof of matching funds and/or ability to secure additional funds to cover the remainder of the proposed overall budget.
Applicant(s) must provide a Conflict-of-Interest document, which states that none of its directors, officers, members, or employees has any interest, nor shall they acquire any interest, directly or indirectly, which would conflict in any manner or degree with the performance of the Contract. The Awardee(s) must further agree that it shall employ no person having such a conflict of interest in the performance of the Contract.
Collaborating to support small, disadvantaged businesses
The Fund will support successful grant applicants in proposals in workforce development, and those supporting minority-/women-owned, service-disabled veteran-owned, and disadvantaged small businesses in New York
A significant portion of the fund will be allocated to the frontline and environmental justice areas
Collaborations among larger and smaller organizations will be encouraged to maximize the range of applicants' capabilities
Solicitation Priorities
Applications must address at least one, but potentially more than one of the following Fund priorities:
(A) Develop career pathways in the offshore wind ecosystem through job education and training.
(B) Support New Yorkers from historically marginalized communities by prioritizing environmental justice and access to workforce and business opportunities.
(C) Grow the green energy ecosystem in NYC by supporting and fostering innovation by local small, minority-owned, women-owned, service-disabled veteran-owned and disadvantaged business enterprises (S/M/W/SDVOB/DBE).
Fund awards and distribution
•Equinor, NYCEDC and the Sunset Park Task Force collaborated on an RFP structure and process to support an inclusive effort.
•Smaller organizations will be encouraged to partner with larger ones to increase capabilities and capacity
•Awards will range from $100,000 to $900,000 over a three-year period
---
---
•Applicants will complete an online application
•Finalists will be invited to meet with a Selection Committee to discuss their proposals prior to awards
RFP Evaluation Criteria
Evaluation criteria were designed to support the goals of the fund. They include:
(A) Project Benefits and Value – Alignment with one or more the Fund Priorities: 35%
(B) Project Plan, Scope, Risks and Challenges, Measurable Outcomes: 30%
(C) Environmental Justice Areas Plan: 20%
(D) Applicant Experience and Capabilities: 15%
To review the Offshore Wind Ecosystem Fund Solicitation for Funding in its entirety, please click here.
Photo credit: NYCEDC Partnerships.
Related Articles
---