---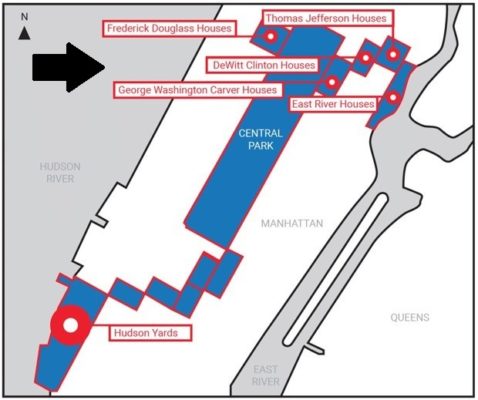 Someone once said, "…everything happens for a reason."
For years the unemployment in Harlem has been above 30% to 45% since we started Harlem World Magazine back in 2003. An article today from City Lab may give us some insight why.
Here's a snippet from the article with the headline Inside EB-5, the Cash-for-Visas Program Luxury Developers Love and the subhead Thanks to President Trump's son-in-law (Jared Kushner), a controversial program that trades visas for real-estate investment is back in the news below:
In order for a development to qualify for that lower, more attractive, $500,000 investment tier, it has to fall in a rural or distressed urban area.Rural is pretty clear. But the urban category has a critical flaw: The law established a "targeted employment area" (TEA) qualification based on unemployment—then left it up to the states to decide what counts as a TEA.

States and developers were able to expand the reach of EB-5 by "gerrymandering." The technique varies from state to state, but essentially, developers or their partners in the EB-5 process (which are known as regional centers) can game the map to qualify a project.

Take, for example, Hudson Yards, probably the most luxurious luxury project under development in the U.S.—or maybe in history. As I explained in January, Hudson Yards in Lower Manhattan is nobody's idea of a distressed urban area. To qualify as one—as a TEA—unemployment in lower Manhattan would need to be much higher than it is. However, if the map is gerrymandered to include poorer Census tracts, then the average unemployment rate over the whole area could be high enough to qualify even Hudson Yards.

That's how unemployment in Harlem helped pay for Hudson Yards: The map (notice that Harlem's worst Public-housing projects are highlighted) used to qualify the $25 billion Hudson Yards development as a TEA winds north through Central Park and picks up half a dozen housing projects.

New York State could theoretically stitch together tracts from Central Park to Syracuse to gerrymander a map to make a Billionaire's Row supertall skyscraper fall in a high-unemployment zone. But the state doesn't need to: Unemployment in Harlem is more than high enough to qualify luxury south of the park.

To be sure, lots of the jobs in service or construction involved with these needle towers may indeed go to residents who live in Harlem or well beyond. But the point of EB-5 was to draw investment to those places that could use it—rural and distressed urban communities. Across the country, that's not what's happening. As the GAO report indicates, more than 90 percent of TEAs are gerrymandered.

There's nothing stopping Chinese investors from investing in authentically rural or distressed urban TEAs. But let's say they have a choice between putting their money behind a luxury tower in New York City with Jared Kushner's name on it (noting, of course, that he has divested from the venture) or a recycling plant in Montana. Which seems like a smarter play right now?
Photo credit: The Census tracts used to qualify Hudson Yards as a TEA for its second round of EB-5 financing in 2016. Public-housing projects along the route helped it achieve the necessary aggregate unemployment figure to quality for a lower investment threshold. (Mark Byrnes/CityLab)
---