---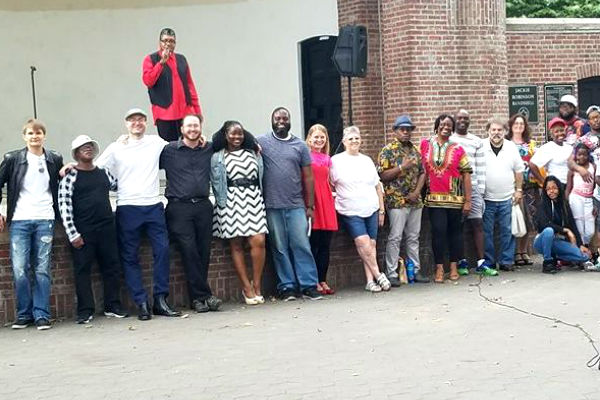 By Marc W. Polite
On Saturday, September 3rd, Underground Books in collaboration with QBR (qbr.com) held the first annual Jackie Robinson Poetry Day at the Jackie Robinson Park in Harlem. The outdoor event, which lasted into early evening, featured some well-known poets, and an open mic segment where anyone who wanted to read a piece or two could take the stage. Harlem residents know that the Jackie Robinson bandshell has been host to some great events.
Held as part of Labor Day weekend festivities, this event gave those with literary aspirations a chance to be inspired. The happenings of the event were hosted by Bob McNeil of QBR, who himself is the author of a book of poetry entitled, "Verses of Realness." Among the poets and writers reciting their work were Raymond Nat Turner of Black Agenda Report; Lee Christine Brownlee, author of "Heartfelt Emotions;" and Eartha Watts-Hicks read a few poetic pieces from her latest work "Graffiti Mural." There was a poetry contest with open submissions that had been accepted via e-mail. The 2016 Jackie Robinson Poetry Day contest winner was Carla Cherry, garnering the title with a piece that paid homage to Harlem's Jazz culture.
Related: Review more content on Marc W. Polite HERE.
Youth in attendance were able to build their own Harlem Renaissance Poetry Chapbooks, using the works of Harlem's literary elite, Langston Hughes, Countee Cullen, and Gwendolyn Bennett.
This event was sponsored, in part, by B & P Seafood Sidewalk Café, located on 146th and 7th Avenue. Underground Books intends to host another Jackie Robinson Poetry Day event in 2017. They specialize in poetry chapbooks and are currently accepting submissions. for more information, visit www.undergroundbooks.org.
Related Articles
---