---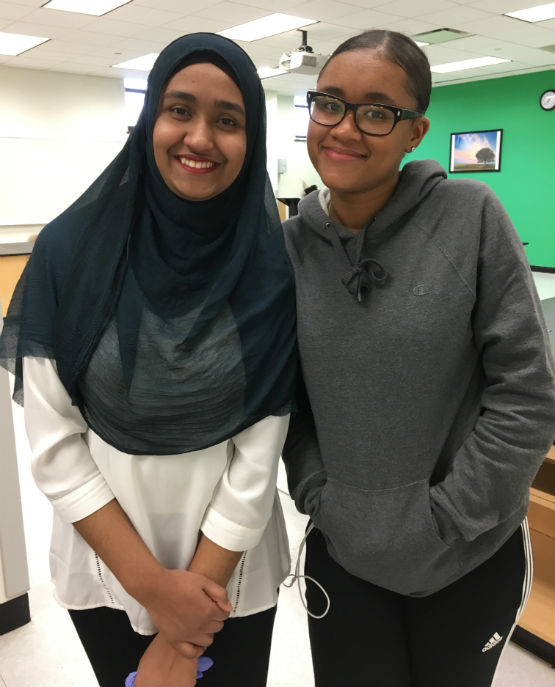 Against the backdrop of sirens blaring from a YouTube video showing emergency vehicles stuck in a New York City traffic jam, about 50 high school students in an after school program at Touro College of Osteopathic Medicine.
Last week learned how to help patients with life-threatening injuries survive a simulated train wreck.
At "Trauma Day" their medical student mentors, adorned with fake blood and lying down impaled with foreign objects to mimic real life injuries – such as lacerations, broken bones, burns, dislocations and fractures — role-played "patients" as they guided their mentees through preliminary evaluations done in emergency medicine to locate and manage injuries and determine who gets care first.
"The purpose was to give the students practice on how to handle, as first responders, any traumatic emergency," explained David Colbourne, M.D., assistant clinical professor at TouroCOM and director of medical simulation, who planned and oversaw the instruction. "Once given the information they then were able to test what they had learned in a hands-on setting. They all performed very well."
The Med-Achieve Scholars Program
The students are part of a highly successful enrichment program called the Med-Achieve Scholars Program, begun in 2012, for underrepresented minority high school students who are interested in careers in medicine or health-related fields. Currently over 50 students are enrolled, mainly from Manhattan Center for Science and Mathematics and A. Philip /Randolph High School in Harlem. Other schools represented are Bard High School Early College in the East Village, Stuyvesant High School in Tribeca and Bronx High School of Science.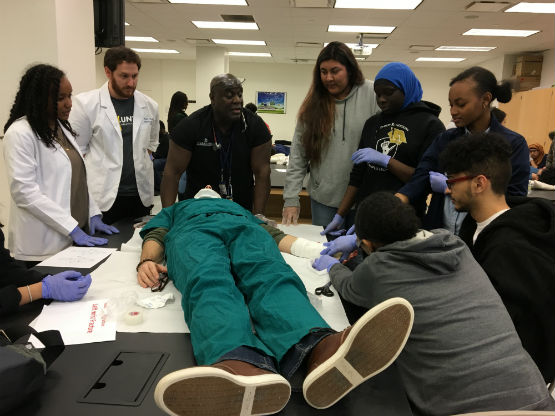 "Giving them the experience of what it is like to handle an emergency is going to help them later on when they go on to become doctors or any other areas in the medical field," Dr. Colbourne said. "A trauma emergency is a key part of any person's training in medicine."
The students learned to stabilize their "patients" and work as teams to keep them alive until help could arrive, and minimize trauma and permanent injuries. They were taught how to check breathing, cervical spines for damage and pulse and circulation.
"It was helpful," said Maryam Unnesa, a senior at the Manhattan Center for Science and Math. "I learned if there is more than one person you can divide the work and not delay treatment. We learned to collaborate to avoid more serious injury." For example, she explained, "One person can hold the arm and another can wrap the bandage to stabilize the shoulder."
Two students said they have experienced burns and learned they had not been treating their injuries properly. Aliara Asse, a senior at A. Philip Randolph, who hopes to become a pediatrician, said she had learned to put toothpaste over burns. "I learned today you're supposed to use water first. It was very informative."
Dr. Colbourne said the students received instruction on how to handle a variety of types of burns. "Most of the time, (they've heard) wives' tales and home remedies that that can actually make the condition worse. If someone has a dry chemical burn you have to brush that away; if it's a burn from scalding water that's a thermal burn – heat directly transferred to you –then you use water. From an iron, stove, then you have heat transferred in – you get it out with cool water."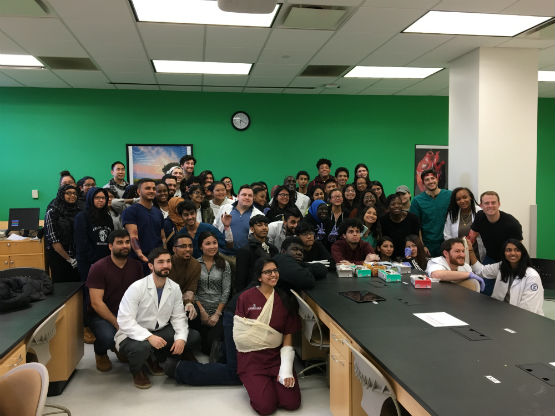 Aly Delarosa, another senior at A. Philip Randolph, who lives in Washington Heights, was also impressed with Trauma Day. "I wouldn't be able to get an opportunity like this at any other program," she said. "It's very hands-on. They let us learn from our mistakes and then they teach us throughout the process."
For further information on Touro College, go to: www.touro.edu
Photo credit: 10 Maryam Unnesa and Aly Delarosa. 2) Dr. Colbourne instructing students. 3) Med-Achieve Group.
Related Articles
---