---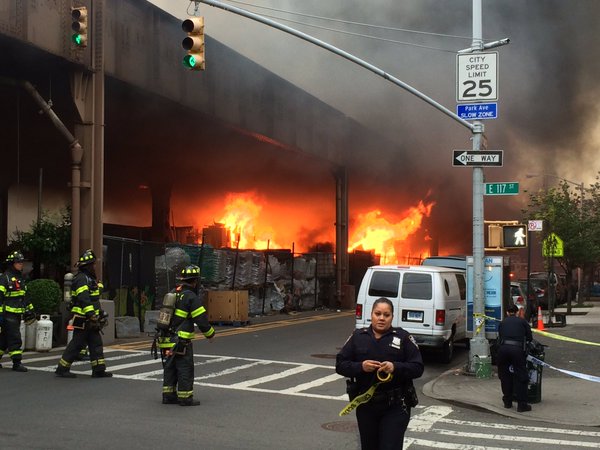 Commuters into and out of New York's famed Grand Central Terminal faced crippling delays Wednesday, a day after a raging fire broke out beneath elevated train tracks in the city, officials said.
The blaze Tuesday night at a garden center underneath Metro-North tracks, north of the station in Manhattan's East Harlem section, halted train service and left thousands of commuters stranded on their way home.
Metro-North said two of the four tracks in the area of the fire were operational for Wednesday's morning rush. Trains were slowed from their normal 60 mph to 30 mph as repairs continue.
The fire caused damage to a center column beneath the elevated tracks.
"You can see the damaged column in the center. We have to take the load off that structure … and transfer it to other places so that the center beam can be supported so the two inside tracks can go back into service," MTA Chairman and CEO Thomas Prendergast told WNYW's "Good Day New York" on Wednesday morning.
Commuters were warned to expect long delays and crowded conditions, and officials encouraged customers to work from home or find alternate travel plans.
The commuter line is running on a Saturday schedule and is at 60 percent capacity, MTA spokeswoman Meredith Daniels said. Officials said between 140,000 and 150,000 riders were affected by the delays.
Most seemed to take the inconvenience in stride.
"I had to stand the whole time. I was only delayed like 30 minutes," said Mike Joshi, who got on at Southport, Connecticut, headed to New York for his teaching job in Brooklyn.
A train that left White Plains at 6:30 a.m. was so crowded that by the time it traveled seven stops, to Mount Vernon, no one could get on. The conductor announced that another train behind would make all local stops. The passengers included many teens on their way to school.
Before reopening the tracks for Wednesday's commute, the MTA said in a statement that crews "inspected all elements, including the supports, track, power and signal, and ran test trains to ensure safety."
More than 150 firefighters responded to Tuesday's blaze, which officials said also involved construction debris and several trailers and vehicles and may have blown off bolts from the tracks.
Gov. Andrew Cuomo visited the scene and detailed the damage, WCBS-TV reported.
"The fire was so hot that they could hear the rivets, the bolts popping," Cuomo said.
One firefighter suffered a minor injury when he slipped, but no civilians were hurt.
Via Crains NY
Related Articles
---