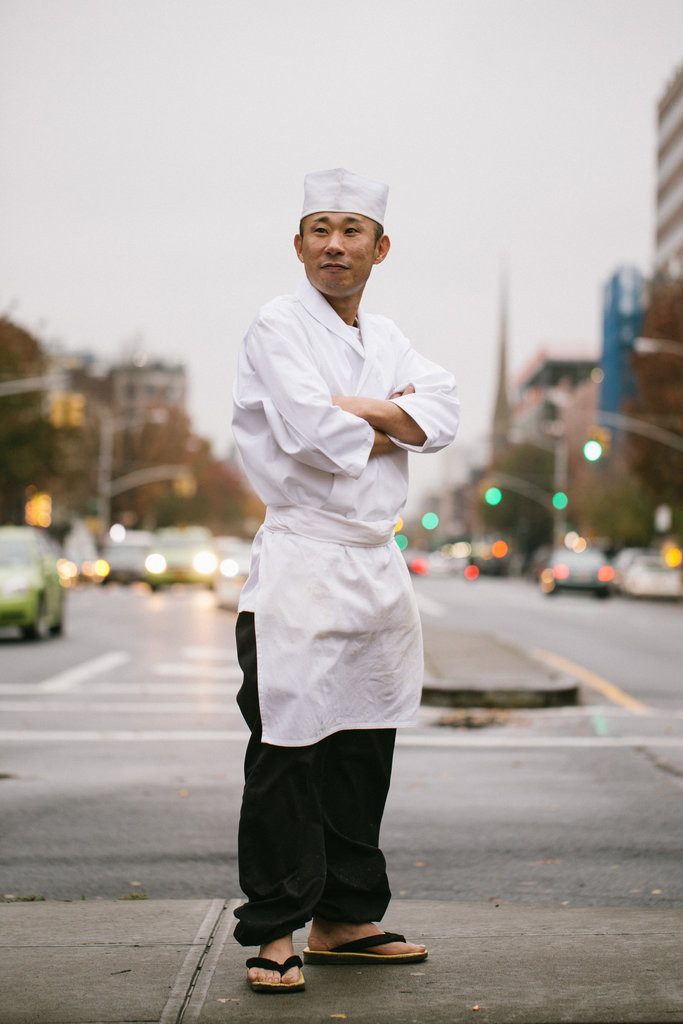 NY Times reports that before Chef Sinichi Inoue starts cutting the fish that is flown in to his Harlem restaurant from Japan, he performs a personal ritual: He blesses it, expressing thanks and honoring what he will later serve to his customers. He has done this twice a week since July, when Sushi Inoue opened.
Formerly the head chef of the Michelin star-rated Sushi Azabu in TriBeCa, Inoue brought traditional Japanese cuisine — marked by strict yet humble preparation — far uptown. There are no spicy tuna or California rolls. He hand-grates the wasabi on the spot. He makes his own blends of soy sauce — a darker and richer one for fatty fish and a lighter and less viscous one for leaner kinds.
And Inoue says his is the only sushi restaurant that he knows of in New York or Japan that makes two different types of rice: one for more delicate fish, one for more flavorful kinds. His omakase, or multicourse tasting menu, is hard-core Japanese, with fish liver and snow crab egg custard and uni (sea urchin), which he sources from all over the world.
When breaking down the fish, Inoue works like a methodical surgeon, wielding $2,000 knives (from the chef-acclaimed Tsubaya cutlery shop in Tokyo) with precision. No part of the fish goes to waste — the head is boiled and used to make the miso soup broth.
Inoue's own bar is set so high that he has yet to hire a sous chef — which results in customers, including some of the city's biggest-name sushi masters (from Jewel Bako, Nobu and Ushiwakamaru), waiting sometimes uncomfortably for their food. But not too uncomfortably; Inoue says he exercises omotenashi, the Japanese practice of anticipating the needs of one's guest. "As soon as a customer walks in, I see if the person looks tired and try to adjust the meal accordingly," he says. "I try to be keen to their entire being."
Related Articles