---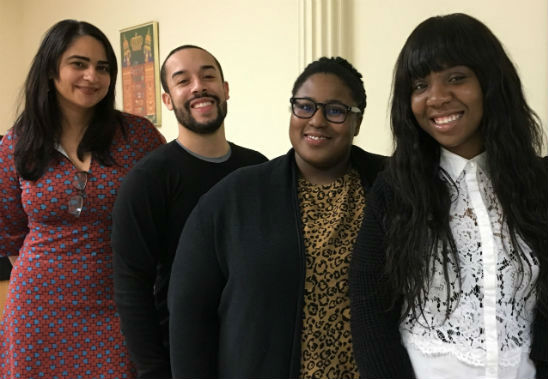 Before sunrise next Wednesday, students from Touro College Graduate School of Social Work (GSSW) will board a bus to Albany for the 2018 Social Work Student LEAD (Legislative Education Advocacy Day).
The event where New York social work groups join their counterparts in states around the country in visiting their state capitals.
LEAD Day is an annual journey Touro students await eagerly every year, and this trip they will be joined on their bus by students and faculty from the NYU Silver School of Social Work.
"I love it," said Veronique Green, who is embarking on her third tour. "We are a team fighting for justice for ourselves and for others, being loud and proud." An activist in the Bronx who is eyeing a seat on her local community board, Green hopes eventually to combine policy work with launching a community center to provide resources to people in need. "I'm excited about making my voice heard when it comes to loan forgiveness, licensure if we need it…anything we need to become employable citizens."
Like others in her class, Green will be graduating with nearly $90,000 debt. "That's been the biggest challenge. Being able to be financially independent. That's why we're going to fight for loan forgiveness," said Green, whose family hails from Jamaica.
March is Social Work Month
LEAD Day is taking place during Social Work Month, when the nation's 650,000 social workers celebrate their profession and call upon elected officials around the nation to make changes for the profession and their clients. In New York, it is hosted by the New York State Chapter of the National Association of Social Workers (NASW-NYS), the New York State Social Work Education Association, and the New York State Association of the Deans of Schools of Social Work.
Students meet with district representatives or canvass the floors. They promote the value of social work by sharing what they do in their fieldwork to help their clients and communities, and educate legislators about the policy agenda of NASW-NYS.
For Christian Rodriguez, a first generation New Yorker whose family came to the U.S. from the Dominican Republic in the 1980s, social work is all about empathy and compassion. "It's what keeps us connected to people and drives relationships in a more positive direction," he said. "Social work should be incorporated into training of all professions and taught starting in high school. It awakens one's own self-awareness. If we're not connected with ourselves, it's going to be very hard to connect with others."
The Bronx resident has been working with veterans while at Touro, first with the Iraq and Afghanistan Veterans of America for their rapid response referral program, and this year as a social work intern providing psychotherapy under supervision at the Steven A. Cohen Military Family Clinic at NYU Langone. Like Green, he has found his biggest challenge to be financial, though he received a scholarship through Touro from the Health Resources and Services Administration (HRSA) of the U.S. Department of Health and Human Services of about $30,000 towards tuition. Still, he estimates he will graduate with $50,000 in debt because he stopped work to focus on school.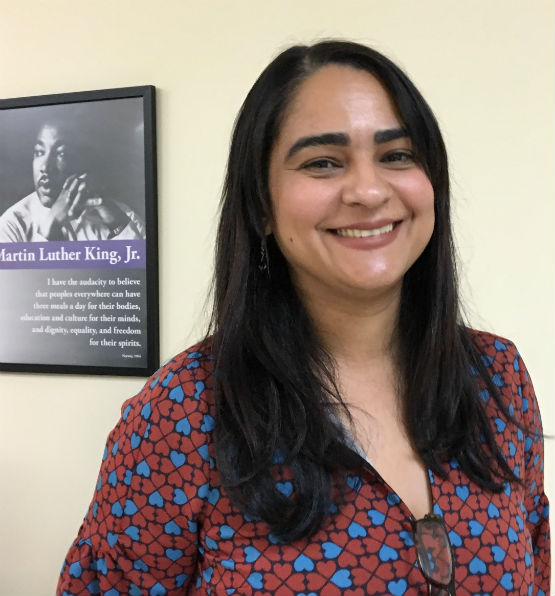 "A lot of students give up, the loans get them crazy, they wonder 'Why borrow all this money when I'm just going to be making $25,000 as a social worker if I can work in a restaurant and make more," said Patricia Sanchez, 43, a native of the Dominican Republic who came to the U.S. as a teenager.
According to the most recent survey by the NASW-NYC, starting salaries for social workers in NYC in the not-for-profit human services sector range from $41,000-$43,000.
For Sanchez, who lives in Harlem but works in Washington Heights, affordability is not an issue because her employer, New York Presbyterian Hospital…
For Sanchez, who lives in Harlem but works in Washington Heights, affordability is not an issue because her employer, New York Presbyterian Hospital, is footing most of the bill while she works full time as a project coordinator. "Without their support I would not be able to go back to school," she said.
In the predominantly Hispanic neighborhood where Sanchez works, she is now centered on finding summer camps for families without financial means. "The resources are becoming diminished. Sometimes we lose kids in the street, we see gangs, cuttings and drugs and kids unattended because mom has to go to work. Kids taking care of other kids. It's a problem," she said.
"Social Work Education Should Be Free"
To Sanchez, social work education should be free: "We're going to be providing services to improve social issues that are becoming bigger and bigger every day – and because we're going to give back to society."
This is the first time Sanchez has been on a LEAD Day and she is looking forward to it. "I want to talk about immigration because I know it's affecting a lot of my patients' families and the community I serve. They don't know what to do. They don't want to come to the hospital. I'm getting scared myself about referring [clients] out," she said, "I want them to support the Dreamers and DACA."
Affordability ranks high as an issue for Brooklyn native Jhavon Kornegay too, as does heavy caseloads. She has been to Albany before, where she has advocated for more licensing and training of social workers, and for last year's successful effort to pass legislation that changed how New York State deals with 16- and 17-year-old defendants, diverting the majority of cases to Family Court. "It was fun to rally with other social work students and interesting to hear stories from individuals who were directly impacted by unjust practices," she said. "I got to learn more about advocating and helped to enact change."
While at Touro Kornegay has helped very young homeless students living in shelters, hotels and other temporary housing with play therapy and art therapy, and getting them other services. This year, she is part of a mobile hospital treatment team that provides services to clients living with serious mental illnesses on an outpatient basis to keep them out of the hospital, run by the Postgraduate Center for Mental Health.
Like Rodriguez, Kornegay has benefitted from an HRSA grant, as well as a smaller Touro Fellowship for Evidence-Based Practice in Mental Health. Still, "It is a hardship, especially when you're not getting paid while in school and you're doing unpaid internships. Social workers should definitely be paid more because many have massive levels of education to improve society and work with vulnerable populations. We need loan forgiveness to offset the salaries for entry-level social workers. When you're not earning as much as you should it's difficult to pay back student loans," she said.
For further information on Touro College, please go to www.touro.edu
Photo credit: 1) Touro College Graduate School students left to right, Patricia Sanchez, Christian Rodriguez, Veronique Green and Jhavon Kornegay. 2) Touro College Graduate School student and Harlem resident Patricia Sanchez.
---