---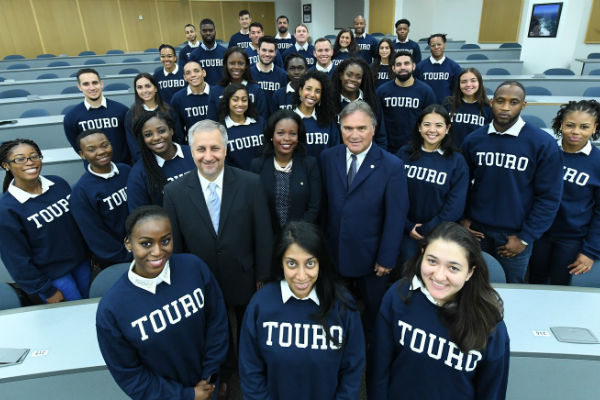 Touro College of Osteopathic Medicine New York (TouroCOM) has received the 2019 Health Professions Higher Education Excellence in Diversity (HEED) Award from INSIGHT Into Diversity magazine, the oldest and largest diversity-focused publication in higher education.
As a recipient of the Health Professions HEED Award — a national honor recognizing U.S. medical, dental, pharmacy, osteopathic, nursing, and allied health schools that demonstrate an outstanding commitment to diversity and inclusion — TouroCOM will be featured in the December 2019 issue of INSIGHT Into Diversity magazine. This is the second year TouroCOM has been named as a Health Professions HEED Award recipient. This recognition is in addition to the 2019 Inspiring Programs in STEM Award to TouroCOM Harlem for the MedAchieve (Mini Medical School) Program for high school youth.
"TouroCOM remains committed to our mission, which is to increase the number of underrepresented minorities in medicine and training physicians to practice in underserved communities," said Kenneth J. Steier, DO, executive dean at TouroCOM and dean, TouroCOM's Middletown campus. "We are very grateful to receive this award in recognition of our efforts to increase diversity and inclusion."
Said David Forstein, DO, dean of TouroCOM Harlem, "The HEED award recognizes the efforts all of us have made towards increasing diversity and diversity awareness. Our passion for diversity is a topic that we must always keep in our hearts and minds. We remain committed to accepting and embracing diversity in all of its forms."
INSIGHT Into Diversity magazine selected TouroCOM for its successful programs in recruitment and retention of underrepresented minorities; the support provided students; and its extensive community outreach, among other successes.
"A number of programs help us achieve our diversity," said Nadege Dady, Ed.D., dean of student affairs at the Harlem campus, citing TouroCOM's master's pipeline program that provides a direct pathway to the DO (Doctor of Osteopathic Medicine) program; need-based scholarships; peer tutoring; and extensive community outreach through free health fairs and other support for youth, women and families. "TouroCOM students are activists and advocates helping to make their communities they serve safer, healthier and happier."
The HEED Award process consists of a comprehensive and rigorous application that includes questions relating to the recruitment and retention of students and employees — and best practices for both — continued leadership support for diversity, and other aspects of campus diversity and inclusion, said Lenore Pearlstein, publisher of INSIGHT Into Diversity magazine. "We take a detailed approach to reviewing each application in deciding who will be named a HEED Award recipient. Our standards are high, and we look for institutions where diversity and inclusion are woven into the work being done every day across their campus."
For more information about the 2019 Health Professions HEED Award, visit www.insightintodiversity.com.
Touro is a system of non-profit institutions of higher and professional education. Touro College was chartered in 1970 primarily to enrich the Jewish heritage, and to serve the larger American and global community. Approximately 19,200 students are currently enrolled in its various schools and divisions. Touro College has 34 campuses and locations in New York, California, Nevada, Berlin, Jerusalem and Moscow. New York Medical College; Touro University California and Touro University Nevada; Touro University Worldwide and its Touro College Los Angeles division; as well as Hebrew Theological College in Skokie, Ill. are separately accredited institutions within the Touro College and University System.
For further information on Touro College, please go to: www.touro.edu/news
INSIGHT Into Diversity magazine is the oldest and largest diversity publication in higher education today and is well-known for its annual Higher Education Excellence in Diversity (HEED) Award, the only award recognizing colleges and universities for outstanding diversity and inclusion efforts across their campuses. In addition to its online job board, INSIGHT Into Diversity presents timely, thought-provoking news and feature stories on matters of diversity and inclusion across higher education and beyond. Articles include interviews with innovators and experts, as well as profiles of best practices and exemplary programs. Readers will also discover career opportunities that connect job seekers with institutions and businesses that embrace a diverse and inclusive workforce.
Current, archived, and digital issues of INSIGHT Into Diversity magazine are available online at www.insightintodiversity.com
---