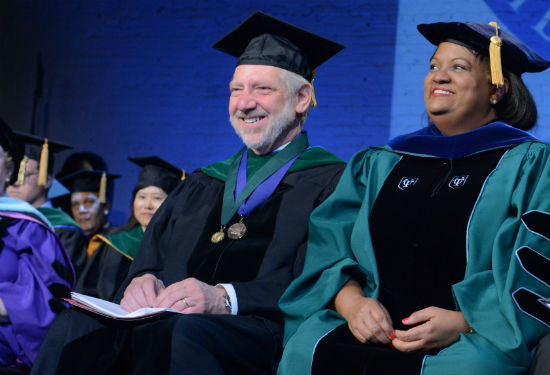 Touro College of Osteopathic Medicine (TouroCOM) conferred diplomas upon 135 candidates for the doctor of osteopathic medicine (DO) degree on June 2 at an eclectic ceremony, filled with awards and accolades, alongside advice for newly-minted doctors embarking upon top-flight residencies throughout the United States.
A majority of the graduates will be helping to fill the nation's gap in primary care.
The setting was the famed Apollo Theater in Harlem, a noted venue for African-American performers since the 1930's, which during the ceremonies occasionally took on the ambiance of an Italian opera house as the audience was intermittently transfixed during interludes with selections from Puccini sung by New York tenor Christopher Macchio.
The ceremonies, opened by Dean of Student Affairs Nadege Dady, Ed.D., began with the commissioning of Joo Lee, an immigrant from Korea and this year's sole military student, by keynote speaker Regina Benjamin, M.D., MBA, and the 18th U.S. Surgeon General (2009-2013). 
TouroCOM's Executive Dean Dr. Robert Goldberg welcomed the graduates and guests, and read a congratulatory letter from Gov. Andrew Cuomo to TouroCOM's CEO and Provost Jay Sexter, Ph.D., who is stepping down after a fifty year career in education. Dr. Sexter helped build and expand Touro's medical schools in California, Nevada, and New York, including most recently its Middletown campus in the Hudson Valley.
Dean Goldberg then congratulated the Class of 2015, "Through your hard work you took a dream and you made it happen. My generation turns to you to take the reins in building the future," Dr. Goldberg said as the audience cheered.
Dr. Benjamin, who today serves as the NOLA.COM/Times Picayune Endowed Chair of Public Health Sciences at Xavier University of Louisiana, shared personal experiences from her work founding a rural health clinic in Bayou La Batre, Ala., a fishing village near her native Mobile, and from her time as "America's Doctor," to stimulate the graduates' thoughts about the privileges and responsibilities that come with practicing medicine.
"As a physician you will be truly blessed. A mother will place her baby in your hands – a stranger – just because you are a physician. But with this gift comes responsibility …leadership," she said.
Dr. Benjamin recalled how she found it tough-going practicing medicine in the community of working poor where she launched her clinic, but she decided to stay involved, and continues to run the clinic to this day. In so doing, she has learned "one person can make a difference," she said. 
She told the graduates, "Your time at Touro has prepared you. You've been doing service projects. You're already important members of your community, and now you're physicians. You have a responsibility not to just be good at what you do, but to do good as well."
The theme of serving the underserved was carried forward in remarks by Ronald Israelski, M.D, director of academic affairs at Orange Regional Medical Center in Middletown, who received the Sheldon Sirota Medal. The award was established in recognition of the accomplishments of Sheldon Sirota, DO, in helping to establish Touro's osteopathic schools and other medical education programs.
Dr. Israelski was the driving force behind the concept for the new TouroCOM Middletown campus. He has led the development of multiple programs in medical education and oversees all of the required clinical rotations for TouroCOM medical students. He also has been involved in relief efforts in Haiti following the 2010 earthquake, founding a not-for-profit that has deployed surgical teams and provided clinical, educational and millions of dollars in infrastructural support to the largest and poorest hospital in Haiti.
---
"This work changed my heart. I urge all of you to put aside a part of your practice at some time and seek to help out those [who] need you the most," Dr. Israelski said. "This diverse medical class represents America at its best. I know you will make TouroCOM and all of us proud by advocating for patients in need and acting to protect those [who] cannot care for themselves.  Yours will be a life of service…the satisfaction you will receive in serving your patients will fill your souls with contentment that money can never buy."
Numerous student awards were handed out. Jocelyn Joseph received the Community Service Award from the Medical Society of the State of New York for her over 440 hours volunteering as an EMT in Wayne, N.J. Joseph said her hours actually totaled way more than 440 – one week during Superstorm Sandy she logged more than 100 hours alone. "I love it," Joseph said of the work, which she has been doing since she was 16.
Before taking their oaths and receiving diplomas, the graduates heard from their class speaker Michael Erickson, who reminded them that their degrees will provide opportunities but how they use them will create their legacies. "We end up realizing it's not about life and death – [but] about quality of life. We have to make the most of what we have because you never know…Make sure the people you love know you love them. Make sure we take care of ourselves. That's what we learned in being osteopathic physicians, [the importance of] quality of life. I hope you all are ready because the doctors will see you now."
For further information on Touro College, please go to:http://www.touro.edu/media/.
Related Articles