---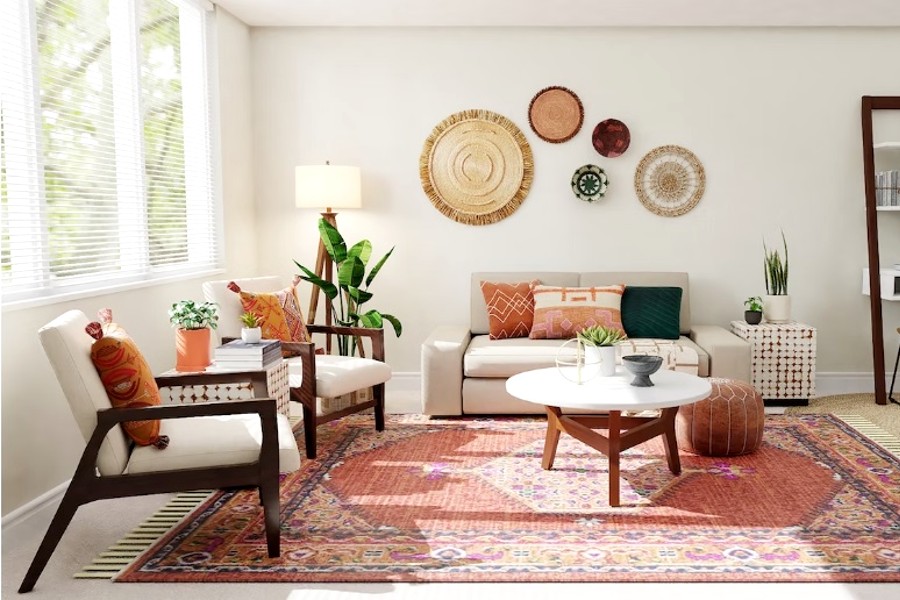 Home decor trends are constantly evolving, and staying up-to-date with the latest styles is essential for those looking to create a modern and fashionable living space.
In this article, we'll explore the top home decor trends for 2023.
From color palettes and materials to furniture and accessories, we'll provide a comprehensive guide to help you transform your home into a stylish haven.
So, whether you're planning a major renovation or just looking to update a few key pieces, read on to discover the latest and greatest trends in home decor for the upcoming year.
Color Trends for 2023
Warm Tones
The color palettes for 2023 are all about creating cozy and inviting spaces. Warm, earthy tones are making a comeback, with shades like terracotta, caramel, and mustard becoming more popular. These colors add a sense of comfort and relaxation to any room, making them perfect for living areas and bedrooms.
Rich and Vibrant Hues
2023 is also the year of bold and vibrant colors. Deep, rich hues like emerald green, navy blue, and royal purple are trending for home decor, adding a sense of drama and sophistication to any space. These colors work well as statement pieces, whether it's a painted accent wall or a colorful piece of furniture.
Atmospheric Colors
In addition to warm tones and vibrant hues, atmospheric colors are also trending for 2023. These are colors that evoke a sense of nature and the outdoors, like deep forest greens, stormy grays, and moody blues. These colors work well in spaces that are meant to be relaxing, like bedrooms and bathrooms, as they create a calming atmosphere.
Pattern Trends for 2023
If you're looking to add some interest to your home decor, consider incorporating patterns in your design. Here are some of the top pattern trends to watch out for in 2023.
Florals
Florals are a classic pattern that never seems to go out of style. However, this year, the trend is leaning more towards smaller-scale floral prints that offer a more delicate touch. For a modern take on the trend, consider pairing small-scale floral patterns with larger, more graphic prints for a bold statement.
Mixing and Matching Patterns
Mixing and matching patterns is another big trend for 2023. The key to making this trend work is to stick with a cohesive color palette and choose patterns that complement each other. Don't be afraid to mix different textures and scales for a layered, dynamic look.
Custom Murals on Walls
Patterns aren't just limited to furniture or fabrics. In 2023, we're seeing a rise in custom murals on walls. Whether it's a hand-painted mural or a digitally printed mural wallpaper, a custom mural can add a unique and personal touch to any room. Consider incorporating a mural with a subtle pattern or design to add interest without overwhelming the space.
Texture and Material Trends for 2023
If you want to add more depth and interest to your home decor, incorporating different textures and materials is a great way to do it.
In 2023, natural and organic materials will be popular choices. Think about incorporating materials like woven rattan, jute, or even reclaimed wood for a more eco-friendly touch.
When it comes to fabrics, rich and textured materials will be the way to go. Consider adding luxurious velvet, cozy boucle, or chunky knits to your decor. These materials add warmth and texture to any space and can instantly make a room feel more inviting.
Another popular trend for 2023 is the use of matte finishes. Matte finishes can be used on furniture, decor, and even walls to create a more modern, sophisticated look. Unlike glossy finishes, which can be reflective and show imperfections, matte finishes are more forgiving and add a subtle elegance to any space.
Room-Specific Trends for 2023
As the year 2023 brings new home decor trends, it's essential to explore room-specific trends that will help you bring freshness and sophistication to your living spaces.
Kitchens: Kitchens are an essential part of any home and should be both functional and stylish. The trends for 2023 include mixing metals, incorporating natural materials like wood and stone, and creating a more personalized space.
Bathrooms: Bathrooms are a place to relax and unwind, and the trends for 2023 reflect this need for relaxation. Some of the top trends include freestanding bathtubs, large walk-in showers with multiple shower heads, incorporating soft and warm light (for example by adding a bathroom mirror with led light), and spa-like features.
Bedrooms: The bedroom is a place of rest and relaxation, and the trends for 2023 reflect this need for comfort. Top trends for bedrooms include creating a more personalized space with unique decor, incorporating earthy and calming colors, and focusing on comfort with soft, luxurious bedding.
Living Rooms: Living rooms are a place for gathering and entertaining guests, and the trends for 2023 reflect this need for comfort and warmth. Top trends for living rooms include incorporating natural materials like wood and stone, creating cozy seating areas with comfortable furniture, and incorporating warm and inviting colors.
Outdoor Spaces: Outdoor living spaces are becoming increasingly popular, and the trends for 2023 reflect this trend. Top trends for outdoor spaces include creating a seamless indoor/outdoor living space by incorporating open spaces or large floor to ceiling double glazed windows, incorporating natural materials like wood and stone, and incorporating comfortable seating areas for entertaining guests.
Final Thoughts
As we've seen, the top home decor trends for 2023 encompass a range of styles and elements that are sure to make any home feel fresh and updated. From warm tones and rich hues to playful patterns and natural materials, there's something for everyone to explore and incorporate into their own personal style.
When it comes to decorating your home, it's important to stay true to your own tastes and preferences while also keeping an eye on the latest trends. With the tips and ideas outlined in this article, you can create a home that reflects your unique personality while also staying on-trend.
Remember, the most important thing is to have fun and make your home a comfortable and inviting space for you and your loved ones to enjoy.
This content is part of the HWM Partnership.
Related Articles
---