---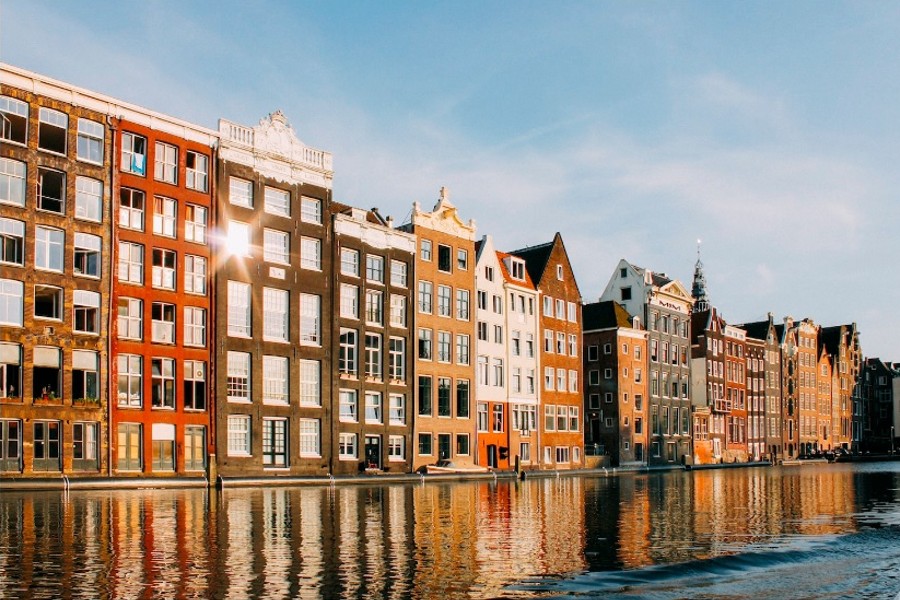 Are you looking for a unique travel destination that offers amazing scenery, friendly people, and plenty of attractions?
Then look no further – the Netherlands is the perfect spot! With its picturesque canals, wonderful winding streets, centuries-old cities and castles to explore it promises to offer something for everyone. We've compiled a list of seven reasons why you should add this amazing country to your travel bucket list now — get ready for some incredible experiences in all four corners of The Netherlands!
Iconic cities – visit Amsterdam for a world-class city experience
The Netherlands boasts iconic cities that make it a top destination worth visiting. And when it comes to world-class city experiences, Amsterdam definitely takes the cake. Known for its stunning architecture, charming canals, and vibrant culture, this bustling city has something for everyone. From exploring the famous Anne Frank House and Van Gogh Museum to indulging in delicious Dutch cuisine and shopping at local markets, Amsterdam has it all. No visit to this city is complete without taking a leisurely Amsterdam boat tour along its beautiful canals – it's the perfect way to see the city from a different perspective and take in all of its beauty. With so much to see and do in Amsterdam, it's no wonder why it's at the top of many travelers' bucket lists.
Unparalleled natural beauty
Beyond the bustling cities, the Netherlands is also home to unparalleled natural beauty. The country is known for its iconic windmills, which are a must-see when visiting. Take a tour of Kinderdijk, a UNESCO World Heritage Site where you can see 19 well-preserved windmills dating back to the 18th century. The vibrant and colorful tulip fields are another sight to behold, especially during springtime. You can also explore the picturesque Dutch countryside by taking a bike ride along the canals and past charming villages. The natural beauty of the Netherlands is truly unmatched and will leave you in awe.
Delicious food
Dutch cuisine is full of unique and tasty treats that are sure to satisfy any traveler's appetite. One must-try item is Stroopwafels, a sweet treat made up of two thin waffles filled with caramel syrup. These can be found at local markets and street stalls throughout the country. Another must-try delicacy is Poffertjes, which are small fluffy pancakes typically served with powdered sugar and butter. These delicious treats can be found at many cafes and restaurants in the Netherlands. With such a diverse food scene, there's no shortage of tasty options to try during your visit.
Rich culture
The Netherlands has a rich and vibrant culture that can be experienced through its various museums, galleries, and music scene. The Rijksmuseum in Amsterdam is a must-visit for any art lover, with its impressive collection of famous Dutch masterpieces such as Rembrandt's "The Night Watch." The Van Gogh Museum also offers a unique insight into the life and works of the famous artist. Music lovers can enjoy the vibrant live music scene in cities like Amsterdam and Rotterdam, with various festivals and concerts held throughout the year. Plus, with its diverse population, the Netherlands offers a melting pot of cultures that can be seen through its food, fashion, and architecture.
A bike-friendly country
The Netherlands is known for being one of the most bike-friendly countries in the world, making it the perfect place to explore on two wheels. With its flat landscape and well-maintained bike paths, renting a bike is not only a popular mode of transportation but also an enjoyable activity. You can rent bikes at various locations throughout the country and explore famous sites like windmills, tulip fields, and charming villages. In addition, with the Dutch people's love for cycling, you'll fit right in while exploring this beautiful country on a bike.
Charming small towns
While the cities of Amsterdam and Rotterdam may steal the spotlight, the Netherlands is also home to many charming small towns that are worth visiting. One such town is Giethoorn, which is known as the "Venice of the Netherlands" due to its picturesque canals and quaint houses. Here, you can take a boat tour or rent a canoe to explore this idyllic village. Another must-visit town is Delft, known for its iconic blue and white pottery, known as Delftware. You can visit the Royal Delft factory to see how this pottery is made and even try your hand at painting a piece yourself. Moreover, the town of Haarlem offers a charming atmosphere with its cobbled streets, historic buildings, and cozy cafes. Its famous market square, Grote Markt, is lined with beautiful buildings and a weekly market where you can find fresh produce, local products, and souvenirs.
Great shopping opportunities
Shopping in the Netherlands is a unique experience that should not be missed. The country is known for its many markets, offering everything from fresh produce to handmade crafts and antiques. One of the most famous markets is the Albert Cuyp Market in Amsterdam, where you can find over 260 stands selling everything from clothes and accessories to tasty snacks and souvenirs. Another must-visit market is the Bloemenmarkt, also known as the floating flower market. This market floats on barges along one of Amsterdam's famous canals and offers a stunning array of fresh flowers and bulbs. In addition to markets, the Netherlands is also home to many quaint and charming stores that offer unique souvenirs such as Delftware pottery, wooden clogs, and cheese. The Nine Streets in Amsterdam is a popular shopping destination with its boutique stores selling one-of-a-kind items. Overall, the Netherlands offers countless opportunities for visitors to shop and take home unique and memorable souvenirs.
The Netherlands is a country full of endless possibilities and experiences for visitors. From its bustling cities to its charming small towns, vibrant culture, delicious food, and beautiful natural landscapes, this country has something for everyone. Whether you're looking for a cultural excursion or an outdoor adventure, the Netherlands will not disappoint. So pack your bags and get ready to explore all that this amazing country has to offer!
---