---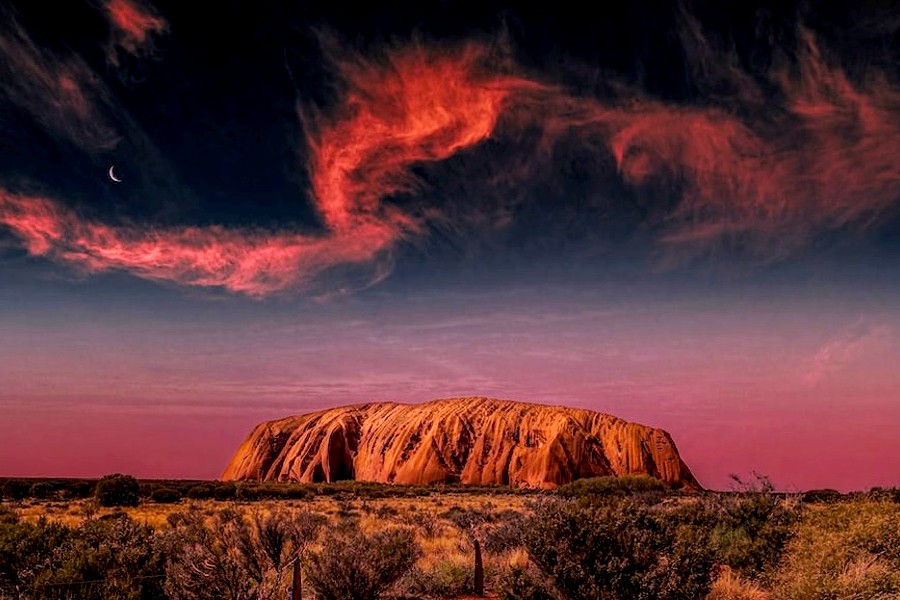 The Northern Territory, located in the heart of Australia, is most well-known for its' huge sandstone landmark, Uluru.
However, this vast region is also filled with other rugged beauty, diverse landscapes, and rich cultural heritage. Here are our top 10 reasons to visit the Northern Territory, a place where the ancient and the contemporary seamlessly blend to create an unforgettable experience. Whether you're exploring just one region of the NT, traveling by car, or road-tripping in a campervan hire Darwin to Alice Springs, there's something in this list for you.
Experience the Magic of Uluru
Uluru, standing tall in the heart of the Uluru-Kata Tjuta National Park, has to be included on the list, as it's an iconic natural treasure. Marked by a rich, iron oxide-infused red hue, it is both a geological wonder and of deep cultural significance for Indigenous Australians. Beyond its striking physical presence, Uluru is considered a sacred site, housing ancestral spirits and filled with profound spiritual power, as captured in generations of dreaming stories. Witnessing the changing colors of the rock during sunrise or sunset is a breathtaking and unforgettable experience.
Cruise the Katherine Gorge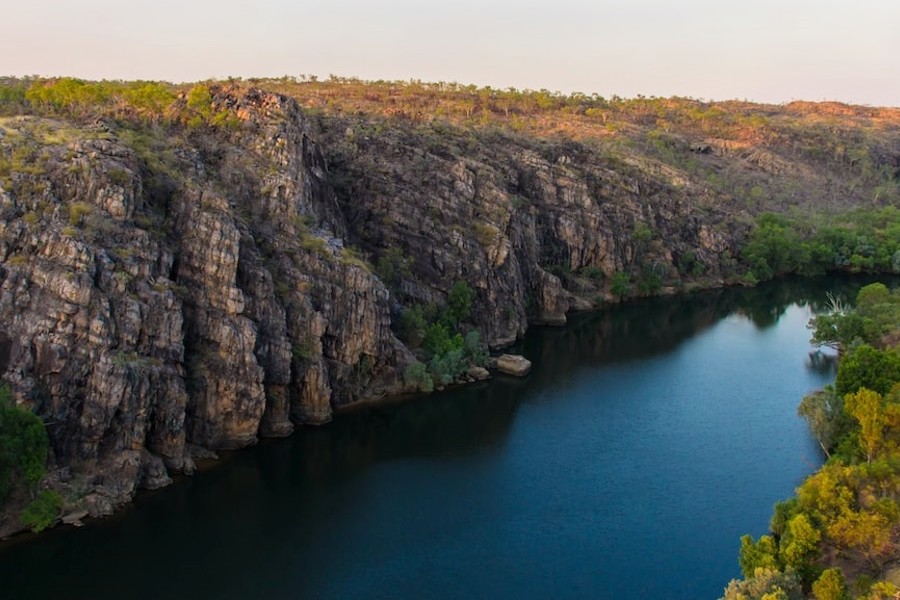 Within the scenic confines of Nitmiluk National Park, is an essential addition to our list of reasons to visit the Northern Territory. Katherine Gorge is a dramatic natural masterpiece, etched into the rugged landscape. Taking a cruise along this waterway will showcase towering cliffs, lush plant life, and enchanting waterfalls. The gorge is home to a diverse range of wildlife, including crocodiles, snakes, lizards, and birds. Visitors can also see a number of Aboriginal rock art sites in the area.
Go on a Bush Safari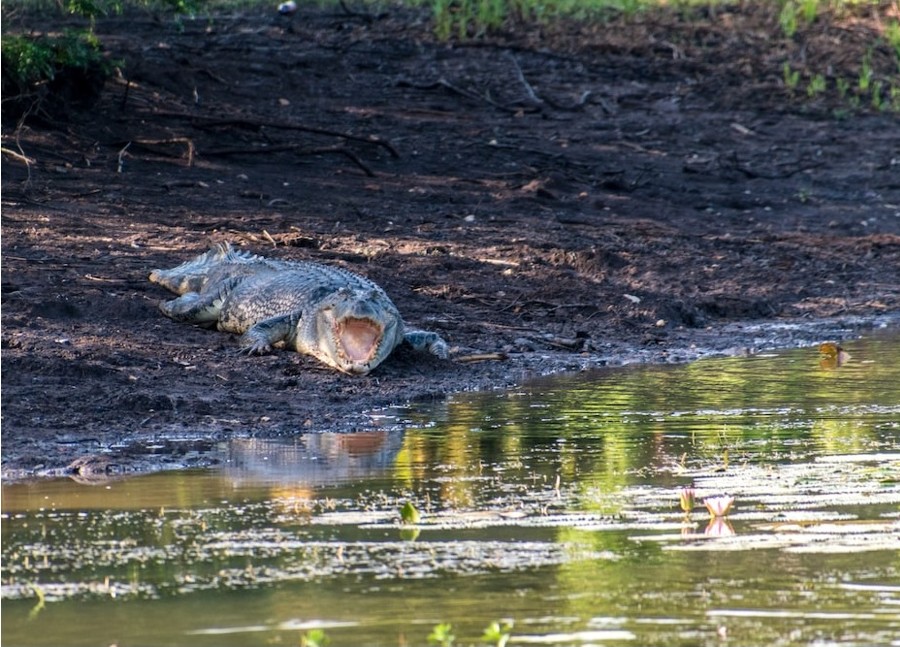 Everyone has heard of African safari's, but venturing on a bush Safari in the Northern Territory opens the door to extraordinary encounters with remarkable wildlife. Amidst the vast wilderness, kangaroos, koalas, wombats, dingoes and crocodiles thrive in their natural habitat. With the guidance of local experts, visitors have the opportunity to observe these incredible animals from a safe distance. It's an adventure that immerses you in the unique biodiversity of the Northern Territory in some of the most stunning landscapes in Australia, such as Uluru-Kata Tjuta National Park, Kakadu National Park, and Litchfield National Park.
Visit the Tiwi Islands
An essential stop on your Northern Territory itinerary, the Tiwi Islands offer a unique fusion of culture and nature. The islands are accessible by air via a 20-minute flight from Darwin Airport or by 2.5-hour ferry journey from Darwin to Bathurst Island. Renowned for a vibrant Indigenous culture, including art and dance, these islands also provide opportunities for outdoor activities like fishing and bird watching. Featuring mangrove forests, pristine beaches, and lush landscapes, Tiwi Islands are a contrast to the arid deserts often correlated with the Northern Territory.Top of Form
Unwind at the Mataranka Thermal Pools
Nestled in the picturesque Katherine region of the Northern Territory, the Mataranka Thermal Pools offer a rejuvenating experience. These natural hot springs, warmed by geothermal activity, provide a tranquil oasis surrounded by crystal-clear waters, lush palm trees and tropical plants. The water in the Mataranka Thermal Pools is rich in minerals, including magnesium, calcium, and potassium, which have a number of health benefits. Unwind and let the therapeutic properties of the pools work their magic by relieving muscle pain, reducing stress, and improving circulation.
Witness the Majestic Gunlom Falls
Gunlom Falls, nestled in the heart of Kakadu National Park, is a paradise waiting to be explored. Located approximately 100 kilometers east of Darwin, it is a popular destination for travelers. Visitors to Gunlom Falls are spoiled for choice with a range of activities to enjoy when they arrive, including swimming, sunbathing, hiking, and camping. The viewing platform at the top of the falls provides spectacular panoramic views of the surrounding Kakadu landscape.
Attend a Bush Festival
Year-round, the Northern Territory comes alive with a vibrant range of bush festivals that pay homage to Aboriginal culture, live music, and local cuisine. Make sure to check your calendar for exceptional gatherings such as the Barunga Festival, Darwin Festival, and Alice Springs Desert Festival before planning your travel dates. There are also a number of other bush festivals held throughout the year in the Northern Territory. Some of these smaller festivals and more intimate, while others are larger and more diverse. These festivals are a great way to experience the unique culture and landscape of the Australian Outback.
All Aboard the Ghan Railway
The Ghan, one of the world's legendary rail adventures, takes you on a once in a lifetime journey from Adelaide to Darwin, through the captivating beauty of the Outback. As you track this vast and varied landscape, you'll be treated to breathtaking views that evolve from rolling hills to arid plains, until you arrive in the heart of the Northern Territory. The Ghan is an immersive experience, giving you the chance to see some of Australia's most iconic and remote landscapes from the comfort of your own seat. Food and wine is provided on board, with comfortable accommodations, and a range of activities and entertainment.
Dive into the Culture at Wauchope
Wauchope is a remote town in East Arnhem Land. It's home to the Yolŋu people, who have lived in the area for thousands of years, and Wauchope is a great place to learn about it. There are a number of ways to experience Indigenous Australian culture in Wauchope. You can participate in guided tours, workshops, and storytelling sessions. Guided tours can take visitors to sacred sites, such as rock art galleries and ceremonial lands. Workshops can teach you about traditional arts and crafts, such as weaving, carving, and painting. Storytelling sessions are a great way to learn about the culture and history through traditional stories and songs.
Taste Indigenous Bush Tucker
Bush tucker is the traditional food of the Aboriginal people of Australia. It includes a diverse range of plants and animals that have been eaten by Indigenous Australians for thousands of years. You can book a "bush tucker tour" to learn about edible plants in the Northern Territory, dine at a restaurant that serves bush tucker, or participate in a bush tucker cooking class. Some of the bush tucker staples include finger limes, bush tomatoes, warrigal greens and kangaroo apples.
The Northern Territory offers so many reasons to visit it's enchanting red landscapes. You can tour by car, embark on a campervan hire Alice Springs road trip, or fly in and out for a short getaway. No matter the way you choose to tour the Northern Territory – it will be a journey you'll treasure for a lifetime.
---