---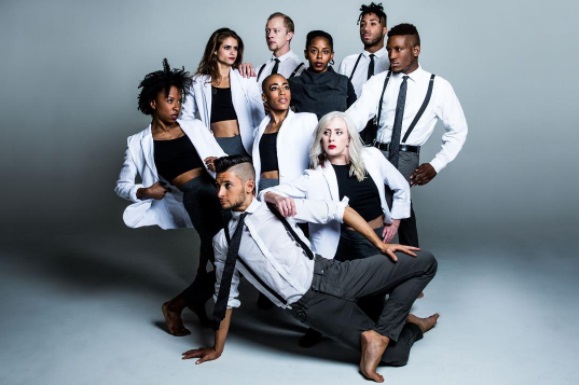 Elisa Monte Dance (EMD), the newest organization to call Harlem home, will return to City College's Aaron Davis Hall for two original evenings of collaborative works in celebration of their 37th season. Artistic Director Tiffany Rea-Fisher, who succeeded founder Elisa Monte in 2016, will present her newest work The Best-Self Project, a full-length premiere on March 16. Rea-Fisher has also curated a mixed-bill program on March 17 that will showcase a collection of new and restaged works featuring celebrated icons Tony Danza, Clifton Brown, Ayodele Casel, and more.
Since the company's last Aaron Davis Hall appearance in 2016, where the torch passed from Monte to Rea-Fisher, EMD moved from Noho to Harlem and is paving a road of new collaborations, educational initiatives and re-imaginings of how dance is consumed by audiences of all ages. The Best-Self Project, Rea-Fisher's newest premiere, March 16, exemplifies this mission by creating a unique interactive synergy with the audience. Guided by an emcee, mimicking a civic discussion with elements of live and recorded music and comedy club-like moments, the work explores the significance of being your "best self" and how that evolves during the trajectory of life. The multi-dimensional choreography encapsulates an opening pointe solo, contemporary modern movement, 90's hip-hop, as well as themes of race, gender, sexuality and basic human rights.
Night of Stars, March 17, welcomes a range of collaborative performances that showcase EMD's humor, depth and intelligence, including a special performance by Rea-Fisher. The program includes: a vocal performance of I Wont Cry Anymore, by Emmy-nominated Tony Danza, backed by the ladies of EMD; a dynamic restaging of Rea-Fisher's female solo, Identity, on Alvin Ailey dancer Clifton Brown; a new collaboration with 2017 Hoofer Award winner Ayodele Casel; a re-imagining of Rea-Fisher's Heart of Glass, originally premiered at The Red Bull Stadium in front of 25,000 soccer fans during the Danone World Cup; and Tilted Arc, a reference to the "Tilted Arc" sculpture by Richard Serra, the most notorious public sculpture controversy in the history of art law—the NY Department of Transportation commissioned work was originally presented outdoor at Summer Streets. In a rare performance, Tiffany Rea-Fisher will also join these guest dancers on stage in a new tango-inspired duet alongside Rea-Fisher's mentee and company dancer Thomas Varvaro.
General admission tickets that include a champagne toast are $40, $20 general admission, and $10 student with ID. Tickets are available for purchase at http://bit.ly/EMDADH18 . The performances will take place in the Marian Anderson Theater, located in the Aaron Davis Hall at City College of New York, March 16-17, 7:30 p.m.
Aaron Davis Hall is located on the campus of The City College of New York, between West 133rd and 135th Streets on Convent Avenue. Convent Avenue is one block east of Amsterdam Avenue and is the extension of Morningside Avenue beginning at 127th Street. The theater is accessible by the 1, A, D, C and C trains.
Related Articles
---