---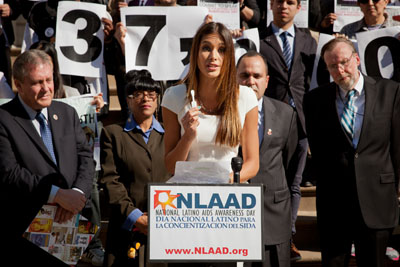 Today is National Latino AIDS Awareness Day from Harlem to Hollywood. More than 1.2 million people are living with HIV in the United States, and more than 47,000 new cases were identified in 2013. Hispanics/Latinos, only 17% of the US population, are disproportionately affected by HIV, making up 21% of people living with HIV and 23% of people who get an HIV diagnosis. In addition:
In 2013, Hispanics/Latinos had the second highest rate of new HIV diagnoses compared to other races/ethnicities.
Men accounted for 85% of the estimated new HIV diagnoses among Hispanics/Latinos in 2013. Most of the new diagnoses among Hispanic/Latino men occurred among gay and bisexual men (81%).
By age group, the highest rate of HIV diagnosis among Hispanics/Latinos occurred among those aged 25-34 years.
A number of factors contribute to the burden of HIV in Hispanic/Latino communities, including limited access to health care, language or cultural barriers in health care settings, traditional gender norms and stigma around homosexuality.
At Iris House, more than 40% of the people we serve every year are Hispanic/Latino.  Join us today to encourage your friends and family to get tested, to know their status and to take action to protect themselves and their loved ones.
Photo credit: Actress/model and Miss Universe 2008 Dayana Mendoza discusses the OraQuick® In-Home HIV test at a press conference hosted by Latino Commission on AIDS in recognition of National Latino AIDS Awareness Day. Photo by Ralf Graebner
No related posts found...
---