---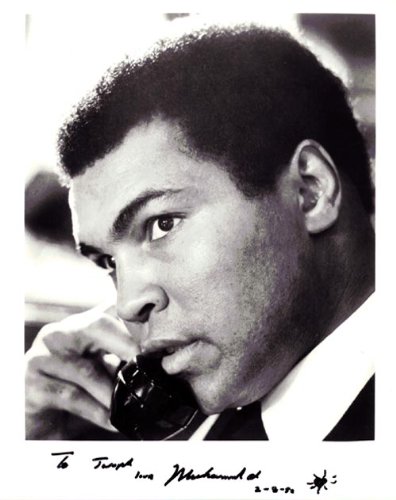 What a great photograph, the phone conversation is so intense Muhammad Ali, doesn't look at the photographer, but looks right past the photographer.
Read: more about Muhammad Ali here.
Here's an excerpt from Wikipedia regarding Muhammad Ali's life during in the 1970's when the photograph taken:
Ali refused to be inducted into the armed forces, stating that he had "no quarrel with them Vietcong." "My conscience won't let me go shoot my brother, or some darker people, or some poor hungry people in the mud for big powerful America. And shoot them for what? They never called me nigger, they never lynched me, they didn't put no dogs on me, they didn't rob me of my nationality, rape or kill my mother and father…. How can I shoot them poor people? Just take me to jail." He was systematically denied a boxing license in every state and stripped of his passport. As a result, he did not fight from March 1967 to October 1970—from ages 25 to almost 29—as his case worked its way through the appeals process. In 1971, the U.S. Supreme Court overturned his conviction in a unanimous 8–0 ruling (Thurgood Marshall recused himself, as he had been the U.S. Solicitor General at the time of Ali's conviction).

During this time of inactivity, as opposition to the Vietnam War began to grow and Ali's stance gained sympathy, he spoke at colleges across the nation, criticizing the Vietnam War and advocating African American pride and racial justice.

On August 12, 1970, with his case still in appeal, Ali was granted a license to box by the City of Atlanta Athletic Commission, thanks to State Senator Leroy R. Johnson. Ali's first return bout was against Jerry Quarry on October 26, resulting in a win after three rounds after Quarry was cut.

A month earlier, a victory in federal court forced the New York State Boxing Commission to reinstate Ali's license. He fought Oscar Bonavena at Madison Square Garden in December, an uninspired performance that ended in a dramatic TKO of Bonavena in the 15th round. The win left Ali as a top contender against heavyweight champion Joe Frazier.

Ali and Frazier's first fight, held at the Garden on March 8, 1971, was nicknamed the "Fight of the Century", due to the tremendous excitement surrounding a bout between two undefeated fighters, each with a legitimate claim as heavyweight champions. Veteran boxing writer John Condon called it "the greatest event I've ever worked on in my life". The bout was broadcast to 35 foreign countries; promoters granted 760 press passes.
Even better, this photograph is part of a great American history collectible, its signed by Muhammad Ali:
To Joseph

love

Muhammad Ali

2-8-70
This incredible piece in mint condition and hand signed by Muhammad "The Pied Piper of Harlem" Ali.
Price:  $ 349.00
Related Articles
---