---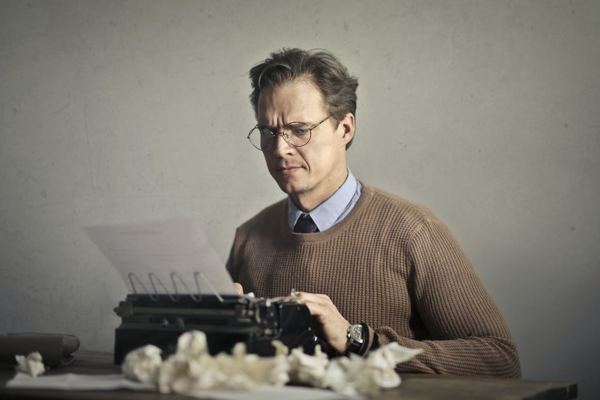 Isaac Asimov was one of the most productive writers of the 20th century. His works span history, chemistry, biology, mystery, fantasy, non-fiction, and science fiction, the genre that brought him worldwide fame. Asimov wrote novels, short stories, essays, and popular science books that became resounding successes.
Asimov was not only a science fiction writer; as many believe, he was a sage of his time, a true humanist. In his more than 500 literary works, in addition to his profound erudition about technology and the "hard" sciences, Asimov reflects on the human condition.
Asimov's advice for writers stems from a question posed to him by a young author:
-Master, how can I be a successful writer?
Here is a summary of the key points of Asimov's surprising answer.
Following in the footsteps of this true master of letters will allow you to dramatically improve your writing and the way you think about your literary work.
1. There is no secret to being a successful writer
If you're wondering how to write a quality book that gets lots of sales, the answer is simple: there is no shortcut, no secret.
The advice for writing fiction or non-fiction is the same: you must work hard. Question, research, write, correct, and write again. Working from mistakes and constantly improving your writing help you become a real professional.
Such a process requires a lot of time. Forget magic recipes; the only formula for success as a writer can be summed up as follows:
A lot of literary work x a lot of time = a lot of success as a writer.
This formula is as obvious as it is effective – put it into practice today.
2. Learn to use your tools
A writer's primary tool is language. Imagine an engineer who is entirely ignorant of the nature of concrete and doesn't know how to apply it in the construction of a building. Does such a person call himself an "engineer"?
If you want to become a writer and be successful, the same applies to you: if you want to sell a lot of books, learn to write well. There are no secrets here either.
The basic pillars of good writing are three:
The lexicon
Spelling
Grammar
3. Get to know the masters of prose
To be a successful writer, read the great masters of the novel and the short story, authors who have served as models of thought and literary beauty since ancient times. These works enclose universes of profound meaning. They are a portrait of their time and of the way of conceiving human beings and their world.
Two authors that Asimov recommends are Charles Dickens and Mark Twain. Both made extraordinary portraits of life in their time and left an indelible mark on Western thought.
4. Know your subject
This tip is essential for fiction authors, but it also works for some non-fiction authors.
Non-fiction books are usually written by specialists, experts in a certain subject:
How to prepare race cars.
How to improve your health with medicinal herbs.
How to publish a successful book.
Most of these authors know their subject very well. They are people who deal with it daily and usually have a university education in the subject.
But when you write fiction, the picture is quite different. Whether you are writing a novel about the Roman Empire, about life in a nature reserve, or interstellar travel, in all cases, you must research the subject and learn what science and history have to say about it.
It is not about transforming your book into a Wikipedia article. You can even take literary licenses and modify a little bit the "real history" or make a fantastic version of the laws of physics if you want. But, before you invest, you should know what humanity knows about these subjects.
If your book is full of inconsistencies because you are ignorant of the subject you are writing about, sooner rather than later, you will have outraged readers who will trash your book.
Read books on your subject
This tip is directly related to the previous one. It's not enough to know what science and history say about a specific topic or fact.
If you are only dedicated to learning your subject from a realistic and empirical perspective, your work will be more oriented towards popularization than novels.
But if you have a profoundly literary yearning, if your dream is to become a famous novelist, read novels on your subject. You will learn about the literary imagination surrounding the phenomena and events you are interested in writing about in them.
For example, in the Star Trek series, teleportation is an everyday reality, but it is nonsense from a purely scientific perspective. What will your point of view be?
The same applies if you write non-fiction. In that case, you should read non-fiction books that give you insight into how the real world works and the specific needs of readers in your niche.
More tips for writers by Isaac Asimov
Know your limits
We all have doubts and insecurities. Being a writer doesn't bring absolute certainties into your life overnight. On the contrary, a writer is a person who doubts permanently. Those doubts arise when he finds his limits, and they are an engine that drives him to move forward.
Never stop learning
Aristotle probably had an additional advantage over us: in his time, it was less complicated for a person to "know everything" for the simple reason that the knowledge circulating at that time was a minuscule part of what exists now.
Current human knowledge is immense, but it is also diverse and changing. You cannot stand up and say lightly, "I already know everything about this subject," that is nothing more than arrogance.
Never stop learning. Remember that you are human, and nothing human should be alien to you.
Don't be so demanding on yourself!
Suppose you set yourself the goal of writing a book as beautiful as Dante's Comedy or as successful as Rayuela in six months. In that case, you'd better dedicate yourself to something else, don't waste a minute in executing that plan because it simply can't be done.
If you are going to be the one who controls the quality and progress of your work, don't be a tyrant. If you push yourself too hard, you will get frustrated in the first week and abandon your book.
If you need a professional opinion about your book, ask us for a reading report. We will read your book and tell you everything you need to make it perfect and turn it into a success.
Accept your blocks
Writer's block comes instantly without anyone calling or looking for it. Don't be ashamed, don't blame yourself, take it in stride, and wait for it to pass.
No writer is exempt from having writer's block; Asimov himself experienced it often.
Be prepared for criticism
Why does Paulo Coelho have a legion of detractors worldwide ready to badmouth him at the faintest mention of his name?
Well, because he is well-known, he is one of the most famous writers of contemporary literature, his books have been translated into dozens of languages.
What happens to Coelho can happen to any writer or famous person: you will always find haters and people driven by resentment which will criticize your work, sometimes viciously. Our advice in this regard is lapidary: ignore them entirely and continue on your way to becoming a successful writer.
3 fun facts about Isaac Asimov
He was born in Russia
More precisely, in Petrovichi. His name in the original language was Исаáк Ази́мов. Did you know that?
He was a doctor in chemistry
In this profession, Asimov worked in the manufacture of military vessels for the United States during World War II.
He died as a victim of HIV
After suffering from heart problems, Isaac Asimov underwent several treatments, including surgery.
During the operation, he received a blood transfusion contaminated with the virus. At that time, the disease was beginning to be discussed, and it was not common to test for HIV in the blood, which is why many people were infected in hospitals.
Asimov survived about 10 years after infection, but his condition was kept secret.
The advice of this literary genius for writers who want to be successful can be summarized in 5 central points:
Don't look for magic formulas.
Learn vocabulary, spelling, and grammar.
Know your subject and its masters.
Work hard.
Ignore malicious criticism.
---