---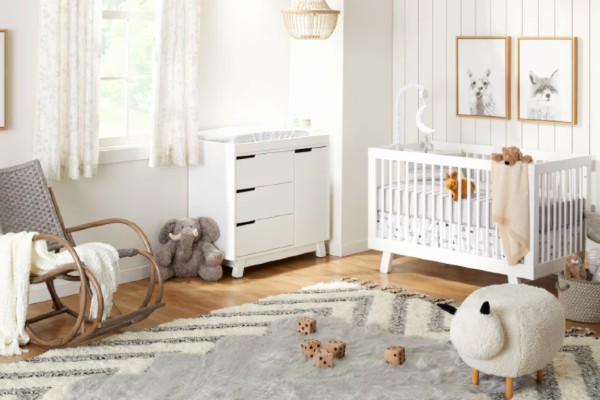 When you're expecting, getting ready for your newborn is exciting. It can also feel a little overwhelming when it comes time to get the nursery ready.
From choosing the right color palette or child-friendly furniture that will grow with your baby, you might not know where to begin. Designing your baby's nursery should be fun, not filled with stress and anxiety. To make the most out of this special time, below is a list of tips to help you get started.
Choose a Palette
When it comes to color, you need to pick a palette that is versatile. Muted hues usually work best in nurseries for a number of reasons. First, you can create a calming, tranquil effect with varying shades of the same color. This is especially important for you and your baby. Next, avoiding bright or shocking colors are also easier to repaint as your child gets older. Your goal should be creating a warm, safe place that's visually appealing. You can then use your color palette to choose window coverings and bedding that is complimentary.
Keep It Cohesive
You also need to decide on a creative theme for this dedicated and specific space. If you adore the moon and stars, then choose accessories, bedding and even storage that is cohesive. Pick pieces that are gender-neutral and can easily transition from the newborn to toddler stage. Decorative wall adhesives are a great place to start. They're easy to install, come in a variety of patterns and are easy to remove as well.
Furniture
You should choose furniture that grows with your baby. Choose a crib that transitions into a toddler bed and changing stations that can become dresser drawers. Since furnishing a nursery adds up quickly, you should decide exactly how much you can spend. If you need to completely renovate to create the nursery, you could look into using your home's equity. A home equity line of credit, of HELOC, is similar to revolving lines of credit, like a credit card. As you pay on the balance, the money is put back into your account, which you can use again if needed. Keep in mind that applying for a home equity loan is a process, so if you're not familiar with how it works, there are plenty of online guides to review prior to proceeding.
Invest in Storage
Babies need a lot of things, so you want to stay as organized as possible. Get creative with storage to keep the room as clutter-free as possible. Wall storage works particularly well in nurseries, however, just remember to bolt it to the wall for added stability. You can also invest in furniture pieces that double as storage units as well.
Prep Early
Avoid feeling stressed by setting up the nursery early, you will want to feel comfortable after giving birth and the more prepared you are the better the odds are that you will. Around your seventh or eighth month of pregnancy, you should get started. This gives you plenty of time to paint, assemble the furniture, wash the bedding and stock up on supplies. The last thing you want is to go into early labor and not have your baby's room finished.
---