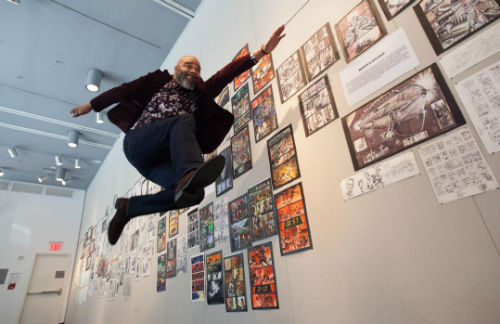 Author, illustrator, and animator Tim Fielder, lands on Friday February 2nd, 2018, at Sisters Uptown Bookstore in Harlem. You may have seen Tim at the 6th Annual Black Comic Book Day at the Schomburg Center.
He will be reading from his book Matty's Rocket. Matty's Rocket is a galaxy spanning tale about the adventures of space pilot Matty Watty. This series is based in an alternative past where the pulp stylings of Buck Rogers, Flash Gordon, and Fritz Lang's Metropolis collide with the real world events of World War 2, FDR, Nazis, the Harlem Renaissance and the oppressive Jim Crow era, Watch as Matty navigates her vessel through a dangerous world filled with evil villains, heroic feats, alien oddities and down home adventure. He is known for his TEDx Talk on the subject of Afrofuturism https://www.youtube.com/ watch?v=auoz1jy0_b8
Tim will be be bringing posters and calendars
Books will be available for $20, Tim will be signing books
Friday February 2nd, 2018, 6 pm EST
Sisters Uptown Bookstore ( 1942 Amsterdam Ave. @ 156 street ), Harlem, New York
Related Articles
---
VIDEO
---
"We re-imagine, recreate, and redeem cultural omissions and misrepresentations of Blackness, for the culture. ...." This post is made in partnership with British Pathé.