---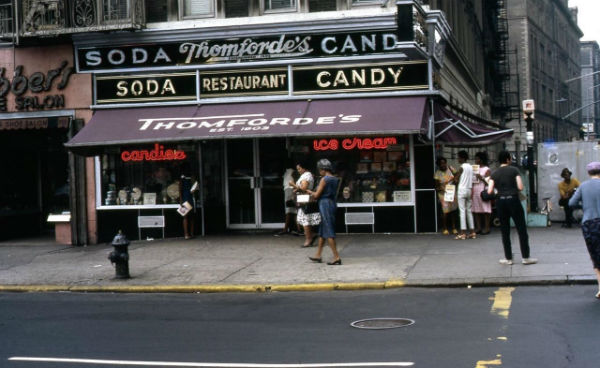 Great photograph looking south at the Thomforde's Ice Cream Shop at 351 West 125th Street at Nicholas Avenue in Harlem, New York established in 1903.
Thomforde's Ice Cream Shop or "Soda Fountain" was described by some as a "Victorian architectural relic," with diamond-shaped black and white floor tiles. In front of the counters were stools fashioned in a 1940's style, shiny silver frames encased bright red leather seats. They served big meaty hamburgers, pickles, writer Calvin Trillin loved their Suzy-Q French fries and they were said to have the best "homemade" ice cream soda's in Harlem.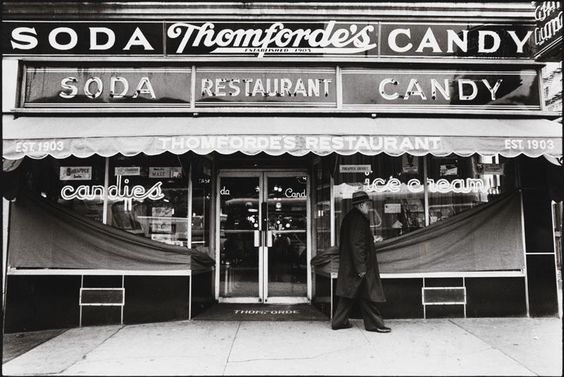 We didn't know much about Thomforde's until we found these great photos above and read Gael Greene's article Everything You Always Wanted To Know About Ice Cream But Were Too Fat to Ask in New York Magazine about the Best Ice Cream in New York City:
How long had it been since a Thomforde patron ordered the lover's delight? The waitress had no idea how to make it . . . but she ad-libbed brilliantly: a splash of rum raisin, then peach, banana, whipped cream, crushed nuts. Obviously, Thomforde aficionados like their homemade ice cream straight, or with a blanket of hot fudge. I found everything a bit too sweet. The Begum Kaufman disagreed: "When I go, I want to go all the way." The Thomfordes have been indulging Harlem's sweet tooth at the magnificent carved mahogany soda counter with its turn-of-the-century frosted glass since 1903. Broadway flip, banana split, pineapple temptation, 75 cents; frostee chocolate, 55 cents. Carry-out pint, 55 cents. Ice cream cakes, $3.50 and up. Lenox and 125th Street.
In doing more research someone named Greg commented on Harlem Bespoke that he remembered that:
…Borden's did have their own brand of ice cream that really was quite delicious.

Directly across the street was Thomford's Soda Fountain. What a gem that was. Marble topped tables and waitresses in old-fashioned uniforms with caps. The milk shakes were to die for. It dated back to the early 1900's and I think prior to WWI it was segregated.
In the book from Civil Rights to Black Liberation: Malcolm X, long-term Harlem activist Yuri Kochiyuma, said she:
…remembered Malcolm X holding court (at Thomforde's) over banana splits where she was a waitress for many years.
Thomforde's was sold for $75,000 before it closed around 1983.
Please share any information you have about Thomforde's?
Via source
---