---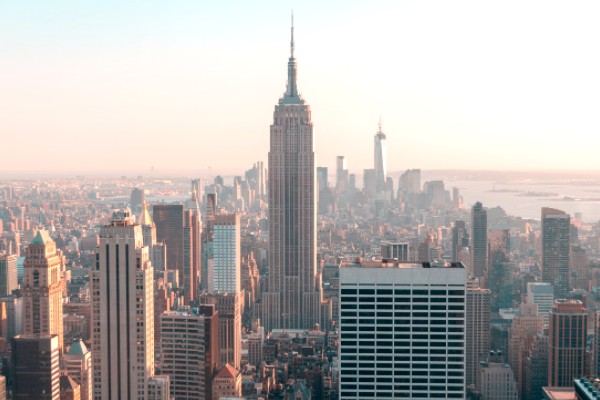 Last year the Trust gave $6+ Million In Grants To 37 Nonprofits, this year the New York Community Trust has announced $6.6 million in grants to 35 nonprofits working to meet the pressing needs of New Yorkers across the city. The grants help, address the city's worst jobs crisis in 80 years, prepare for the worsening effects of climate change, sustain arts and educational programs and support other priority areas.
"We, along with the city's nonprofits, continue to grapple with the lingering repercussions of the pandemic," said Shawn Morehead, The Trust's vice president for grants. "But we also are making sure to address long-standing challenges, such as caring for New Yorkers with cancer, improving the city's housing stock, and removing barriers for people with disabilities.  As we head into a year with new government leaders, The Trust will continue to look for ways to help the city thrive."
Fuller descriptions of each grant are available upon request.
Helping Workers
A Better Balance: $200,000 to help Spanish-speaking workers exercise their right to paid leave, with a focus on low-income women who have left their jobs at a higher rate than men since the onset of the pandemic. The nonprofit will provide guidance on paid sick and family leave laws through its bilingual telephone helpline and printed materials in Spanish.
Documented: $125,000 to create a database of wage theft violations in New York State. The data will help the group press for passage of the SWEAT Act, which will help employees wrongfully deprived of their pay collect wages owed. The searchable, easy-to-use database will be made available to the public, so anyone can identify law-breaking employers.
The New School: $100,000 for the Center for New York City Affairs' COVID-19 Economic Research Project to analyze the pandemic's effect on the city's economy and labor market. The Center will provide occupational data and economic policy proposals to city officials and workforce development organizations with the aim of improving the quality of available jobs.
New Settlement: $200,000 to expand a workforce training program for Black and Latinx young people with employment barriers. Because of increased demand and interest, the program will boost its capacity, establish recruitment partnerships with four nonprofits, and provide alumni with reemployment assistance.
Upwardly Global: $100,000 to prepare internationally trained immigrants who are unemployed or under-employed for in-demand careers in areas such as technology, construction, accounting, human resources, and healthcare.
Vera Institute of Justice: $200,000 to right-size the budget of the NYC Department of Corrections, in which the ratio of officers to incarcerated people is seven times higher than the national average, raising the cost of incarcerating one person to $550,000 per year. The Institute will also develop a plan to train corrections officers for other public sector jobs in anticipation of the closure of Rikers Island.
Helping People with Disabilities
INCLUDEnyc: $125,000 to empower youth with disabilities and their caregivers to advocate for themselves and their communities. The nonprofit will provide training in Mandarin, Spanish, and English on advocacy issues and promote available disability services to parents and groups that serve children in foster care and other non-parent care settings.
Planned Parenthood of Greater New York: $180,000 to provide high-quality, accessible sexual and reproductive health education to middle schoolers with disabilities and offer complementary workshops to support their caregivers. The program will introduce disability-sensitive curricula that move away from an abstinence-only approach.
VISIONS/Services for the Blind and Visually Impaired: $200,000 to support the parents and caregivers of blind children by providing skill-training for living independently and connecting caregivers with specialized social workers to access public benefits and services.
Protecting the Environment and Preserving Green Spaces
American University: $150,000 for the Center for Environmental Policy to promote reforms in the nation's environmental protection system after years of budget cuts and deregulation. The Center will work with the Union of Concerned Scientists and the Environmental Protection Network to monitor federal decision-making, promote innovative technologies and approaches, and support efforts to recruit a more diverse workforce.
Environmental Defense Fund: $100,000 to reform how the federal government evaluates communities' applications to undertake flood-risk reduction measures, which often favor higher-income areas over lower-income communities and lead to underinvestment in natural solutions, such as wetlands, oyster reefs, and sand dunes. The Fund will brief officials and community-based organizations on alternatives to the federal government's current policies.
Friends of Governors Island: $200,000 to prepare for the development of a major research center on Governors Island focused on mitigating and adapting to climate change in urban coastal communities. The group will host demonstration projects that make use of the island's natural and built environment, provide support for smaller nonprofit research partners, and develop community programs to share its findings.
Marine Park Alliance: $80,000 to strengthen the capacity of this volunteer-led stewardship group that cares for Brooklyn's largest park, Marine Park. The Alliance will develop a three-year fundraising and community engagement campaign, expand its board membership, and complete a five-year strategic planning process that includes gathering data on visitor demographics and the usage of park amenities.
Midwest Environmental Justice Network: $150,000 to help community groups that represent low-income households and communities of color in the Midwest address environmental health and climate challenges. The Network will develop a regional strategy to leverage new federal infrastructure spending targeting under-resourced communities and support at least 30 local nonprofits through a grant program.
Improving Housing
Breaking Ground: $130,000 to improve social services for people in supportive housing as the nonprofit expands its housing capacity by 50 percent in response to the city's rise in homelessness. The nonprofit will hire additional staff to evaluate its services and provide enhanced training for intake, physical and mental health assessments, referrals, crisis prevention, and intervention.
Neighborhoods First Fund for Community-based Planning: $125,000 to support planning in communities slated for rezoning, housing development, and other capital investments. The Fund aims to increase the availability of affordable housing.
Supporting Arts and Culture
American LGBTQ+ Museum: $150,000 to develop a collections plan for donated artifacts, documents, and ephemera at America's first major institution dedicated to LGBTQ+ history and culture, slated to open in 2024.
Black Public Media: $223,000 to help Black documentary filmmakers produce films about climate change and environmental justice. The nonprofit will provide grants, networking, technical assistance, and promotional support to Black independent, emerging, and mid-career directors whose projects explore how issues like industrial pollution and natural disasters affect Black communities.
Bushwick Starr: $150,000 to increase this Off-Off-Broadway theater's production capacity by hiring new artists and producers for its performances, which include theater, dance, and music. These new positions will allow the group to make full use of its new space after being forced out of its prior location due to rezoning.
Flea Theater: $150,000 to strengthen the theater's management, make it more equitable, and improve its programming after it refined its mission to invest in experimental art by Black, brown, and queer artists. The Theater will hire additional administrative staff, install new advisory boards, provide residencies, and make its facilities available for greater public use.
New York Landmarks Conservancy: $150,000 for the Conservancy's grant program that provides emergency repairs to historic and architecturally significant buildings owned by nonprofits, as well as adaptations to prepare for extreme weather events.
PEN America: $100,000 to grow the NYC Literary Action Coalition, which organizes campaigns and actions on behalf of writers advocating for social justice. The Coalition organized a petition urging the city to meet the needs of writers who lost their jobs due to the pandemic, hosted public forums, and provided workshops on topics such as combating anti-Asian discrimination, protest rights, and literary activism.
Rattlestick Playwrights Theater: $225,000 to adopt a fellowship program formerly housed at the Lark for young playwrights of color. The Theater will provide fellows with a salary, funds for creative development, and production and mentorship support. This grant was made possible by The Trust's Edward and Sally Van Lier Fund, which helps gifted young people of limited financial means who aspire to careers in the arts.
Aiding Education & Youth
CAMBA: $350,000 to support the educational needs of students living in homeless shelters, whose attendance rates have not returned to pre-pandemic levels and who have fallen behind during remote learning. CAMBA will hire more bilingual education coordinators to work with students and their families to improve attendance, facilitate access to free WiFi, and connect families with educational resources.
Columbia University: $100,000 for the Center for Public Research and Leadership to support the efforts of five community school districts in Manhattan, Brooklyn, and Queens to increase racial and socio-economic integration. The initiative is a response to findings that the city's schools remain largely segregated, with students who are disabled, living in poverty, without homes, or learning English concentrated in certain schools.
New 42nd Street: $445,000 to improve arts education for public school students with disabilities. The nonprofit will train teaching artists to work with students with disabilities alongside their typically developing peers in integrated classrooms, host teaching workshops with the Department of Education for educators and cultural groups, and improve course materials.
Improving Health
CancerCare: $745,000 to provide financial assistance, educational support, counseling, and other social services to more than 2,000 cancer patients, with a focus on low-income people of color, immigrants, and patients with high-deductible health insurance plans.
God's Love We Deliver: $115,000 to serve nutritious frozen meals tailored to cancer patients' dietary requirements and provide nutrition counseling in four languages. The nonprofit plans on home-delivering a record 2.6 million meals in 2022.
Memorial Sloan Kettering Cancer Center: $115,000 to help both documented and undocumented immigrant patients get cancer treatment by enrolling them in health insurance and connecting them with financial assistance programs and Medicaid. The center will open a new site at BronxCare, the largest nonprofit health system serving south and central Bronx, and also help patients make use of telehealth services.
New York Legal Assistance Group: $115,000 to provide cancer patients, social workers, and medical professionals with guidance on benefits coverage, insurance disputes, and medical debt negotiations. The Group will offer programming to educate those with cancer, their families, advocates, and healthcare professionals on their rights.
Veteran Advocacy Project: $100,000 to help dishonorably discharged veterans, who are often discharged as a result of service-related post-traumatic stress disorder, access benefits they have been denied. The group will provide veterans with legal representation, clinical support, and forensic evaluation to appeal their cases.
Strengthening Nonprofits and Social Services
Baruch College: $435,000 to continue The New York Community Trust Leadership Fellows, a leadership development and training program for emerging managers at nonprofits, particularly people of color. The program, now in its eighth year, will provide at least 50 nonprofit professionals with extensive virtual and in-person training through a 16-week curriculum covering key aspects of public sector management.
Change Capital Fund: $300,000 to increase the capacity of multi-service community groups to provide relief from poverty and to improve how they track their results. The Fund will provide grants and technical assistance to organizations to evaluate their anti-poverty programs, as well as hold panel discussions with funders and officials on pressing topics.
Change Machine: $150,000 to improve how social safety net benefits, like tax credits and food assistance, are administered to make sure people who need them are able to access assistance. The nonprofit will share research and policy recommendations after it found that people who lack access to technology, don't have bank accounts, or don't speak English often fail to obtain benefits.
Good Nation Foundation: $125,000 to conduct a large-scale civic engagement initiative that will gather input from New Yorkers across the city to inform the new mayor on a range of issues. The Foundation will conduct a citywide survey, organize community meetings and deploy organizers to solicit input. The findings will be used to create an action plan.
The New York Community Trust
The New York Community Trust is a public charity and New York City's largest community foundation. It connects generous people and institutions with high-impact nonprofits making the city and its suburbs a better place for all. It builds stronger communities, influences public policy, fosters innovation, improves lives, and protects our environment.
---