---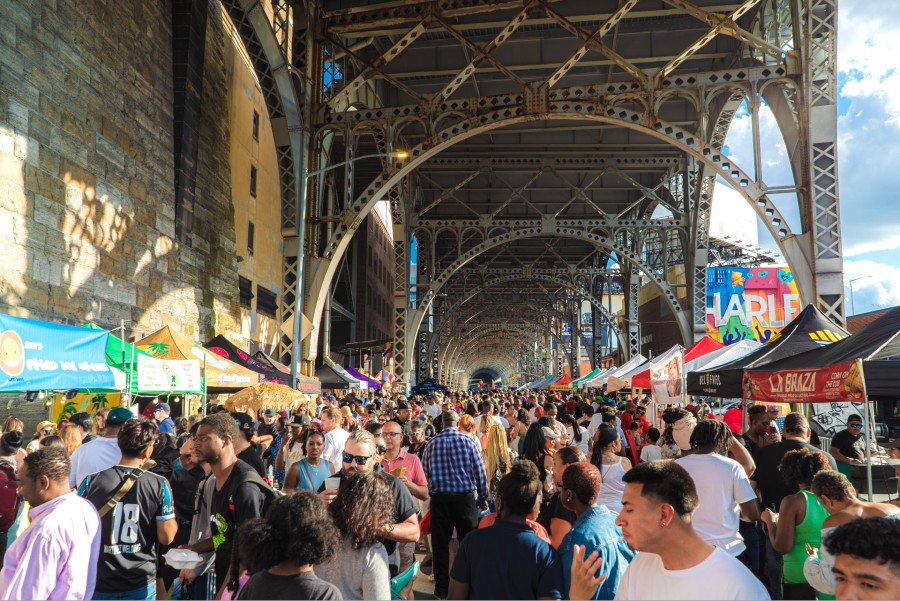 MHG Events presents the Uptown Night Market on August 10th, 2023, an integral part of Harlem Week 2023. 
True to its mission of supporting the local cuisine, culture, and community, Uptown Night Market is proud to participate for the third year in the 49th edition of Harlem Week. Under the Harlem Arches, from 4 pm to 10 pm, celebrate and embrace all things Harlem. 
As part of the iconic and world-famous Harlem Week, Uptown Night Market will feature more than 60 of the city's best food, beverage, merch, and art vendors celebrating the best of Harlem and NY, which includes an affluent African-American, African, Caribbean, Hispanic, and European, culture, entertainment, and gastronomy. The vendor list, the majority of which are local minority-owned businesses alongside some of New York City's all-time favorites such as:
Perros Locos
Tacos El Guero
Downeast Lobstah
Menya Jiro
Patok by Rach
C bao
Nadas Empanadas
HangryDog
Mia's Cocina
Healthy As A Motha
Rosie's Empanadas
Lechonbae 
Sassy's Fishcakes!
Twisted Potato
Brooklyn Dim Sum 
The Little Sicilian
The Bronx Burger 
Mina's kitchen
Lei's Litty Kitchen
Clean Meals Brooklyn
Jasmine Roti factory
Bao Tea House
OnFire Barbecue
Hudson Smokehouse
Passion Fusion NY
Woodfire
Treat Yourself Jerk
La Braza
Mr. Chopped Cheese
Humos USA 
Garment Bites
Mighty Quinn's BBQ
MOZZAREPAS
Kinky Taco 
Chava's Empanadas
Chocolicious NYC
Cuzin's Duzin
SAM'S ICE CREAM
Jugo Juice
CondensedJuice Company 
Aleise Bee lemonade & treats
Chopchoptea
Aguas Frescas Tlaxcalita II 
Island Love 
Lovers Rock Sea Moss
Chictreatz 
Culiraw
Gotham Freeze
Bunny's vegan bakery
Crystal Irie
Ariance Jewelry
Dvrousa 
By Nature Beads
Black n ugly
Asili's Ancient Healing
Be The People
For The Culture NY
And so much more.
Besides the incredible vendor list, the event will be topped with a robust lineup curated in collaboration with Harlem Late Night Jazz, presenting David Lee Jones and Soul Power Band with their funky vibes, DJ KG3, and DJ Cosi, keeping the vibes up.
The event is sponsored by West Harlem Development Corporation, Green Mountain Energy, Truly Hard Seltzer, Samuel Adams, Fresh Direct, and Vitamin Water.
MHG is a New York City-based hospitality group passionate about delivering innovative food and beverage experiences for the love-to-eat community. With a focus on diversity, inclusivity, and equity, MHG is dedicated to producing safe, affordable, and aesthetically pleasing events such as Uptown, Bronx, Brooklyn, Vegan, and Latin  Night Markets. The MHG works with various organizations, including NYBG, SummerStage, NYRR, and NYC Ferry, Central Park. Their predominantly female and POC team is committed to delivering excellent customer experience, leveraging data analytics, tech innovation, and social media marketing.
Note to editors: For more details on the Uptown Night Market and its 2023 season, visit www.uptownnightmarket.com. 
---