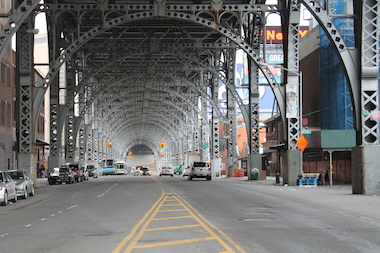 The Source Meat Wholesalers market was at 2285 12th Avenue (between 126th and 125th Street). The store was owned by John E. Smith or "Smitty", who was described as your typically "friendly neighborhood butcher." He wore a traditional white apron, had a warm, and always asked "may I help you?" with his engaging kind of face. But make no mistake, Smith, was not just a butcher. In fact, he owned and ran what he claimed was the first and only black-owned meat wholesaler in New York State.
Don't let the simple façade fool you, Smith had accomplished a rare feat. In a stagnant meat industry, Smith's firm, Smitty's Inner-City Meat Corp., had grown over 400% in 2 1/2 years, mostly from new accounts snared in several African-American communities. The company had posted 1992 revenues of $4.5 million, up from $3 million in 1991.
The 3-year-old firm before it closed, employed 10 full-time and two part-time employees, sold beef, pork, veal and lamb products to restaurants, hospitals, jails, day care centers and meat markets throughout New York State.
Smith's success is no coincidence. The North Carolina native paid 35 years worth of industry dues before venturing out on his own. Smith was a butcher, truck driver, sales manager and, vice president at the West Harlem Pork Center before hanging out his own shingle. "I learned every facet of the industry just in case I wanted to start my company," Smith said at the time.
The experience paid off. Moving into a modest rent-stabilized building on Harlem's world-famous 125th Street in 1990, Smith started Smitty's Inner-City with $18,000 in personal savings and a $50,000 refinancing loan. The money, explains Smith, was needed to buy equipment, a delivery truck and meat. Before making such a bold career move, however, he bent the ears of several industry contacts. Among them were Calvin Copeland, owner of Copeland's, and Sylvia Woods, owner of Sylvia's, two of Harlem's most celebrated soul food restaurants. "Both assured me that the timing was right for my company and that there was a need for it," Smith said at the time.
In 2004, Mr. Smith decided to close the business and move back home to Tennessee where he was raised and born.
UPDATE: On February 2nd, 2015, Mr. Smith granddaughter Sherise Smith, wrote us to say "…that grandfather was NOT a North Carolina native, nor did he close the business to move back there. He was a native a Tennessee, and he passed away this week right here in New York."
Related Articles