---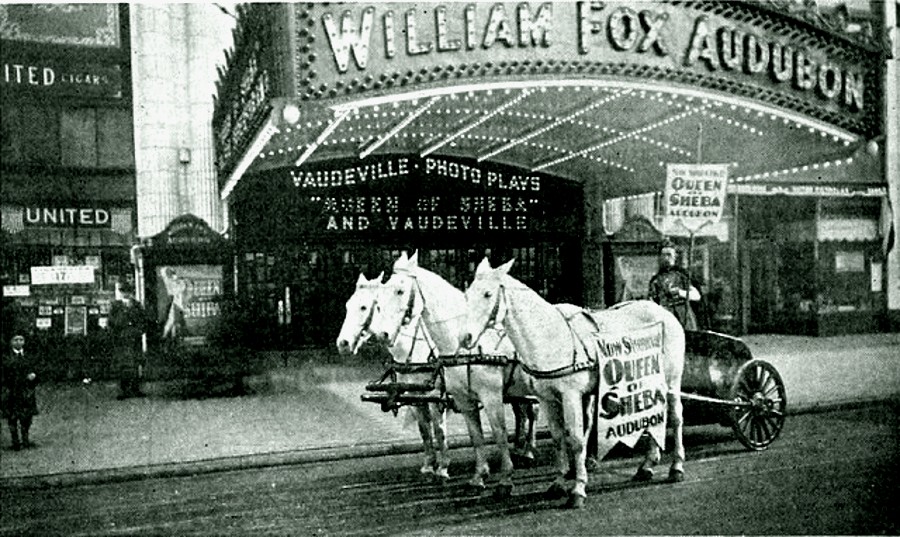 It was the William Fox's Audubon Theatre at 3950 Broadway, New York, NY 10032 of 1912.
It was designed by the one and only Thomas Lamb.
Built in 1912 for William Fox's fledgling film company, the Audubon Theatre & adjoining ballroom was designed by Thomas W. Lamb. The 2,500-seat auditorium was on the main floor at the southern end of the building, while the ballroom was upstairs on the northern end of the building. In 1915 the theatre auditorium was equipped with a 3 manual Moller organ which had 24 stops. On November 17, 1923 it was replaced with a Moller 3 manual 15 ranks organ which had 1,150 pipes.
Known for its spectacular polychrome-terra cotta façade. In a lunette over the main entrance is a beautiful depiction of a ship's prow, with the head of Neptune over it. By December 1945 it had been renamed Beverly Hills Theatre playing movies and vaudeville programs. It went back to the Audubon Theatre name and was still playing vaudeville & movies in November 1948.
By May 1949 it was renamed New San Juan Theatre and went over to a Spanish language films policy plus a stage show. By 1949 it was the San Juan Theatre and had programs of American movies dubbed into Spanish.
By the end of World War II the name of the theater and the language of the pictures changed.
The San Juan had a Spanish Language film policy until it stopped showing movies some time in the late 1960's.
Long a center of culture and entertainment, the Audubon Ballroom is still best-known today as the place where Malcolm X was assassinated on February 21, 1965 while giving a speech.
Films ceased in 1980 and the theatre closed. The building fell into disuse and disrepair and was demolished in 1989 apart from the façade on W. 165th Street. It was acquired by Columbia-Presbyterian Medical Center in the mid-1990's. It was ultimately torn down by Columbia University when they were expanding their medical facility.
A new structure erected behind the historic façade, where the Audubon Theatre had stood. Known today as the Malcolm X and Dr Betty Shabazz Education & Research Center. Inside the center is a memorial to Malcolm X. Some parts of the Audubon Ballroom still remain in some sort of use.
The ornate terra-cotta façade was meticulously restored and brought back to its 1910's appearance, making it quite an eye-catching sight.
The facade was saved and restored and used in the new structure.
Photo credit: 1921 shot of the William Fox Audubon Theatre in 1921 with Queen of Sheeba.
---