---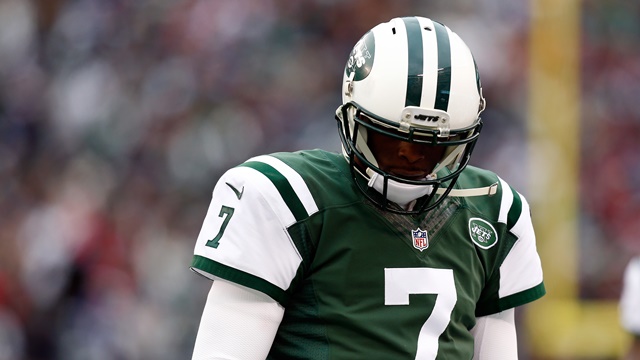 By Marc Rasbury
The New York Jets may have loss more than a game in their 30-24 defeat at the hands of the Oakland Raiders on Sunday. They may have lost their legitimate shot at securing a playoff spot as both their starting QB, Ryan Fitzpatrick and his backup Geno Smith were injured during the contest.
It was no surprise to me that the Jets were grounded out in Oakland. The ole Oakland Coliseum has never too kind to Gang Green going back the infamous Heide Game in 1968.  And this was a perfect trap game. Coming off of that disappointing loss at the hands of the New England Patriots last week, I was kind of expecting a letdown on the banks of the Golden Gate Bridge.
Let's keep in mind, these are not the same old Raiders we have come accustomed to over the past few years. They have something in Derek Carr the Jets have been looking for ever since they jettisoned, (no pun intended), Chad Pennington out of here back in 2007. They also have given Carr some nice weapons to work with in Amari Cooper and Michael Crabtree, who abused the Jets' vaunted defense for 102 yards.
The most disappointing aspect of this game was the play of the Jets' defense. I know that Raiders are improving by the week. However, Gang Green left their tackling abilities back in New Jersey as Oakland ran through and over them as if they were the Path of Least Resistance.
They brought in Geno Smith and he quickly showed us why he was sitting on the bench this season.
To make matters worse, Gang Green lost Fitzpatrick to ligament damage in his non-throwing hand before most players could even break a sweat. They brought in Geno Smith and he quickly showed us why he was sitting on the bench this season. Yes, he threw for 265 yards with two TDs but he looked loss in the process. He took several sacks where even a first year QB would have got rid of the ball before the defense would have gotten to them. He showed virtually no pocket awareness especially in the 4th quarter when the Jets still had a chance to make a game of it.
Smith would go down with a shoulder injury late in the in game. Fitzpatrick returned to the game but he could not throw the ball deep downfield with two good hands nevertheless just one.
Both players are listed day-to-day and the Jets hierarchy most likely will be going over the waiver wire or look to make a trade as Bryce Petty is the only healthy QB on the roster right now.
I just hope that the Jets defense snaps out of that Golden Gate fog they played in last week. I know that Raiders are much improved under Jack Del Rio but they should not have put up 30 points on Todd Bowles' crew.  Let's hope that Sunday's game was an aberration and the defense will return to its dominant self. As far as the QB situation is concerned, what they do to address that situation could be the difference between them making the playoffs and being home for the holidays. Petty might be rushed into service much quicker than anticipated while Smith showed that he is not the answer. Hopefully, Fitzpatrick can stick it out for the remainder of the season or GM Mike Maccagnan can pull a rabbit out of his hat this late stage of the season.
With Jacksonville coming up this week, the Jets should be able take them regardless who is up under the center. But going forward, it is going to be interesting. To be honest with you, I do not have a good feeling about this. All we can do at this point is put our faith in Maccagnan and Bowles.
Photo credit: Quarterback Geno Smith #7 of the New York Jets looks on from the sideline against the New England Patriots during a game at MetLife Stadium on December 21, 2014 in East Rutherford, New Jersey. (Photo by Jeff Zelevansky/Getty Images)
---