---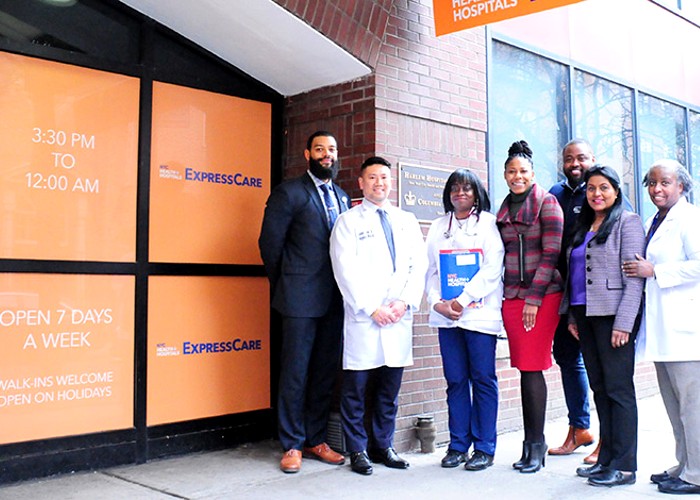 The NYC Test & Trace Corps announced today that its Trace program has launched a new COVID Treatment Outreach (CATCH) initiative.
That program will allow to quickly contact New Yorkers at the highest risk of developing serious or severe COVID-19 infections, with a priority on those living in communities hardest hit by the pandemic.
CATCH will ensure life-saving oral antiviral treatments, monoclonal antibody treatment, and other healthcare resources are promptly delivered to those in need.
"As a primary care doctor, I know that for every 20 patients with COVID-19 we treat with these new medications, one hospitalization will be averted, and one life could be saved," said Dr. Ted Long, Executive Director of the NYC Test & Trace Corps and Senior Vice President for Ambulatory Care and Population Health at NYC Health + Hospitals. "These new medications mark the change to a new phase of the pandemic, and I am excited that our contact tracers will be leading the way in ensuring that every New Yorker, without exception, has access to these treatments."
As Test & Trace prepares to transition away from universal contact tracing, the COVID Treatment Outreach (CATCH) initiative will ensure that New Yorkers who are at the highest risk of serious or severe disease from COVID-19 can easily access life-saving resources. CATCH will call New Yorkers who test positive for COVID-19 and are ages 65 or older within 24 hours of the program receiving a positive test result. These calls will prioritize cases in communities the City's Taskforce on Racial Inclusion & Equity (TRIE) has determined were most severely impacted by COVID-19.
Rapid, direct contact will ensure that eligible patients can be connected to oral antiviral medications like Paxlovid — which has cut the risk of hospitalization or death by nearly 90% — as soon as possible and within the treatment window of five days after symptom onset.
In addition to oral antiviral treatments, Tracers can quickly connect patients to monoclonal antibody treatment options.
Tracers will connect patients without a doctor to the Test & Trace Corps hotline at 212-COVID19 to receive a medical consultation and be connected to additional resources, including the opportunity to be connected to a primary care doctor.
Patients without a primary care provider or insurance can also be connected to a doctor through NYC Health + Hospitals ExpressCare to determine their eligibility for therapeutic treatments, be issued prescriptions, arrange prescription deliveries, and be directed to follow-up care.
Tracers can also connect those infected with COVID-19 to the following resources:
Take Care Hotel Rooms
Take Care care packages
Food and meal delivery
COVID related employment leave
Quarantine and Isolation orders
Assistance with housing eviction or other tenant issues
Domestic violence services
Discrimination or harassment related to COVID19
AfterCare
Outpatient treatment options
During the first days of outreach, CATCH reached nearly 40% of eligible patients in live conversation. As a result of these calls, nearly one in five patients were directed to treatment through Health + Hospitals or their own health care provider.
The CATCH initiative is staffed by seasoned Case Investigators from the Trace Program who will be able to make hundreds of calls a day, 7 days a week.
Tracers, a majority of whom were hired from New York's hardest-hit communities, have completed intake for cases in 55 different languages, illustrating the wide reach of the program.
If you or a loved one need immediate assistance, please call the NYC Test & Trace Corps COVID Hotline at 212-COVID19.
NYC Health + Hospitals is the largest public health care system in the nation serving more than a million New Yorkers annually in more than 70 patient care locations across the city's five boroughs.
A robust network of outpatient, neighborhood-based primary and specialty care centers anchors care coordination with the system's trauma centers, nursing homes, post-acute care centers, home care agency, and MetroPlus health plan—all supported by 11 essential hospitals.
Its diverse workforce of more than 42,000 employees is uniquely focused on empowering New Yorkers, without exception, to live the healthiest life possible.
For more information, visit www.nychealthandhospitals.org and stay connected on Facebook at https://www.facebook.com/NYCHealthSystem or Twitter at @NYCHealthSystem
Photo credit: NYC Health + Hospitals ExpressCare.
---