---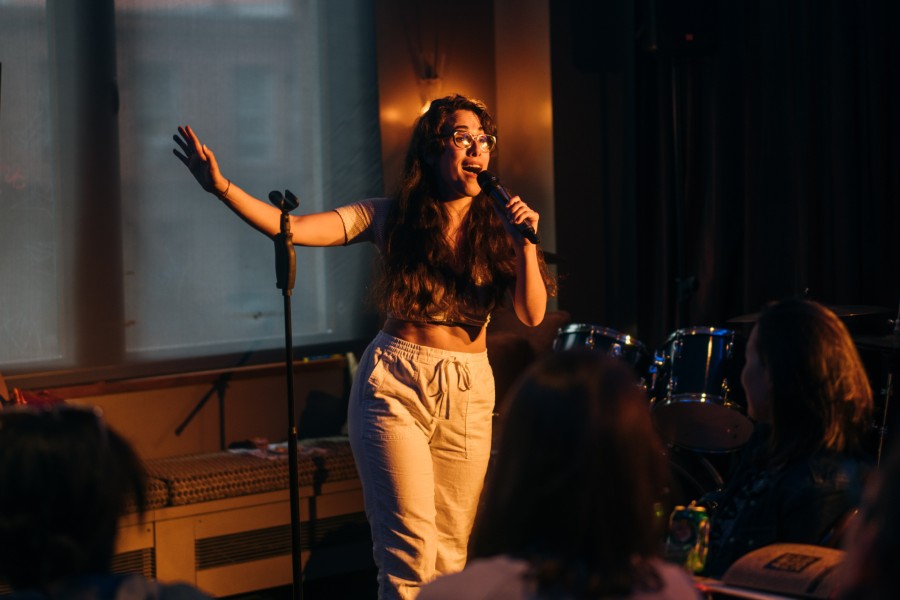 Five playwrights are the 2022 recipients of The New York Community Trust's prestigious Helen Merrill Award for Playwriting.
This year's awardees—Gethsemane Herron, Zora Howard, C.A. Johnson, Michelle J. Rodriguez, and Cori Thomas—each received an unrestricted $30,000 cash award.
Together, these writers show the increasingly diverse voices that are bringing powerful stories to America's stages.
For many past awardees, the Helen Merrill Award has served as a springboard that helped propel their careers to a new level. Previous award winners have subsequently earned Obie Awards, Guggenheim Fellowships, and Pulitzer Prizes—and many have built long careers on and off Broadway.
"Thanks to the generosity of donors like Helen Merrill, and an outstanding committee of theater leaders who have their fingers on the pulse of this industry, The New York Community Trust is able to make substantial awards to talented playwrights," said Salem Tsegaye, program officer for arts and culture at The Trust. "We hope these awards provide a boost of confidence and a little freedom and flexibility for artists to continue their creative pursuits on their own terms."
Identifying Breakthrough Talent
The Helen Merrill Award for Playwriting is one of the nation's largest and most significant prizes for playwrights and has built a strong track record for identifying breakthrough talent.
Since 1999, 103 writers have been selected for the awards and received a total of $2.29 million. The late theatrical agent Helen Merrill established the program at The New York Community Trust to help playwrights pursue their art with less financial pressure weighing on them.
Previous recipients include Michael R. Jackson, who was preparing for the off-Broadway launch of A Strange Loop when he received his 2019 Helen Merrill Award. Jackson went on to win the Pulitzer Prize for Drama in 2020—becoming the first Black playwright to win the award for a musical. Earlier this year, A Strange Loop took home the Tony Award for best musical.
In 2020 and 2021, the Helen Merrill Award advisory committee expanded the number of recipients in response to the financial challenges caused by theater closures. The awards continue to provide writers with a critical financial lifeline as they pursue their work with fewer financial pressures during the Covid-19 pandemic.
"So many people have made all of this possible," said Michelle J. Rodriguez. "When I got this award and saw who was on the panel, it made me realize that people really are watching out for me and for my career."
Rodriguez had been living with friends in Vermont for the past year traveling back and forth to New York City. With this award, Michelle was able to secure an apartment in the city so she could be closer to her collaborators.
Last year's winners included Eboni Booth, Ty Defoe, Lady Dane Figueroa Edidi, Daaimah Mubashshir, and Andrea Thome, each of whom received cash prizes of $25,000. Shortly before his death last year, William S. Yellow Robe, Jr., was awarded $40,000 in recognition of his exceptional career as a playwright and his contributions to Native American theater.
In 2020, Donnetta Lavinia Grays, Kimber Lee, Donja R. Love, Mona Mansour, Diana Oh, and Sung Rno each received a $25,000 award to support their creative endeavors and help elevate their careers.
Learn more about the 2021 and 2020 Helen Merrill Award recipients.
2022 Recipients
Gethsemane Herron (she/her) is a playwright from Washington, D.C. She has developed work with JAG Productions, the Hearth, the Fire This Time Festival, the Liberation Theater Company, Roundabout Theatre Company, the Playwright's Center, Ars Nova, and WP Theater. She is a resident artist with Ars Nova's Play Group, a 2020-2022 member of the WP Lab, a 2021-2022 Jerome Fellow, and a 2022-2023 Many Voices Fellow at the Playwright's Center. Residencies include VONA, VCCA, Tofte Lake, and the Millay Colony. She is a winner of the Columbia@Roundabout Reading Series and the 45th Samuel French Off-Off Broadway Short Play Festival. She also was a finalist for the following honors: SPACE on Ryder Farm's Creative Residency, the Van Lier New Voices Fellowship at the Lark, and the Founders Award at New York Stage and Film. Herron received a Master's of Fine Arts from Columbia University and splits her time between New York City and Minneapolis. She is currently working on a commission for Mosaic Theater Company and is a proud member of the Dramatists Guild.
Zora Howard (she/her) is a Harlem-bred writer and performer. Her plays include STEW (2021 Pulitzer Prize Finalist; Page 73 Productions), THE MASTER'S TOOLS (Williamstown Theater Festival), BUST (2022 Susan Smith Blackburn Prize finalist), HANG TIME (2022 Creative Capital Award finalist) and GOOD FAITH. In 2020, her film Premature (2020 Film Independent John Cassavetes Award nominee), which she co-wrote with director Rashaad Ernesto Green, opened in theaters following its premiere at the 2019 Sundance Film Festival. Howard is the inaugural Judith Champion Fellow at Manhattan Theatre Club and a 2022 Lilly Award recipient. She is currently working on commissions from Seattle Rep, Manhattan Theatre Club, and Wessex Grove.
C.A. Johnson (she/her) is a Brooklyn-based playwright originally from Metairie, Louisiana. Her plays include All the Natalie Portmans (MCC Theater), Thirst (2017 Kilroys List, Contemporary American Theater Festival), The Climb (Cherry Lane Mentor Project), An American Feast (NYU Playwrights Horizons Theater School), I Know I Know I Know, and Somebody's Body. Recently she received the Stacey Mindich Go Write a Play Award. She was previously a Tow Playwright in Residence at MCC Theater, a 2018 P73 Playwriting Fellow, the Lark's 2016-17 New York Community Trust Van Lier Fellow, a Dramatists Guild Fellow, a member of the Working Farm at SPACE on Ryder Farm, a Core Writer at The Playwrights Center, a member of The Civilians R&D Group, a Sundance/Ucross Fellow, and a 2018 Sundance Theatre Lab Fellow. She received a Bachelor of Arts from Smith College and a Master of Fine Arts from NYU.
Michelle J. "Micha" Rodriguez (she/her) writes and performs in the worlds of music and theater, exploring stories of divinity, queerness, intuition, joy-as-resistance, and healing. Her music project, Micha, was a finalist for National Public Radio's 2018 Tiny Desk Contest with her song "Nena Nena Nena." Rodriguez is working on commissions from Portland Center Stage, Baltimore Center Stage, and Black Cap Productions. She received a 2022 grant from the NYC Women's Fund for Media, Music and Theater and was a New York Community Trust Van Lier Fellow at Ars Nova in its Makers Lab. She has presented Visions (Joe's Pub), J. Lo at the Dance Call (Ars Nova), and East o' West o'! (Ars Nova, Steppenwolf). Rodriguez composed the music for The Mobile Unit's production of The Tempest (Public Theater) and subsequently toured Micha Música: In Transit (Mobile Unit/Joe's Pub). Rodriguez was an Artist in Residence at the Lexington Theater Company and has received support from New York Theater Workshop, the Public Theater, the Sundance Institute, SPACE on Ryder Farm's Creative Residency, the Sol Project, Kentucky Governor's School for the Arts, Salonathon, and the University of Chicago. She received a Bachelor of Arts from Williams College. Rodriguez is headlining the Bushwick Starr's Summer Arts Festival with music from Presencia on August 21, and will perform a concert at the Baltimore Center Stage on October 21.
Cori Thomas (she/her) is a New Dramatists Resident and a Mellon Foundation Playwright-in-Residence at WP Theater. She has won the American Theater Critics Osborn Award for Best New Play, the Lippman Family New Frontier Award, and the Edgerton Foundation Prize. She was a runner-up for the Horton Foote Prize and is a two-time Theodore Ward Prize winner. She has also been awarded fellowships and residencies at the O'Neill National Playwrights Conference, Sundance Theater Lab, MacDowell Colony, Bogliasco, and Baryshnikov Arts Center. Thomas' plays have been produced and developed at Rattlestick Theater, Playwrights Horizons, Page 73, Women's Project, City Theater Company in Pittsburgh, the Goodman Theater, Pillsbury House Theater, and Mixed Blood. Her plays include Lockdown, When January Feels Like Summer, Citizen's Market, My Secret Language of Wishes, and the Liberian Legacy Trilogy. Thomas is also a co-author of I Cried to Dream Again, the memoir of sex-trafficking survivor Sara Kruzan, and has written an original screenplay about Nelson Mandela and Percy Yutar for HBO Films and Tribeca Productions.
The New York Community Trust
The New York Community Trust is New York City's largest community foundation. It connects generous people and institutions with high-impact nonprofits making the city and its suburbs a better place for all.
It builds stronger communities, influences public policy, fosters innovation, improves lives, and protects our environment.
Photo credit: Michelle Rodriguez.
---