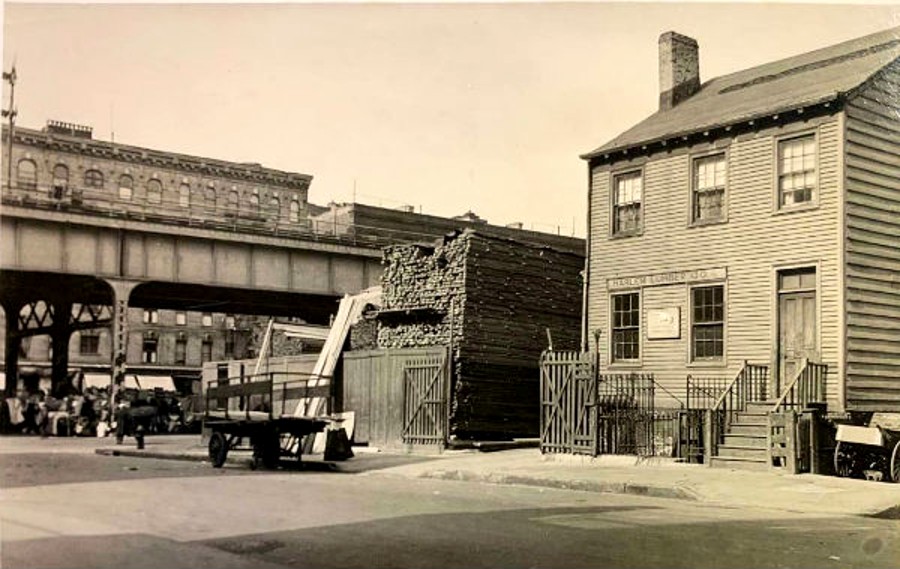 Dykes Lumber Company at 103 East 122th Street to 124 East 124th Street, NE corner of Park Avenue, in Harlem, NY, 1912.
Dykes Lumber Company was founded in 1909 in Harlem, NY by Andrew H. Dykes. The first store was located at 137 West 24th Street in Harlem.
A second store opened in 1912 at 348 West 44th Street. Over the next 30 years, Dykes Lumber experienced tremendous growth. By 1940 there were eleven yards in operation.
In December of 1944, Andrew Dykes passed away and leadership of the Company was passed to Frank Homan, who Louis Kreyer Sr. later succeeded By 1963, there were fifteen yards in operation.
At that time all the employee owners had reached retirement age and decided to sell the company, the Berwind Corporation purchased it.
Dykes continued to grow and reached a total of 19 locations. However, in the late '60s and early 70's the economy turned, stores were closed and properties sold and by 1972 Dykes was down to four locations.
In 1973 under the leadership of Lou Kreyer Jr., several vital employees joined together and purchased the company back from the Berwind Corporation and acquired two new locations.
In 1995, Lou Kreyer, Jr., retired, and leadership was passed to his son, Charles Kreyer. Since then they acquired five new locations and closed two bringing us to nine.
Maybe the secret to their success is what they say on their site:
"Today, Dykes Lumber looks to the future with an eye toward steady, managed growth. We look forward to providing our customers with the same quality materials, excellent service, and integrity they have come to expect."
As they still do today, they sell many moldings, lumber, building materials, doors, windows, stair parts, hardware, decking, columns, decorative pieces and more writes Dykes Lumber.
---
---
Photo credit: 1928, source.
Related Articles