---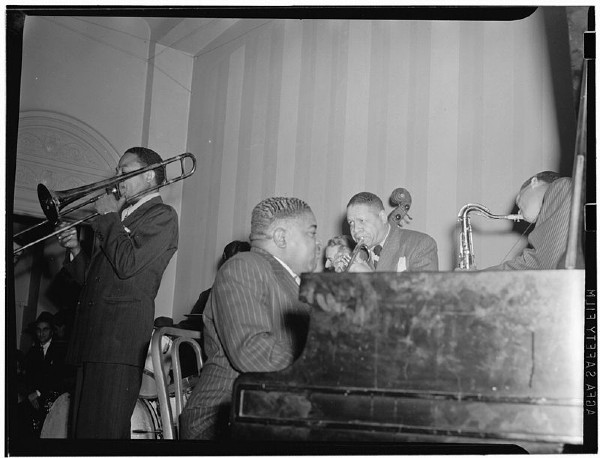 Jay C. (Jack) Higginbotham, May 11, 1906 – May 26, 1973, was a Harlem jazz trombonist, his playing was strong and always swinging.
Biography
He was born in Atlanta, Georgia on May 11, 1906, and raised in Cincinnati.
In the 1930s and 1940s, he played with some of the premier swing bands, including Luis Russell's, Benny Carter's, Red Allen's, Chick Webb's, Fletcher Henderson's, and Mills Blue Rhythm Band.
He also played with Louis Armstrong, who had taken over Russell's band from 1937 to 1940. From 1947 on, he chiefly led his own groups living in Harlem, NY.
He recorded extensively both as a sideman and as a leader. He played for a long period in the forties with his ideal partner Red Allen, and then disappeared from the scene for several years.
Higginbotham led several bands in the Fifties in Boston and Cleveland, appeared regularly at the Metropole in New York between 1956 and 1959, and led his own Dixieland band there in the Sixties.
He also appeared on the DuMont series Jazz Party (1958), aired on WNTA-TV.
During the tenure with Luis Russell on February 5, 1930, a single session was issued under the name of J.C. Higgenbotham and His Six Hicks was issued on OKeh 8772, featuring "Give Me Your Telephone Number" and "Higgenbotham Blues."
Here's a recording of  "Give Me Your Telephone Number":
Musicians included Henry Allen, Higgenbotham, Charlie Holmes, Luis Russell, Will Hognson, Pops Foster, and Paul Barbarin, all members of Russell's band.
He went on his first European tour with Sammy Price, appearing in Scandinavia, and worked once again briefly in 1964 with Louis Armstrong.
Died
He died on May 26, 1973, in Harlem at Harlem Hospital.
Photo credit: 1) Wikipedia. 2) Youtube.


---