---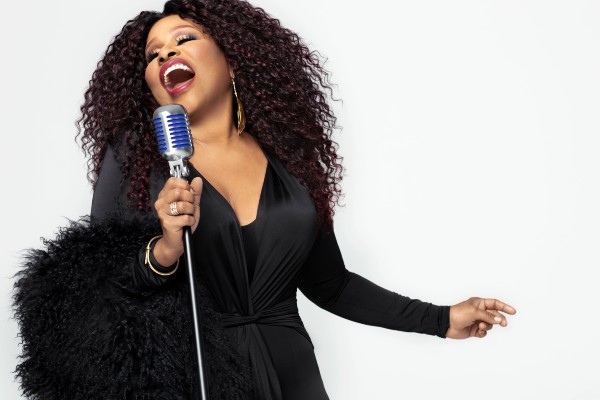 There's plenty of time to head from Harlem to Pittsburgh for the August Wilson African American Cultural Center especially with diva Chaka Khan headlining the Pittsburgh International Jazz Festival.
Taking place live, in-person, from September 17-19, 2021, the 11th annual festival will feature the legendary, ten-time Grammy Award winner Chaka Khan, who will perform on Friday, September 17, 201, at 8pm ET at the Benedum Center for the Performing Arts, 237 7th Street, Pittsburgh, PA.
The initial line-up also includes performances from pre-eminent jazz vocalist Dianne Reeves; Grammy-winning instrumentalist, composer, and producer Marcus Miller, and many others, performing at the Highmark Stadium 510 W Station Square Drive, Pittsburgh, PA.
To ensure the health and safety of its audience, artists, and staff, the PIJF will be a fully ticketed event, with pre-sale tickets available to AWAACC members on Tuesday, June 8 at 10 am ET, and general tickets on sale starting Tuesday, June 15 at 12 pm ET.
Tickets to Chaka Kahn at the Benedum Center and for performances at Highmark Stadium are available at pittsburghjazzfest.org .
AWAACC, Highmark Stadium, and the Benedum Center are committed to the utmost safety of its patrons, artists, and staff, and there will be safety measures in place following federal, state, and local guidelines.
Ticket buyers will receive communication including all safety details closer to the event to ensure that all attendees have an enjoyable and healthy experience throughout the festival.
In addition to Chaka Khan, Dianne Reeves, and Marcus Miller, the three-day festival will include performances by Grammy-winning vocalist Gregory Porter; vocalist Jazzmeia Horn, winner of the 2015 Thelonious Monk Institute International Jazz Competition;  two-time Edison Award-winning, trumpeter Christian Scott; jazz and R&B duo  The Baylor Project; Pittsburgh native drummer Jeff "Tain" Watts, who has performed alongside Wynton Marsalis, Betty Carter and Alice Coltrane; Lakecia Benjamin, chosen as the "2020 Up and Coming Artist of the Year" by the Jazz Journalists Association; The Kenny Garrett Quintet, whose leader, saxophonist and composer Garrett, was a member of the Duke Ellington Orchestra and, most notably, a member of Mile Davis' band.
The Pittsburgh International Jazz Festival (PIJF) is curated by Janis Burley Wilson, AWAACC President & CEO of the, who created the festival in 2011 and has built it into its signature program of the Center. For additional details and the complete festival lineup, please visit pittsburghjazzfest.org.
"Jazz is synonymous with Pittsburgh, and for more than a decade the Pittsburgh International Jazz Festival has been a hallmark event for our community as well as a destination for music lovers and the most innovative jazz musicians in the world. To address the changes that are happening globally, we have reimagined this festival to meet the challenges and create an event that is safe and sustainable. I am thrilled that we are able to come together in-person this September to enjoy this incredible group of artists at a time when our community needs shared, communal experiences again the most," said AWAACC President & CEO Janis Burley Wilson. "I'm immensely grateful to Citizen's Bank and our additional sponsors, as well as to Highmark Stadium and the Benedum Center for partnering with us. Moving the festival to Highmark Stadium will provide the extra space to share this Pittsburgh favorite with as many people as possible while also maintaining propose social distancing, from the community to the world-class artists and our staff."
The Pittsburgh International Jazz Festival extends the non-profit AWAACC's mission to celebrate Black culture and the African diaspora and highlights the Center as a leader in presenting programming that reflects the diversity of Pittsburgh and the nation. To learn more about the Center and its year-round activities, please visit https://aacc-awc.org/.
Ticket Information
PIJF members can access pre-sale tickets on Tuesday, June 8 at 10 am ET with general tickets available starting Tuesday, June 15 at 12 pm ET. Tickets can be purchased pittsburghjazzfest.org.
Tickets for Chaka Khan at the Benedum Center for the Performing Arts on Friday, September 17 start at $55 and can be purchased at pittsburghjazzfest.org.
One-day Jazz Fest passes for Saturday or Sunday are available starting at $40, and two-day Jazz Fest passes are available starting at $75 for performances taking place at Highmark Stadium.
Student one-day passes for $25 and two-day passes for $40 will be available for purchase in-person at the venue, as well as $10 tickets for children (ages 4-12) and free Lap Passes for children under 3. These tickets must be purchased in person at the Highmark Stadium box office.
Sponsors
The Pittsburgh International Jazz Festival would like to thank its sponsors, including Citizens Bank, Highmark Blue Cross Blue Shield, UPMC, UPMC Health Plan, UPMC Center for Engagement and Inclusion, and Flyspace Productions. Partners include JazzCorner, The Westin Convention Center Hotel, the Pittsburgh International Airport, Drury Hotel, Downbeat Magazine, JazzTimes Magazine, and others.
Chaka Khan
Chaka Khan is a ten-time Grammy Award winner and has the rare ability to sing in a number of musical genres, including R&B, pop, rock, gospel, country, world music and classical. Khan has released 22 albums and racked up ten number one songs on the Billboard charts, seven RIAA-certified gold singles and ten RIA-certified gold and platinum albums. In addition, Khan recently made history once again, as she was been named Grand Marshal of the 2019 Tournament of Roses Parade, making her not only the first African American Grand Marshal in the traditional New Year's Day celebration's 130-year history, but the first Grand Marshal to perform during the parade.
The Baylor Project
Featuring Jean Baylor and Marcus Baylor, The Baylor Project's collaboration is steeped in the heart and soul of Jazz. As the children of pastors, Baylor's musical roots were planted deep within the church, and it was there that the road was paved for the influence of gospel, blues, soul, and jazz to make its mark. Their debut CD "The Journey," released on their own label, Be A Light, topped the Billboard Jazz Chart at number eight and a year later garnered two Grammy nominations for Best Jazz Vocal Album and Best Traditional R&B Performance.
Lakecia Benjamin
Saxophonist/bandleader Lakecia Benjamin's electric stage presence and sax work has shared stages with Stevie Wonder, Alicia Keys, The Roots, Macy Gray, and many others. Currently, Benjamin is a featured musician for Gregory Porter as well as a featured musician and arranger for comedy star Craig Robinson and the Nasty Delicious. Benjamin has also had the honor of performing at the White House at President Obama's inaugural ball. She's performed on four continents and her extensive recording credits include saxophone and arrangements for Santigold, Maurice Brown, the Clark Terry Big Band, Krystle Warren, and Talib Kweli, among others.
Dianne Reeves Beleza Brazil
As a result of her breathtaking virtuosity, improvisational prowess, and unique jazz and R&B stylings, Reeves received the Grammy for "Best Jazz Vocal Performance" for three consecutive recordings – a Grammy first in any vocal category. Featured in George Clooney's Academy Award-nominated Good Night, and Good Luck, Reeves won the "Best Jazz Vocal" Grammy for the film's soundtrack. She has recorded and performed with Wynton Marsalis and the Lincoln Center Jazz Orchestra. She has also recorded with the Chicago Symphony Orchestra conducted by Daniel Barenboim and was a featured soloist with Sir Simon Rattle and the Berlin Philharmonic. Reeves was the first Creative Chair for Jazz for the Los Angeles Philharmonic and the first vocalist to ever perform at the famed Walt Disney Concert Hall.
The Kenny Garrett Quintet
Kenny Garrett is an American post-bop jazz saxophonist and flautist who gained recognition in his youth as a member of the Duke Ellington Orchestra and of Miles Davis's band. In 1984, he recorded his first album as a bandleader, "Introducing Kenny Garrett." From there, his career has included 11 albums as a leader and numerous Grammy nominations. During his career, in addition to Ellington and Davis, Garrett has played with many jazz greats such as Freddie Hubbard, Woody Shaw, McCoy Tyner, Pharoah Sanders, Brian Blade, Bobby Hutcherson, Ron Carter, Elvin Jones, and Mulgrew Miller.
Marcus Miller
For nearly four decades, bass guitarist Marcus Miller has collaborated with some of pop and jazz's biggest giants, including Miles Davis, who Miller performed alongside as a band member and later as a writer and producer of three of Davis' albums. Miller's collaborations also include Luther Vandross, which led to Miller's first Grammy Award for "R&B Song of the Year." Throughout the '80s, '90s, and 2000s, Miller released several of his own featuring hybrids of smooth R&B, funk, and jazz. Released in 2001, his solo album "M2" won a Grammy for Best Contemporary Jazz Album. Miller has also been selected as a UNESCO Artist for Peace and also became spokesperson for the organization's Slave Route Project.
Gregory Porter
Gregory Porter is an American singer, songwriter, and actor. His debut album, "Water," was nominated for "Best Jazz Vocal Album" at the 53rd Annual Grammy Awards. His second album, "Be Good", which contains many of Porter's compositions, garnered critical acclaim for both his distinctive singing and his compositions, such as "Be Good (Lion's Song)," "Real Good Hands," and "On My Way to Harlem." The title track was also nominated for "Best Traditional R&B Performance" at the 55th Annual Grammy Awards.
Christian Scott
Christian Scott s an American trumpeter, composer, and bandleader. He is a two-time Edison Award recipient and winner of the 2016 JazzFM Innovator of the year Award. and has been nominated for five Grammy Awards. Since 2002, Adjuah has released twelve critically acclaimed studio recordings, three live albums and one greatest hits collection. Since 2006, Christian has worked with a number of notable artists, including Prince, Radiohead's Thom Yorke, McCoy Tyner, Marcus Miller, Eddie Palmieri, rappers Mos Def (Yasin Bey), Talib Kweli, and Vic Mensa, as well as heralded poet and musician Saul Williams.
Jeff 'Tain' Watts Suite Pittsburgh
Jeff "Tain," Watts spent his formative years with Wynton and Branford Marsalis, and his compositional skills now command equal attention, earning Watts a Guggenheim Fellowship in 2017. In the film and television industry Watts has appeared as both a musician on the "Tonight Show with Jay Leno" and as an actor, Rhythm Jones in Spike Lee's Mo Better Blues . Watts joined Kenny Garrett's band after returning to New York in 1995 and continued to record and tour with Branford Marsalis as well as Danilo Perez, Michael Brecker, Betty Carter, Kenny Kirkland, Courtney Pine, Geri Allen, Alice Coltrane, Greg Osby, McCoy Tyner, Steve Coleman, Gonzalo Rubalcaba, Harry Connick Jr, and Ravi Coltrane. Watts was a 2017 Guggenheim Fellow in the field of music Composition.
The August Wilson African American Cultural Center is a non-profit cultural organization located in Pittsburgh's cultural district that generates artistic, educational, and community initiatives that advance the legacy of Pulitzer Prize-winning playwright August Wilson. One of the largest cultural centers in the country focused exclusively on the African American experience and the celebration of Black culture and the African diaspora, the non-profit organization welcomes more than 119,000 visitors locally and nationally. Through year-round programming across multiple genres, such as the annual Pittsburgh International Jazz Festival, Black Bottom Film Festival, AWCommunity Days, TRUTHSayers speaker series, and rotating art exhibits in its galleries, the Center provides a platform for established and emerging artists of color whose work reflects the universal issues of identity that Wilson tackled and which still resonate today.
Presented by Citizens Bank
---