---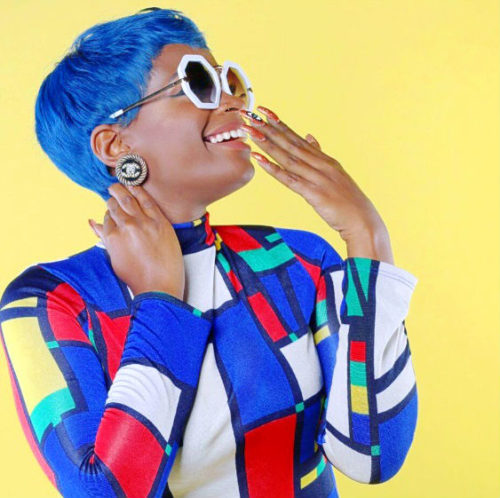 Where To Stay
Plan your Summer 2018 on the East End of beautiful Long Island, New York. With the most magnificent beaches, elegant estates, fabulous shops, and über recreational opportunities (swim, surf, boat, golf, tennis, bike and horseback riding).
The Southampton Inn is the perfect getaway and base for your Hamptons adventures. The luxurious Inn also offers bike rentals, a heated pool, and a shuttle bus to the highly-rated Coopers Beach which is only a mere mile away.
Great for couples, corporate outings, honeymooners and not just kid-friendly but pet-friendly also, Southampton Inn is walking distance to the beach, village, culture, and shopping, and right next door to spas, salons, and exercise studios of Southampton. This June 2018 why not make the Southampton Inn your base for the US Open Golf tournament at nearby Shinnecock Hills Golf Club.
Weekend 2018 rates vary through the Summer and guests should reach out to plan their trip with the helpful staff at the Inn – remember there is a 2-night minimum on weekends.  The Inn has available midweek special room rates, typically arriving Sunday and departing Friday this season. In addition, the Inn can accommodate extended stays. Please visit the website for the latest offers, availability and booking details.
As the winner of numerous awards including "Best Breakfast," "Best Hotel," and "Best Wedding Location," Southampton Inn is a warm and welcoming haven with an exemplary reputation that is richly deserved. Celebrate the art of pure relaxation, indulge in a romantic rendezvous, or enjoy precious time with the entire family – Southampton Inn is the only destination for the discerning traveler.
Southampton Inn's restaurant, Claude's, will be open daily from 7:00am to 9:00pm and opens for lunch and dinner starting May 19th, 2018. Try Claude's Cabaret – an exclusive prix fixe dinner followed by live performance every Thursday from June 21st to August 24th, 2018. On the move this summer: try Carry-Out Claude's and enjoy the free Wednesday concerts this summer in Agawam Park starting in July.
91 Hill Street, Southampton, New York, 631-283-6500
Where To Dine
Farm to Table at Claude's, Southampton Inn – NEW Summer 2018
New for Summer 2018 is The Southampton Inn's latest restaurant, Claude's, opening May 19th, 2018 for Lunch and Dinner from 7:00am-9:00pm, 7 days a week. Claude's features all the delicious home cooked menu selections of its "Best" breakfast, lunch and light bites such as the Jobs Lane French Toast, and will be open for lunch and dinner starting May 19th, 2018. Situated outside in the beautifully planted courtyards and pool patios, as well of course "Inn-side." Offering the prettiest outdoor dining in Southampton.
91 Hill Street, Southampton, NY 11968
Modern Mexican at Union Cantina, Southampton
Do not miss the exciting new menu specials and entertainment at Long Island's most vibrant, social and delicious destinations – Union Cantina, the Hamptons only authentic modern Mexican restaurant. This popular eatery, designed by Southampton Social Club owners Ian Duke and David Hilty, sits in the iconic Bowden Square and is open all year-round. With Duke and Hilty working alongside award-winning Executive Chef Scott Kampf, who has been featured on Food Network's Iron Chefs of America, the trio continues to bring innovative Mexican cuisine to Southampton throughout the year.
Behind the restaurant sits the exclusive 400 Rabbits Tequila Bar, which is reminiscent of a prohibition-era speakeasy. Bartenders mix fun favorites for diners that perfectly complement any meal. The tequila bar carries 100+ types of tequila, producing a unique signature cocktail program and an extensive tequila menu consisting of sangrias, punches, and frozen drinks.
Union Cantina's festive atmosphere incorporates both the sleekness of the Hampton's high society with the rustic beauty of Mexican culture. The dark woods are balanced by the bright cerulean colored walls, and are also decorated with Mexican artwork. Union Cantina is the hotspot all year round for festive dining, live music, and A-list celebrations!
What's New:
A clear focus on what we call The Goods:  Good Food, Good Drinks, Good Service and Good Times! Some specifics:  New dishes & Cocktails.  A calendar of daily ongoings including live music and specials.   An outdoor bar and adult playground with an assortment of outdoor games for everyone to partake in. Some special events:  The U.S Open week long PAR-TEE with daily golf putting competitions from June 11th – 16th, The FIFA World Cup starting on June 14th, The Cantina Tequila Mixer on Saturday July 14th, Our Annual Union Carnivale on Saturday August 18th and of course all of the traditional summer holiday events. Check the website for latest updates.
40 Bowden Square, Southampton NY 11968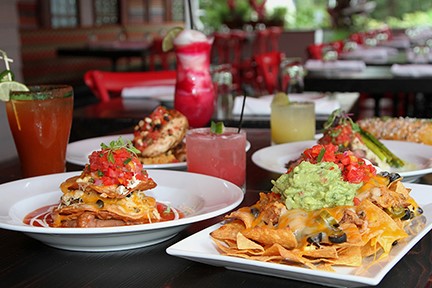 Classic American at 75 Main, Southampton
Under the management of Restaurateur Zach Erdem, 75 main has been transformed into the Hamptons summer dining staple and a year-round hotspot. Erdem reinvented the Southampton eatery, combining the classic style of the Hamptons with the enticing elements of New York City nightlife. The celebrity guests seen dining in recent seasons have included Leonardo di Caprio, Kim Kardashian, Kourtney Kardashian, Khloé Kardashian, Scott Disick, 50 Cent, French Montana and Sarah Jessica Parker.
75 Main Street, Southampton, NY 11968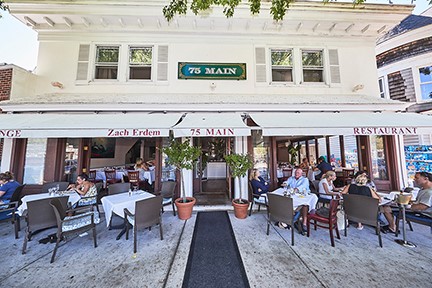 Dining at Sotto Sopra affords you a palatable trip to Italy
Take a cultural journey to Sotto Sopra in Amagansett, NY where guests can find the traditional flavors of Northern Italy and succulent steaks and chops. The restaurant's wood-burning oven freshly bakes breads, crispy Italian style pizza and whole roasted fish. Sotto Sopra has quickly become one of the most coveted restaurants on the East End, known for its frequent celebrity guests, relaxing atmosphere, exceptional service, and fresh, flavorful fare. Enjoy pasta dishes such as the Spaghettini a la Greco with shrimp, and spinach in a spicy arrabbiata sauce. The Margherita is a classic Italian-style thin crust pizza topped with mozzarella, tomato, and basil. Specialty drinks include: the Rose Orchid, which blends Death's Door Gin with St. Germain, prosecco, grapefruit and hibiscus; the Sot-to 75 mixes Farmers Organic Gin, with St. Germain, champagne, blueberry and lime juice; and the South Fork cocktail includes Jameson Irish Whisky blended with mint, cucumber, lime and orange juice.
231 Main Street, Amagansett, NY
Where To Party
 Southampton Social Club
This season, Southampton Social Club returns to set the standard for a season of dining, drinks and dancing.  As the pre-eminent fine dining supper club in the Hamptons, Southampton Social Club (SSC) continues to set the standard for hospitality.
From Executive Chef Scott Kampf's cuisine and his dedication to the classic "Farm to Table" cooking style to the summer 2018 cocktail program featuring many new refreshing libations, not to mention the integration of the classic social beer garden concept to SSC's outdoor area. In addition, SSC will also offer $39.00 Three Course Prix Fixe Dinner on Wednesdays, Thursdays, and Sundays.
On a weekly basis, the entertainment will reach a crescendo with Live Music and DJ's performing together creating an undeniably brilliant sound and vibe to set your summer to. Some of the forthcoming highlights of the summer social season include Pop Country Night on May 24th, June 28th, and July 26th, 2018; the Rose All Day Brunch Party on June 9th, 2018 and Miami Vice Night with DJ Vinny Vinsane on July 2nd, 2018. Plus, SSC will have specials for Memorial Day weekend, the U.S. Open, and so much more!
256 Elm Street, Southampton, New York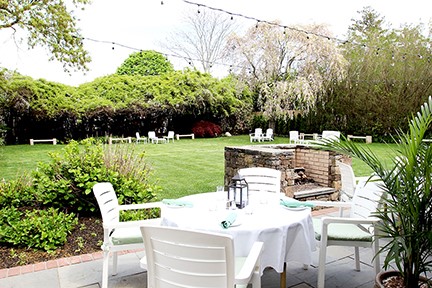 Evelyn Alexander Wildlife Rescue Center's 12th Annual GET WILD Benefit
(Saturday, June 23, 2018)
The Evelyn Alexander Wildlife Rescue Center of the Hamptons will celebrate the Hamptons summer season with its 12th annual GET WILD Benefit hosted by Joan and Bernard Carl.  Notable attendees from last year's event included: Ginnie Frati, Shelley Berkoski, Liz Brown, Leslie Alexander, Amy Molnar, Dr. Justin Molnar, Ken Molnar, Amanda Daley, Kristina Lewan, Amber Eichner, Jake Zamansky, Gabriela Aran, Dennis Aran, Howard Lorber, Curtis and Amanda Polk, Dorothy Frankel, Dan Finta, Isabel Van Linden, Asia Lee, Benita Matthes, Pat Treu, and Rob Doty.
For more information about the Evelyn Alexander Wildlife Rescue Center of the Hamptons, please click on the image below;
A Private Brunch with Ferrari & Maserati (Saturday, July 14, 2018)
RAND Luxury is proud to produce a Private Charity Brunch and luxury showcase at a private estate in Water Mill, NY in association with Ferrari Maserati of Long Island. On display will be the latest models from Ferrari & Maserati and the opportunity to experience a ride in these fine marques. Invited guests shall enjoy fine cuisine, champagne & spirits at an elegant private estate in the Hamptons. There will also be a luxury showcase of home electronics & decor, private aviation, tourism opportunities, fashion and more… The private event is by invitation only. For more information, please click on the image below;
Samuel Waxman Cancer Research Foundation 14th Annual A Hamptons Happening (Saturday, July 14, 2018)
The 14th Annual The Hamptons Happening to benefit the Samuel Waxman Cancer Research Foundation will honor Chef Matt Lambert, Executive Chef and co-owner of Michelin Star restaurant The Musket Room, and Ramy Brook Sharp, Founder & Creative Director of Ramy Brook, among others to be announced. The Hamptons Happening will feature over 30 of the top chefs and restaurants in New York City and the Hamptons.
Samuel Waxman Cancer Research Foundation's 14th Annual The Hamptons Happening will take place on Saturday, July 14, 2018.
For more information, please click on the image below;
Prostate Cancer Foundation's (PCF) Annual Gala and Tennis Tournament (Sunday, August 26, 2018)
Firmly committed to curing prostate cancer, the Prostate Cancer Foundation is the leading philanthropic organization funding and accelerating research globally. Prostate Cancer Foundation will host its annual gala in support of the 14th Annual Charles Evans PCF Pro-Am Tennis Tournament. The gala is a celebration featuring cocktails, dining and special performances. 100 percent of the funds raised throughout the evening will go to supporting groundbreaking discoveries in cancer research. Last year's event was catered by Robbins Wolfe, with a special performance by Kool and the Gang. The gala raised over $3.5 million.
The annual gala will take place at the Parrish Art Museum in Watermill, NY on Sunday, August 26, 2018.
Where To Play…
Hampton Hills Golf & Country Club
Get ready for the U.S. Open 2018 at Shinnecock Hills right down the road. Hampton Hills Golf & Country Club is one of New York's best kept secrets–and members like it that way. Hampton Hills is located in the middle of a 2,000 acre pine and oak tree preserve in Westhampton Beach.  The wooded setting allows members to escape the rush of the city in favor of peaceful competition against a challenging golf course.
For more information on Hampton Hills Country Club, please click on the image below;
Where To Get Fit
Elements Fitness Studio
Voted one of the Top 10 Places to sweat in the Hamptons by Well & Good, Elements Fitness is a high energy boutique style health and wellness brand with studio locations in the heart of the Hamptons, Manhattan, and Miami. Under the direction of Andrea Fornarola Hunsberger, Elements offers signature classes in Barre and Dance fusion and SUP Barre classes. Andrea is a founding member of Physique 57, the high profile boutique barre studio in Manhattan and has worked with celebrity clientele including Parker Posey, Sarah Jessica Parker, Kirsten Dunst, and Christy Turlington.
Elements goal is to transform bodies, change lives and create community through meaningful fitness and wellness experiences. focusing on the client experience and individualized, customized attention.
Elements has grown from a boutique barre and dance studio into a multifaceted Health & Wellness company with multiple business units, including studio locations, health and wellness activations, private training, and soon to be launched On Demand platform. This June, Elements will start their new consumer technology platform which will allow clients to stream live web content as well as purchase downloadable training and classes. Elements will also be adding a new Barre Stretch class, Express AF Classes, and continuing their studio classes, SUP Classes, & private training
Our Corporate teams specialize in building and implementing health and wellness programs for Fortune 500 companies, large commercial buildings, high-end residential buildings, and luxury hotels. Notable partners include, WebMD, One World Trade, Convene, Conde Naste, and Spotify.
For more information, please click on the image below;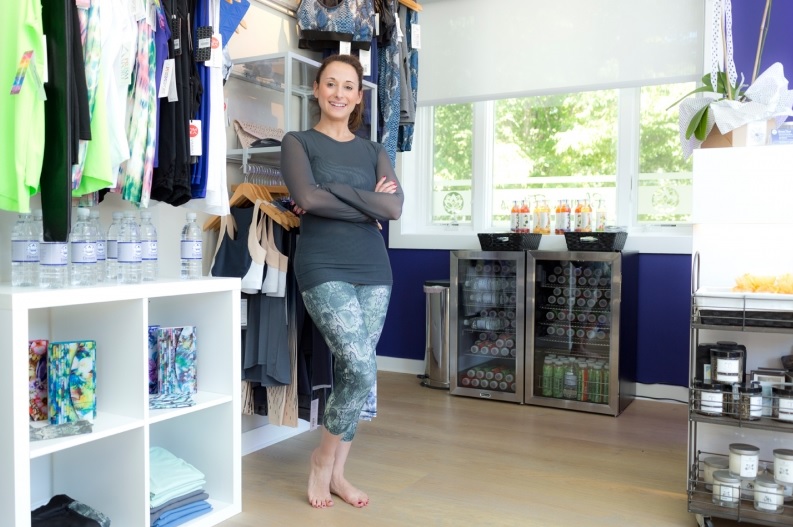 Who To Know
Betsy Cox Founder of Blackbook Concierge
Sophisticated, discrete, with service always at a client's beck and call, Blackbook Concierge has excelled within the lifestyle management space since 2006. From impossible-to-get dinner reservations and inaccessible tee times, to a world-wide network of multilingual professionals with in-depth local knowledge, Blackbook Concierge is the premier facilitator of luxury services.  Founded by Betsy Cox, the company's ability to adapt to the changing needs of clients, as well as to fluctuating economic climates, has set Blackbook apart in an increasingly crowded marketplace.
Kenneth & Maria Fishel
Philanthropists Maria and Kenneth Fishel are behind-the-scences supporters of a number of charitable causes.   They have been strong supporters of the Samuel Waxman Cancer Research Foundation raising money to help identify the causes and eradicate the scourge of cancer and have hosted the Art Hampton event on their estate in addition to one of the Tennis matches for the Charles Evans ProAm Tournament as part of the annual Prostate Cancer Foundation (PCF) Hamptons benefit. Kenneth is the CEO of Renaissance Properties, a real estate business founded by his grandfather in 1951.  He currently serves on the Board of Trustees of the SWCRF and with his wife Maria shares the mission of fundraising. For several summers they have hosted the Hamptons Happening which raised substantial funds for the Waxman Foundation.  Kenneth and Maria's children, Melissa and Bradley are defining the next generation tradition of charitable fundraising by serving in the Millennial Society of the SWCRF. For more details click on the image below;
1.Listen to Imani Scott's new Album "The Introduction"
Industry newcomer Imani Scott is bringing happiness back to music with her bold and soulful vocals that mesh a little bit of R&B, Pop, Hip-Hop and Funk for a fresh take on real music in an artificial society. The Houston-bred singer, songwriter and recent graduate from Sam Houston State University, recently released her hot new single "Get Litty," ahead of the highly anticipated release of her debut LP titled "The Introduction," produced entirely by heavy hitter Isaac "Chill" Yowman. Available on iTunes.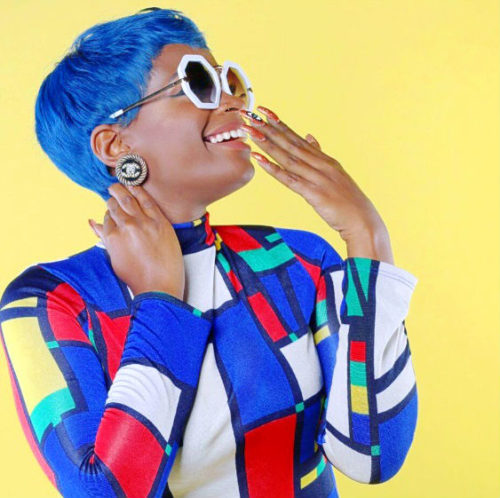 2.Read The Kitchen Sleuth: Irresistable Recipes & How They Were Discovered
Ever sat in a dining establishment and wondered how the Chefs made your favorite dish?  Henry A Lambert with Douglas Parreira have spent a number of years not just trying to either figure out, beg or trade for a recipe but also how to improve on it.  The founder of New York phenomenon Pasta & Cheese and the man who ran the restaurants at storied department store Bergdorf Goodman bringing his favorite recipes within reach of your dining table.
In addition, a helpful section at the end advise you on what you need and where to obtain the more esoteric ingredients. The Kitchen Sleuth is available from Amazon and all quality bookstores.
Info Links:
ehamptonny.gov/
www.easthampton.org/
www.southamptontownny.gov/
www.hamptonroadschamber.com/
Click here to learn how to write an article on your trip to the Hampton's.
Related Articles
---