---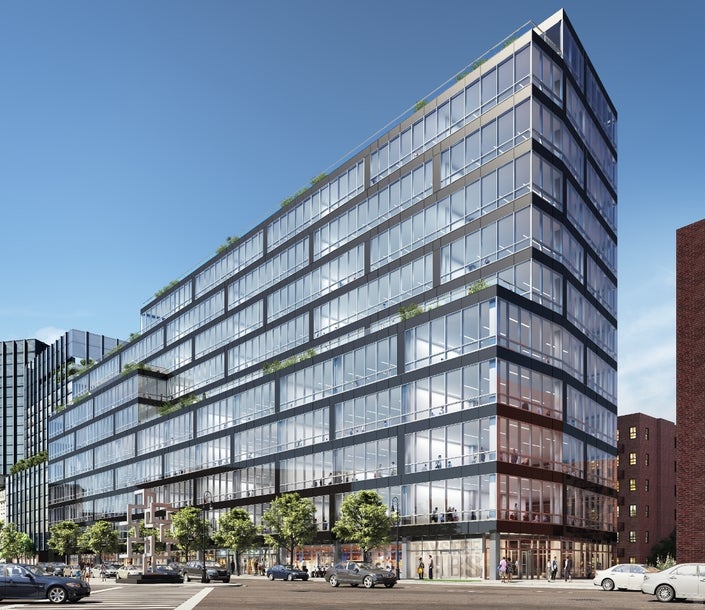 The huge redevelopment of Harlem's former Taystee bread bakery has topped out at 11 stories, developers announced this week.
The newly-dubbed Taystee Lab Building is being developed on the former industrial site by Janus Property Company in a multi-building project called the "Manhattanville Factory District." Janus' project spans the area between West 125th and West 128th streets on Amsterdam Avenue and includes the 150,000-square-foot Mink Building and the 50,000-square foot Sweets Building.
At 350,000 square feet, the Taystee building is the largest of the four Manhattanville Factory District developments. Janus expects construction to wrap up in 2020.
"Janus is excited to celebrate this major milestone in the realization of the Manhattanville Factory District's full potential," Scott Metzner, principal at Janus, said in a statement. "The Taystee Lab Building and our other projects in the District deliver on the concerted effort of the community, New York City, New York State, and Janus to grow a robust life sciences community."
Developers broke ground on the Taystee redevelopment in March 2019 at a ceremony attended by state and local representatives such as Gov. Andrew Cuomo, Manhattan Borough President Gale Brewer, and Harlem city and state legislators. The new building will offer office and lab space for companies in the life sciences, technology, nonprofit and academic industries.
The city Economic Development Corporation sold the Taystee bread bakery site to Janus in 2011 during Mayor Michael Bloomberg's administration. Initial plans for the site were dubbed "CREATE @ Harlem Green" and called for a commercial building with manufacturing, office and retail space. Plans for the site changed in the following years when tenants that had been considered for space never committed to the development reports Patch.
Current plans for the site indicate the building will cater to tenants in the science and technology industries. Developers touted flexible floor plates as large as 36,000 square feet are available for future tenants at the building. The site will feature an additional 20,000 square feet of outdoor space and the other being the 200,000 square feet Malt House.
Photo credit: Janus property Development.
---