---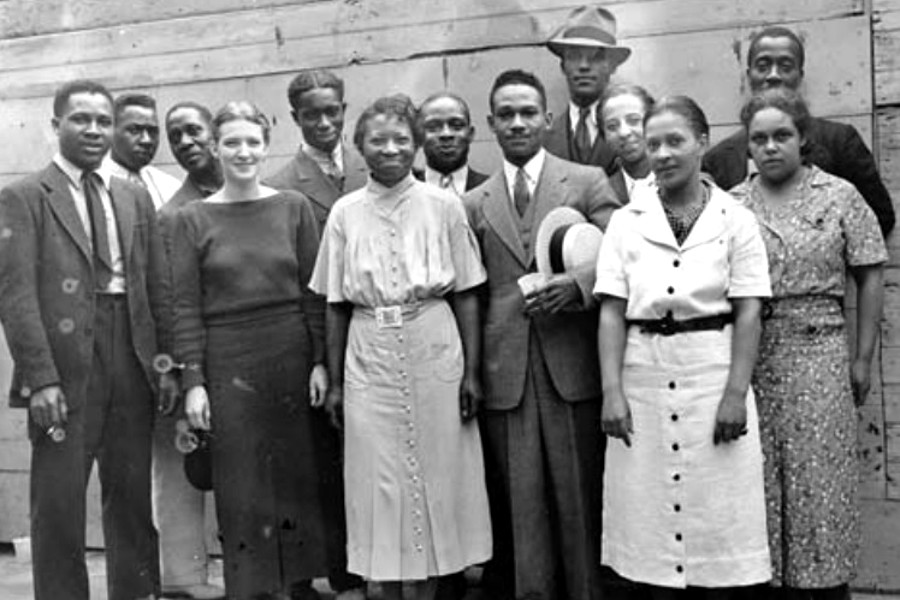 In the heart of the vibrant 1930s, a constellation of brilliant minds sparked an artistic movement that transcended paint on canvas.
The Harlem Artists Guild, a visionary African-American collective founded in early 1935 by leaders, legends, and trailblazers such as Augusta Savage, Charles Alston, Elba Lightfoot, and the bibliophile virtuoso Arthur Schomburg, left an indelible mark on both culture and history.
Related: Click here to get more Harlem History at our Harlem History on Facebook.
This was more than an organization; it was a symphony of ambition, creativity, and purpose.
Imagine stepping into the epicenter of this creative eruption: the headquarters nestled on 136th Street, New York.
Here, the Harlem Artists Guild (HAG) breathed life into its mission, embracing the young and fostering the nascent talents of its 90 members. Beyond being a mere gathering space, HAG was a forum of ideas, a crucible for impassioned conversations that resonated deeply within the community.
It wasn't just art they championed; it was an education in appreciation, a bridge between artists and the public.
Yet, HAG's vision stretched far beyond aesthetics. It was a rallying cry against the backdrop of societal injustices: racism, poverty, and unemployment.
The Guild wielded its artistic prowess to confront these demons head-on, weaving social consciousness into every brushstroke. United in purpose, they became a beacon of change, their canvases echoing the voices of the unheard.
Their influence, however, didn't stay confined to their studios. The Guild's impact reverberated through their collaboration with agencies, a relentless drive for progress.
As co-founder Alston so eloquently expressed, HAG was a pressure group, an unyielding force advocating for a greater presence of black artists in federal projects.
The Guild's story was interwoven with the launch of the Harlem Community Art Center, which had headquarters on 136th Street, New York. The Guild was a testament to the boundless energy that flowed through their creative veins.
Related: "Harlem Artists' Guild" information link to the New York City Public Libraries Digital Collections.
Guided by the visionary Gwendolyn Bennett, the center evolved into a haven for the Guild's meetings and exhibitions. Incredible artists like Romare Bearden, Jacob Lawrence, Gwendolyn Bennett, and Norman Lewis found their sanctuary here, their works intertwining with the pulse of Harlem's heartbeat.
History
The Harlem Artists Guild, more than a chapter in history, it was a symphony of voices that refused to be silenced. A reminder that art isn't just pigment on canvas – it's a mirror reflecting society, a catalyst for change.
From discussions among HAG artists about the necessity for, and ways to bring about, the establishment of a permanent art center for Harlem came the idea for the Harlem Community Art Center, which opened at the end of 1937, and of which Gwendolyn Bennett was Director from 1938 to 1941. The Harlem Artists Guild became an integral part of the center, holding its meetings there and shows by members.
Photo credit: 1) Harlem Artists Guild (HAG) members. 2) Augusta Savage. 3) Charles Auston. 4) Aaron Douglas. 5) Jacob Lawrence. 6) Gwendolyn Bennett. via Wikipedia.
Editor's Note: We are trying to find out as much as possible regarding the Harlem Artists Guild, please share your stories in the "Comments" section below.
---