---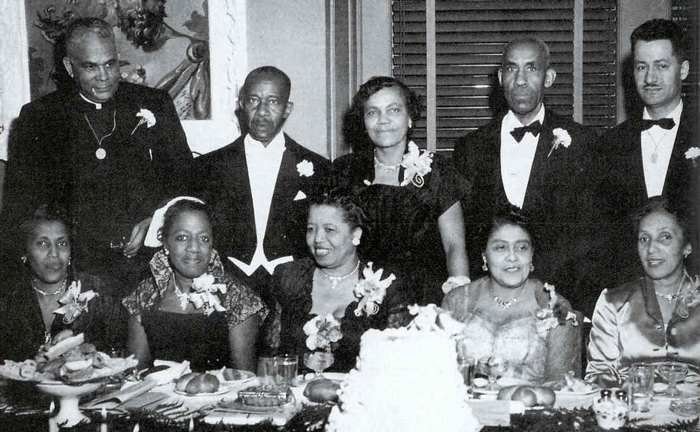 The attached Ebony magazine article posted below was originally written to celebrate the 100 year anniversary of the Grand Boule in 2004:
100 years after six Philadelphia professional men founded Sigma Pi Phi Fraternity, the organization returned to Philadelphia with a cloud of blue-ribbon witnesses, living and dead, a record of 10 decades of achievement, and an expanding vision of an international band of brothers committed to service, brotherhood and excellence.More than 3,000 archons (members) and archousai (wives) attended the Grand Boule Centennial Celebration, the largest gathering in the history of the fraternity, which is oftentimes called the Boule, meaning, in fraternity parlance, "a council of noblemen."
The delegates and attendees, meeting in style in the salons and the grand ballroom of the Marriott Hotel, presented to themselves and to others a telling contrast with the restricted and largely segregated world of 1904 Philadelphia, where on May 15, 1904, a pharmacist, a dentist and two physicians–Henry McKee Minton, Dr. Algernon B. Jackson, Dr. Edwin C. Howard and Dr. Richard J. Warrick–met and announced to themselves, and to others, that a new world was coming. Within two weeks, two more doctors–Robert J. Abele and Eugene T. Hinson–joined, increasing the membership by 50 percent.
The new world the Six dreamed in 1904 materialized and renewed itself in 2004 in a week of celebration and re-bonding, enlivened by a Boule-patented round of social events, including three black-tie affairs, symposia on Black health and Black male incarceration, and major addresses from, among others, Grand Sire Archon (national president) Calvin O. Pressley, the Rev. Otis Moss Jr., former Philadelphia Mayor Wilson Goode and Vernon Jordan Jr.
Almost all major speakers stressed what Pressley called "the connectivity" of the celebration, which blended, he said, Symbol and Substance, and almost all called for a new level of personal and fraternity involvement in the living problems and challenges of the 21st century.
In the keynote address, Archon Vernon Jordan Jr. presented a 12-point program for personal and collective renewal, saying, among other things, that "we must create a new sense of community among our own … bridge the growing economic gap within the Black community [and] re-Brown Brown to counter the long slide back into de facto segregation." We must also, he said, "constantly remind the new entrants into the Talented Tenth that their exciting jobs in corporate America and investment banking and in law firms are not the result of their grades and their ability and their school all by themselves. They did not get there by themselves … and they have to know it."
The delegates and attendees who applauded these and other remarks represented 112 member boules (chapters), including a chapter in the Bahamas, and more than 5,000 members. They also represented the virtual Who's Who of Black America who were and are members of the group. W.E.B. DuBois, James Weldon Johnson, Carter G. Woodson, John Hope Franklin, Charles Drew, Hale Woodruff, William Hastie, Walter White, Martin Luther King Jr., John H. Johnson, Earl Graves, Paul Williams, Arthur Ashe, Benjamin Mays, Maynard Jackson, Kenneth Chenault–call the roll–they were and are members of a bond that is primarily Black but includes some non-Black members. One of the best-known White members was Jack Greenberg, who was deeply involved in the Brown v. Board of Education struggle, and who succeeded Thurgood Marshall as executive director of the NAACP Legal and Defense Fund.
Originally conceived as an organization that would contain the "best of Skull and Bones of Yale and of Phi Beta Kappa," the fraternity stresses, as its founders stressed, family and the need for a social, spiritual and communal gathering space for Black professionals. The need, paradoxically, Calvin Pressley and others argue, is greater in 2004 than it was in 1904. Some of the members are second- and third-generation archons, but an increasing number, like the new leader, Charles Teamer, come from the ranks of high achievers with no previous family connections.
What makes the Boule's success all the more interesting is that it was founded as a secret or quasi-secret organization and did not seek public notice until the 1960s and 1970s. Since that time, it has mounted a number of outreach programs, including a mentoring program, a public policy committee and a $200,000 scholarship program.
Called by some observers a super-fraternity because its membership includes the members of all major Black fraternities, Sigma Pi Phi, unlike other fraternities, does not have college chapters and only accepts members with a college degree and "a record of demonstrated excellence" in a chosen field. Members say they have followed the mandate of founder Henry Minton, the pharmacist who later earned a medical degree, who said that new members should not be "selected on the basis of brains alone, but in addition to congeniality, culture, and good fellowship, they should have behind them [at initiation] a record of accomplishments, not merely be men of promise and good education." Minton, who was the first grand sire archon, helped organize the second boule (chapter), Beta Boule, in Chicago in 1907. The third boule was organized in Baltimore in 1908. It is worth noting, at least for perspective, that some of the founders of the first chapters, notably Charles E. Bentley and F. L. McGhee of Beta Boule, were also co-founders of the landmark Niagara Movement, which opposed the policies of Booker T. Washington and created the foundations for the NAACP.
Outgoing Grand Sire Archon Calvin O. Pressley says the Boule is "the quintessential brotherhood for African-American men." The incoming Grand Sire Archon, New Orleans banker and financier Charles Teamer, says the Boule "is unique because no other organization brings together so many talented leaders–sometimes you have in the same room the mayor and the biggest educational and economic leaders in town–and no other organization provides such an unparallelled opportunity to mentor, change structures, and build bridges." He says his administration will concentrate on mentoring, creating new international connections and moving networking to another level.
Teamer, who will head the organization for the next two years, says that in the next 100 years, Sigma Pi Phi will have an opportunity to extend its vision to communities across the world. To meet that challenge, the fraternity must, he said, replenish its roots, bridge the widening gap between male generations and reach out to new constituencies who are dreaming in their own day and in their own language the same dream that moved the six founding fathers who sat down in a house on Philadelphia's South 10th Street in 1904 and dreamed a dream that changed themselves and history.
Get a full extended history at www.sigmapiphi.org/home/history-of-the-boule.php
Photograph via source.
---