---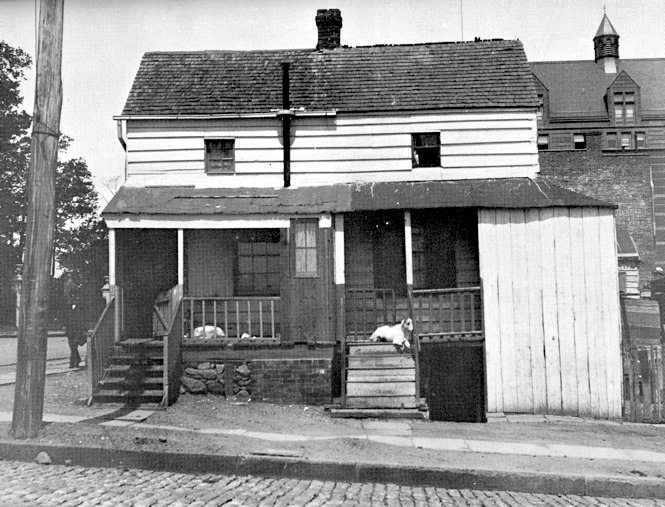 The archival photo above from Harlem+Bespoke was taken in 1898 shows one of the last country houses that still remained in the Morningside Heights area on the northeast corner at West 120th Street and Amsterdam Avenue when signs of rural life still remained in Harlem. We think the house was owned by squatter Patrick Riley who lived in the shack. Goats can be seen lounging on the porch. This photograph was known to be seen in a deli on Amsterdam and 120th several years ago.
Rumor has it that one of the goats named Matilda was Columbia's mascot.
Matilda was often lent to Columbia students for hazing and pranks. When the idea for turning the goat into a mascot was suggested by students, who said that Matilda the Goat held a closer place in Columbians' hearts than some metaphorical and royalist king of the jungle. In 1909, it was George Brokaw Compton who suggested a Lion might be best as a mascot. As it turned out reason won out, in 1910, the Lion was officially selected.
Matilda died in 1914, and received a proper funeral procession from Columbia students, who donned their academic regalia and sang a dirge for the fallen beast, "A Harlem Goat." The song lyrics below may or may not be the same song:
A Harlem Goat
Oh there was an old man
And he lived in a shack
And he had an old goat
Tied in the back
One day that goat
Wasn't feeling fine
Ate three red shirts
Right off the line
Old Dick got mad
Gave him a whack
And he tied him to
The railroad track
The whistle blew
The train grew nigh
And that old Harlem Goat
Was due to die
He gave three groans
Three groans of pain
Coughed up those shirts
And flagged the train
But a button got stuck
In the middle of his throat
And that was the end
Of the Harlem Goat!
Thereafter, Charles Freidgen, owner of an eponymous drugstore across the street (now Hartley Chemists where the photo above was taken), lover of the old wooden houses of Harlem and founder of the Ye Olde Settlers Association acquired the remains, and had them stuffed and preserved. The goat remained on display in the store until its new owner, David Ratner, moved six blocks south to 114th street. The stuffed goat was cleaned up and put on display in the window in 1954. In 1956, Matilda was featured in an eponymous children's book, in which she saved the day at a Columbia football game by headbutting the fullback who'd fallen asleep. Ratner's daughters closed the business down in 1960, with plans to donate the goat to the New York-Historical Society. A man from New Hampshire also expressed interest in the stuffed animal.
Matilda's fate is unknown.
Does anyone know what happened to the goat house?
---