---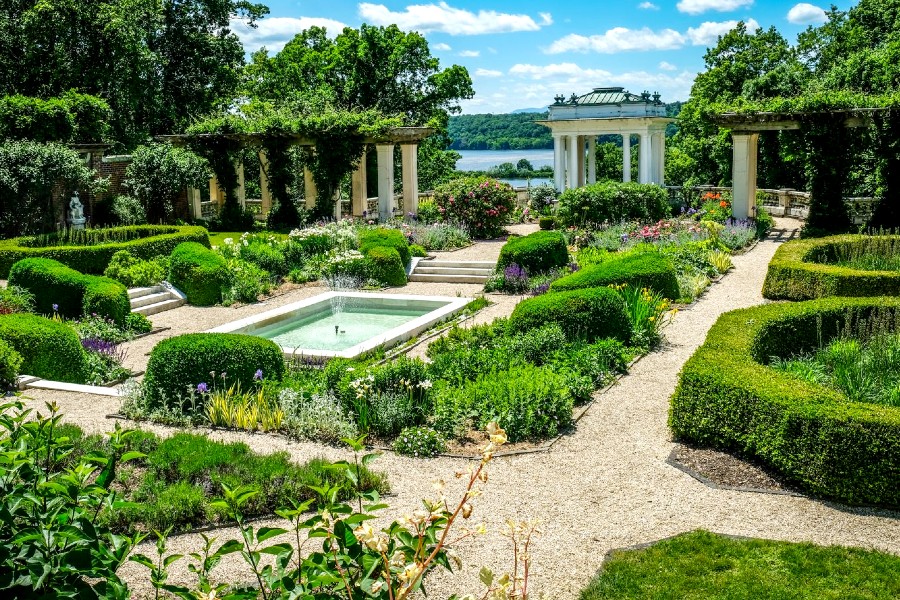 Just minutes from Harlem the Garden Conservancy has announced a generous gift of $93,000 to Bard College.
The money will be used for construction drawings that will be used for the vital rehabilitation of Blithewood Garden.
An extraordinary early 20th-century formal Italianate walled garden on Bard College's main campus. The rehabilitation of Blithewood Garden is a collaborative effort between Bard and the Garden Conservancy.
The drawings, which will be rendered by award-winning New York City-based preservation architecture firms Jan Hird Pokorny Associates (JHPA) and Integrated Conservation Resources, Inc. (ICR) represent a crucial step toward the rehabilitation of a nationally significant cultural landscape. JHPA's work includes notable projects at Olana State Historic Site, and Old Westbury Gardens. ICR's project portfolio includes the Main Fountain Garden at Longwood Gardens, Miramar in Newport, RI, and Temple of the Sky at Untermyer Gardens.
"We are delighted to be a part of the remarkable journey to restore Blithewood Garden, and this gift signifies a monumental step in reviving this awe-inspiring oasis," said James Brayton Hall, President of the Garden Conservancy. "Blithewood Garden is a hidden gem of unmatched rarity, showcasing a breathtaking landscape that simply demands to be safeguarded for future generations to enjoy. It embodies the mission of the Garden Conservancy as the sole national cultural organization dedicated to preserving, sharing and celebrating gardens across America."
Bard College President Leon Botstein expressed his gratitude for the Garden Conservancy's support. "Blithewood Garden is an important part of Bard's history," he said. "With the help of the Garden Conservancy, we will ensure that this beautiful designed landscape continues to be a cherished destination for our community and visitors from around the world."
Designed in 1903 by Francis L.V. Hoppin (a former apprentice of McKim, Mead & White), Blithewood House and Garden overlooks the Hudson River and the Catskill Mountains and is uniquely situated in the heart of two historically designated areas: the Hudson River National Historic Landmark District and the Maurice D. Hinchey Hudson River Valley National Heritage Area. It is one of the few intact Hudson River estate gardens remaining from the Gilded Age and has important connections to the evolution of American landscape design.
Today, Blithewood Garden is free to the public and welcomes over 10,000 visitors annually. As an architectural garden exposed to the elements, it has stood the test of time but needs critical repairs. The project aims to repair and enhance the garden's historic features, hard hit by the passage of time, and continue the historic use of this site as an architectural pleasure garden. The construction documents created by JHPA and ICR will serve as the blueprint for the garden's rehabilitation.
The Garden Conservancy's donation to Bard College is a testament to the organization's commitment to preserving exceptional gardens and promoting their educational value. With this gift, the Garden Conservancy and Bard College with the Friends of Blithewood Garden are taking an important step towards the rehabilitation of Blithewood Garden, ensuring its beauty and significance will be enjoyed for generations to come.
The Garden Conservancy
The Garden Conservancy is a not-for-profit organization whose mission is to preserve, share, and celebrate America's gardens and diverse gardening traditions for the education and inspiration of the public. We work with partners and communities across America to preserve outstanding gardens, and since 1989 we have helped preserve over 100 gardens. Our signature program, Open Days, welcomes visitors to private gardens annually, and since 1995, more than 4,000 private gardens have participated, with 1.4 million visitors in states across the country. Through all of our programs and outreach, we champion the vital role that gardens play in our history, our culture, and our quality of life. For more information, please visit gardenconservancy.org.
Bard College
Founded in 1860, Bard College is a four-year, residential college of the liberal arts and sciences located 90 miles north of New York City. With the addition of the Montgomery Place estate, Bard's campus consists of nearly 1,000 parklike acres in the Hudson River Valley. It offers bachelor of arts, bachelor of science, and bachelor of music degrees, with majors in more than 40 academic programs; graduate degrees in 13 programs; eight early colleges; and numerous dual-degree programs nationally and internationally. Building on its 163-year history as a competitive and innovative undergraduate institution, Bard College has expanded its mission as a private institution acting in the public interest across the country and around the world to meet broader student needs and increase access to liberal arts education. The undergraduate program at our main campus in upstate New York has a reputation for scholarly excellence, a focus on the arts, and civic engagement. Bard is committed to enriching culture, public life, and democratic discourse by training tomorrow's thought leaders. For more information about Bard College, visit bard.edu.
Related Articles
---