---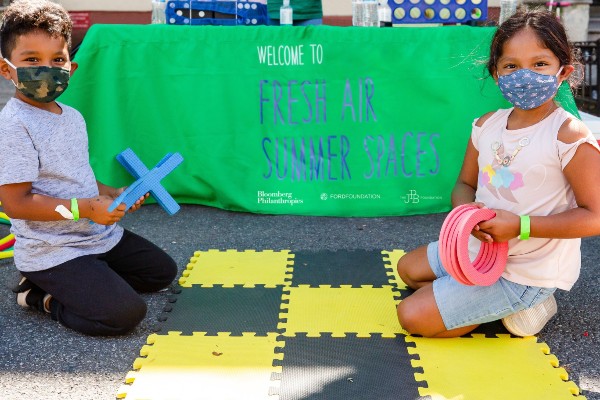 From July 6th through August 19th, 2021, Mondays through Thursdays, The Fresh Air Fund will open free outdoor Summer Spaces for New York City children.
Their ages five to 12, in Manhattan in Washington Heights and East Harlem, Queens, Brooklyn, and the Bronx.
The program will give children the opportunity to play outdoors safely and for young New Yorkers to gain valuable work experience.
Children in Fresh Air Summer Spaces will enjoy supervised outdoor summer activities where they can laugh, smile, learn new skills, play, and make new friends.
Fresh Air staff supervise arts and crafts, sports, STEM activities, music, reading, hula hoop contests and even dance parties!
Launched last summer in response to the pandemic, the program brings outdoor recreational and educational activities to children in their own neighborhoods.
Summer Spaces would not be possible without the support of the local community.
Fresh Air Youth Employment program participants will assist at sites.
With a long-standing commitment to New York City's youth, The Fund will be employing young people from across the city, ages 18 to 24, to work as counselors and activity specialists in the Summer Spaces program.
All activities follow health and safety guidelines. For more information, please visit FreshAir.org.
In Manhattan, Fresh Air Summer Spaces are located at:
Washington Heights: Audubon Avenue from 188th Street to 189th Street
East Harlem: 104th Street from 2nd Avenue to 3rd Avenue
East Harlem: Wagner Houses 451 East 120th Street
Fresh Air Summer Spaces are open July 6th through August 19th. Families may register online for slots on Mondays through Thursdays, 9 am to 11:45 am and 1:15 pm to 4 pm.
A wide range of fun-filled activities includes creative arts such as making kites, watercolors, classic lanyards, collages, and pinwheels, along with sidewalk chalk art projects, soccer, basketball, and dance parties such as freeze dance or charades. Children also play giant board games and participate in STEM activities.
There will be a "cool down" area for young people who may need a quiet space for themselves.
Limited spaces are also available for children to sign up for virtual camp Fresh Air Everywhere and other summer programs. Please visit FreshAir.org to sign up.
The Fresh Air Fund, an independent, not-for-profit organization has provided free summer experiences to more than 1.8 million New York City children from low-income communities since 1877.
Despite the challenges presented by COVID-19, The Fund continues to provide safe, fun, engaging and enriching experiences for New York City youth to keep the magic of summer alive through virtual and outdoor programs.
Fresh Air children also participate in year-round leadership and educational programs.
Photo caption: Children enjoy Fresh Air Summer Spaces. Photo credit: Liz Ligon
---