---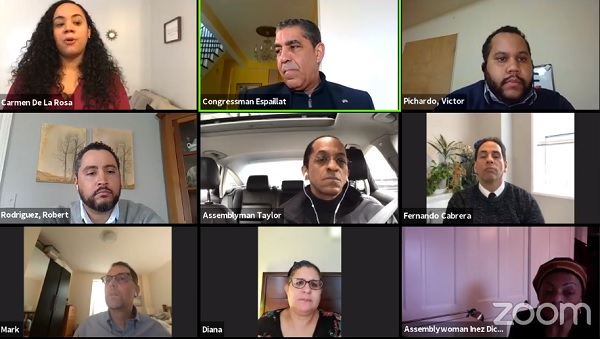 Earlier today, Representative Adriano Espaillat was joined by several New York State and New York City local elected officials during a virtual press conference to address
the impact of the novel coronavirus (COVID-19) throughout the minority community, which is being hit hardest during the pandemic.
"We are outraged at the severe undercounting of COVID-19 deaths by New York City and New York State. The lack of transparency of information being provided to families is appalling and New York families deserve more," said Rep. Adriano Espaillat (NY-13). "In response to the recent report released this week highlighting the increased rate of deaths within the minority community due to COVID-19, we are demanding more accurate reporting in the numbers released by New York City and the New York State and that more resources be allotted to help the minority communities that have been hardest hit by this pandemic."
"The COVID-19 response is leaving behind our most vulnerable populations, specifical communities of color, seniors, those with limited mobility, and immigrants. We must act now to protect the New Yorkers most at risk during this crisis," said New York City Comptroller Scott M. Stringer. "Systemic barriers to quality health care, decent housing, food security, and technology make these communities particularly vulnerable to this virus. It's time to act. We have the solutions and we have the tools – let's use them to lift up those who need our help the most."
"Last week, New York City published it the racial breakdown of Coronavirus deaths, and the numbers are just as bad as we feared. Coronavirus is hitting communities of color extraordinarily — and disproportionately — hard," said New York City Council Health Committee Chair Mark Levine. "These are the same communities where many essential workers like transit workers, healthcare professionals, and grocery store workers live. These workers are New York City's frontline heroes in this crisis, and they deserve to be as healthy and safe as they can as they work to keep the city running.
This pandemic is reflecting — and magnifying — the vast inequalities in our city, and we must take that into consideration as we craft and implement our response to this pandemic. It is close to impossible to isolate from the rest of your family if you are sick with COVID-19 and live in a small apartment. I know this from personal experience: I was sick and followed all the rules on isolating in my home and still my wife ended up catching the virus (Both of us are thankfully back to normal now). To slow the spread in low-income communities it is imperative that we offer an option for people to safely relocate when they are sick, to hotels or other facilities."
"Beloved members of our communities are dying at alarming rates. Black and Latino working-class communities in New York City have been decimated during the COVID-19 crisis, exposing clear gaps in access to preventative and emergency care. Today we come together as leaders in Upper Manhattan to call on federal, state, and local authorities to do more to ensure we do not continue to die," said NYS Assemblywoman Carmen De La Rosa. "We need additional testing sites, adequate PPE for our frontline workers and access to spaces for individuals to self-quarantine and heal. Our communities need us to deliver these basic necessities now."
"Low-income communities are experiencing greater racial and class disparities as a result of COVID-19. East Harlem is the epicenter in Manhattan with the highest number of cases," said NYS Assemblymember Robert J. Rodriguez. "Our communities are suffering at much higher rates, and we need government responses tailored to specifically meet working-class needs and struggles. That means testing sites in the worst-hit areas, expanded small business relief for businesses like bodegas, federal aid for NYCHA, and economic assistance for undocumented families who were left out from the stimulus."
"Black and brown communities in America have been disproportionately affected by the coronavirus pandemic, suffering the highest rates of infection and the highest losses. This crisis demands immediate action and I stand with Congressman Espaillat and my colleagues to do whatever is necessary to help Harlem and Washington Heights flatten the curve and overcome this threat," said NYS Assemblymember Al Taylor.
"Black and brown people are getting sick with COVID-19 and dying at a disproportionate rate, which is in keeping with the working-class and front-line occupations they often have in our city. City agencies have made some great investments in making sure our people get food—whether they lost income or are homebound because of this virus. We've also seen a robust community response in the form of mutual aid efforts citywide that my office has been proud to help jump-start. But we need to do more to mitigate these troubling disparate impacts. I stand with advocates and other elected public officials in calling for immediate greater investments in the public health infrastructure and social safety net for our communities of color, now more than ever before," said New York State Senator Robert Jackson.
"We will continue working alongside Congress Member Adriano Espaillat, elected officials, and City leaders to reinforce our call to increase resources available for all New Yorkers, especially the poorest in the City. This pandemic has brought to light racial and economic inequalities that have exacerbated the rate at which low-income, immigrant communities are being impacted by COVID-19," said New York City Council Member Ydanis Rodriguez. "Latino, Afroamerican, and Asian communities, who live in the poorest neighborhoods, Northern Manhattan, The South Bronx, Queens, and Brooklyn need access to mass testing, PPE equipment and temporary housing where they could safely self-quarantine. Many live in overcrowded apartments and by asking them to stay home, we are putting their families and neighbors at risk of infection."
"When the entire community is under-resourced, it's much harder to get the help you need in the time of a crisis. I have personal experience with this through my own family members being unable to get tested when they first had symptoms and suffering through the experience. The numbers released tell a disgraceful story. More than 15,000 Bronx residents have tested positive, but testing has been inadequate in our communities since the beginning of the pandemic. These high numbers still don't tell the whole story since there are far too many people who haven't been able to get a test. What we know is bad. What we don't know is worse," said New York City Councilman Fernando Cabrera.
"The disparity of impact from COVID-19 on communities of color is shocking and should raise red flags for every policy-maker in this nation. It is imperative that we have accurate and transparent data about how this pandemic is impacting people based on race, ethnicity, and gender so that we can adequately assess where additional support is needed. Furthermore, this analysis cannot stop once the pandemic ends. There are clear and evident differences in health backgrounds and outcomes even without a pandemic, and those must be corrected by making common-sense policy changes such as universal healthcare," said NYS Assemblyman Jeffrey Dinowitz.
"We were told that this virus does not discriminate – the data is telling a very different story. The data makes it clear just who is working on the front-lines of this crisis, taking crowded public transportation because telecommuting is not an option, and living in overcrowded homes that make social distancing impossible. The people who are most at-risk because of pre-existing racial, economic, and health disparities are the ones still at work, shouldering the burden of keeping us safe, and getting sick and dying. It should inspire anger and action. Thank you Representative Espaillat and fellow Bronx advocates for highlighting this important issue and working to ensure that the Bronx and minority communities across the City get equitable resources to fight this virus," said New York City Council Member Andrew Cohen.
"In January 2020, America began the downward spiral of a pandemic that we had not experienced since the 1918 Spanish flu. New York State by mid-March had suddenly become the epicenter for the nation and even some countries. New York City be April had lost more people to this unseen health enemy than we did from 9/11! Today, it is estimated that New York City has lost more than twelve thousand people to COVID-19 and I believe that is an undercount. To further break the numbers down, black and brown communities have lost about 70% of that 12k. I am asking our Governor, who has done a remarkable job trying to stem the tide of this devastating health tsunami, to provide additional resources for the communities hardest hit – the Harlem's, the South Bronx, Bed-Sty and the south-East Queens communities from the stimulus package.
A formula based upon the extraordinary number of test-positive cases and death would substantiate the need that our communities receive additional testing sites, testing kits and our first responders – our nurses, doctors, MTA workers, police, ambulance drivers, fire, correction officers, probation officers, postal workers and those staying to keep supermarkets and pharmacies open must be supported with basic, sufficient PPE's and protective gear to help stem this tide. Black and brown people have, by any and all means, kept this city going when others fled. The protocols must be changed to test not only those suspected to be infected but those who reside in the same home.
The Mayor has stood up for his city but now I am asking Gov. Cuomo and Mayor DeBlasio to continue to take the lead to increase funding from the stimulus funds received by NYS to invest back in the communities most impacted, who struggled to keep our great city going, whose small businesses many of whom will not be able to reopen. Residents have suddenly become unemployed and need assistance as does the micro-small businesses that employ superintendents and clerks or are self-employed, need a fair and equitable share of the funding. We have borne the brunt of this life-stealing threat. We now need the help that only you can provide to change the formula to reflect where the fires are still burning," said NYS Assemblywoman Inez E. Dickens.
"Unfortunately, if you look at the statistics provided by the New York Department of Health, there is a disturbing imbalance in communities ravaged by COVID-19, with poor Black and Hispanic neighborhoods being affected more than others. We NEED more resources." said NYS Assemblymember Victor M. Pichardo. "Our communities need to be able to battle the spread of this illness and care for our sick. I thank Rep. Espaillat for his leadership in shining a light on this issue on the federal level. We MUST come together and do everything possible to help each other as a united community."
Watch today's virtual press conference in its entirety here.
First elected to Congress in 2016, Rep. Adriano Espaillat is serving his second term in Congress where he serves as a member of the influential U.S. House Foreign Affairs Committee, the House Committee on Transportation and Infrastructure, and the House Small Business Committee. He serves as a Senior Whip of the House Democratic Caucus and is a member of the Congressional Hispanic Caucus (CHC) where he also serves in a leadership role as CHC Whip. He is also chairman of the CHC Task Force for Transportation, Infrastructure and Housing. Rep. Espaillat's Congressional District includes Harlem, East Harlem, northern Manhattan and the north-west Bronx. To find out more about Rep. Espaillat, visit online at https://espaillat.house.gov/.
---