---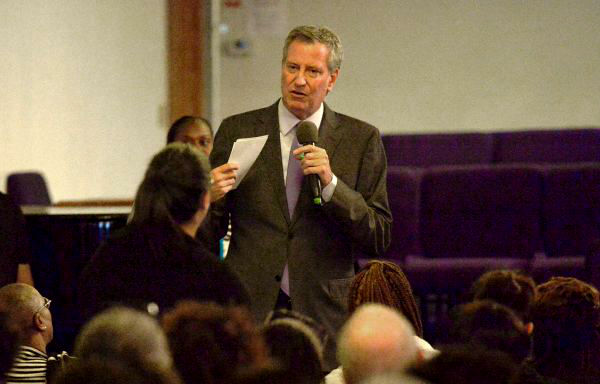 Mayor Bill de Blasio and Speaker Corey Johnson today announced that the City will provide $25 million in emergency funding to emergency food providers across New York City. This funding is being allocated as part of a new, ongoing partnership between the de Blasio Administration and the City Council to help emergency food providers deal with the challenges of COVID-19 pandemic.
"No one should have to question where their next meal is coming from. As we face this crisis head on, we remain committed to feeding all New Yorkers in need," said Mayor Bill de Blasio. "Providing emergency funding is crucial to keeping our food providers up and running. I thank Speaker Johnson for his advocacy and partnership in securing food resources for all New Yorkers."
"We thank the de Blasio administration for moving quickly on the Council's calls for help for food providers two weeks ago. This funding, combined with the $25 million the state pledged in response to the Council's request, will pay for over 19 million meals. We must continue to do everything we can to prevent a hunger crisis in New York City. No one should be food insecure in the richest city in the United States," said Speaker Corey Johnson.
"During this crisis, New York City's food pantries have been vital partners, and I'm glad that even in a difficult time, we are able to support them. Any New Yorker can find a map of local pantries and other options at NYC.gov/GetFood, and I look forward to continuing to work with these pantries to get food to people in need," said Food Czar and Sanitation Commissioner Kathryn Garcia.
The City's Food Czar team, overseen by Commissioner Kathryn Garcia, has been doing direct outreach to pantries to understand their needs, and this funding will cover critical immediate operating expenses such as increased food costs, additional staffing, new safety supplies, and the ability to deliver food items directly to seniors who are now homebound. More than 800 organizations citywide, including pantries, mobile pantries, soup kitchens and non-profit organizations, may be eligible to receive emergency funding for these critical operating expenses. The Food Czar team, in partnership with New York City Human Resources Administration/Department of Social Services, will begin outreach to let food pantries know how to access these newly available emergency funds.
The City also has several emergency food programs underway, including DOE Grab-and-go meals at over 400 sites across the city that are open to all, senior meal deliveries, and deliveries to vulnerable populations in need through nyc.gov/GetFood. The additional funding for emergency food providers will ensure these vital organizations have the funding they need to stay open throughout this crisis and feed an unprecedented number of New Yorkers in need.
"Too many New Yorkers were struggling with food insecurity even before COVID-19. This pandemic has made a bad situation cataclysmic, particularly in the low-income communities of color that we know are getting hit the hardest by the virus. The Council is proud of the work we have done and continue to do to support our food pantries, and grateful to the de Blasio administration for this emergency funding. Our city has a long road ahead, but this is a great start," said Council Majority Leader Laurie Cumbo.
"As a member of the Council's budget negotiating team I know firsthand how this Council has championed strengthening our city's social safety net. Now, in the worst pandemic in over 100 years, we won't allow that safety net to collapse and compromise the food security of New Yorkers. This emergency food assistance spearheaded by Speaker Johnson will go a long way to ensure no one goes hungry. No one," said Council Member Mark Treyger.
"This $25 million in emergency funding will help feed thousands of New Yorkers in their time of great need. Emergency food providers have been working around the clock to ensure that low income families, seniors, people with disabilities and other at-risk New Yorkers receive nutritious meals on a regular basis. Their resources have been nearly exhausted because of the COVID-19 pandemic, and that is why the City is taking swift action today. This funding will allow service providers to remain open so that they can continue to serve NYC families throughout this crisis. I commend Speaker Johnson and Mayor de Blasio for rising to the occasion by prioritizing this effort," said Council Member Daniel Dromm.
"Many of our residents are experiencing food insecurity as we continue to grapple with the effects of COVID-19 in our neighborhoods. Our communities are struggling from financial hardships brought on by the pandemic and food providers are experiencing challenges in meeting the increased demand with limited funding and limited resources. It is imperative for us as a city to support our food pantries, soup kitchens, non-profit organizations, and other essential workers that are on the front lines during this crisis as they provide meals to millions of food insecure New Yorkers. I commend Speaker Johnson and the administration for their leadership and commitment to supporting food providers across the five boroughs," said Council Member Vanessa L. Gibson.
"Even in normal times, our food pantries operate on the edge. Our current health emergency is pushing our food pantries beyond their capabilities. This emergency funding is critical to helping these providers at this difficult time, and I thank Speaker Johnson for prioritizing this issue, and Mayor de Blasio for quickly making it happen," said Council Member Karen Koslowitz.
"This crisis is putting an enormous strain on the food providers we rely on to care for our most vulnerable, and our city government must help them in this time of great need. I thank Speaker Johnson and my Council colleagues for being fierce advocates for our food pantries, and I thank the de Blasio Administration for working with us to protect the City's most vulnerable," said Council Member Stephen Levin.
"It is clear that this pandemic hits hardest in low-income communities already struggling to put food on the table. We must act fast in order to help food insecure families as we are committed to aiding them for the long run," said Council Member Ritchie Torres.
"I want to thank Mayor de Blasio and Commissioner Garcia for working with the Council to provide $25 million in critical emergency funding to our food pantries and providers. COVID-19 continues to exacerbate so many of the inequities of our city, including food insecurity, and this funding is the kind of investment that will help us get through this crisis so that we can begin to address the larger challenges that keep millions of New Yorkers wondering where their next meal may come from. I look forward to continuing to work with the Speaker and the de Blasio administration to support the incredible organizations that are working around the clock in my District and beyond to feed families in need," said Council Member Carlina Rivera.
"Thousands of New Yorkers rely on food pantries to feed themselves and their families in times of need. During this crisis, I have witnessed food pantries struggling to have enough food to meet the needs of an increasing number of people. This emergency funding will help to ensure that food pantries, soup kitchens and others have the resources they need to continue to meet critical needs in our neighborhoods. I thank Mayor de Blasio and Speaker Johnson for making this funding available in the midst of this current economic and public health crisis," said Council Member Debi Rose.
"We have all witnessed how devastating this pandemic has been. Like mine, many communities have struggled with food access for years. COVID-19 has only tripled this need. This emergency infusion of funds is a measure that I support wholeheartedly. Emergency feeding programs have been working hard before COVID-19. As the last line of defense for families in need, it is critical that we provide support to the families of this city," said Council Member Alicka Ampry-Samuel.
"Met Council and City Harvest have been proud to lead this emergency campaign to make sure New Yorkers have food during this food security crisis. Now, thanks to this $25 million commitment by Mayor de Blasio and Speaker Johnson, we are going to be ready to face it head on. COVID-19 has already caused massive damage to the food pantry system and this funding will go a long way towards not only stabilizing it, but making sure we can meet the demands expected of us in the coming months. New Yorkers should know that we are working around the clock to make sure everyone who wants a meal can get one. New Yorkers always pull together in tough times and this budget commitment reaffirms that we are going to do everything possible to help our communities," said Jilly Stephens, CEO of City Harvest & David Greenfield, CEO of Met Council.
"Food Bank For New York City thanks Mayor de Blasio, Speaker Johnson and the entire New York City Council for their leadership in moving swiftly to ensure emergency funds are available to organizations fighting on the frontlines to protect our neighbors from hunger as we weather this crisis together," said Nicholas Buess, Associate Director, Mobilization & Policy at Food Bank For New York City. "Since the start of the COVID-19 crisis, Food Bank's network of emergency food and community partners have been working tirelessly to address the growing and changing needs within communities across the five boroughs. These funds will help us ensure more meals are available to New Yorkers, including many who are struggling with food insecurity for the first time."
"The challenges from coronavirus/COVID are overwhelming. Making sure New Yorkers have nutritious food is basic and critical. This $25 million commitment will go a long way in this time of need. This is another example of our city's compassion and caring. We are proud of our city's response," said Msgr. Kevin Sullivan of Catholic Charities.
"Citymeals on Wheels applauds Mayor de Blasio and Speaker Johnson for recognizing the critical role food pantries and emergency food providers are playing at this critical time," said Beth Shapiro, Executive Director of Citymeals on Wheels. "We are nourishing those most at risk for Covid-19 and keeping the most vulnerable New Yorkers from slipping into malnutrition. This emergency funding will help ensure this vital safety net remains intact during this crisis."
"God's Love We Deliver thanks Mayor de Blasio, Speaker Johnson, and the entire City Council for this critical food and nutrition support during this crisis. This funding will help all food and nutrition providers meet the urgent need of those seeking food and meals during these uncertain times. Our work is as important as ever, as our clients are New Yorkers who are at greatest risk for COVID-19, mostly elderly and all living with underlying chronic and severe medical conditions," says God's Love We Deliver President & CEO Karen Pearl. "The nutritious home-delivered meals God's Love cooks are critical to their health and well-being, and help them stay at home and out of the hospital. This emergency funding ensures that our ovens can stay hot, our vans can stay on the roads, and our clients can continue to receive the medically tailored nutrition – and love – they receive with each delivery."
---