---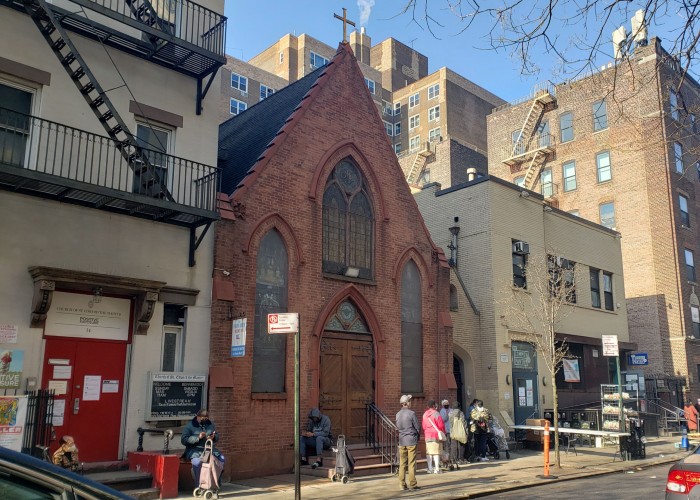 The New York Landmarks Conservancy has announced 18 Sacred Sites Grants totaling $271,250 awarded to historic religious properties throughout New York State.
This includes $40,000 to The Church of St. Edward the Martyr in East Harlem to help fund roof replacement, new gutters and flashing, and masonry repairs.
The Church of St. Edward the Martyr is a one-story, red-brick, gable end, Gothic-revival church completed in 1887 and expanded in 1903.
Founding rector, Fr. Edward Wallace-Neil was one of the leaders of the high church movement, and this is reflected in the church's interior decoration that includes chancel reredos, altar, stained glass, mosaic, marble and metalwork, as well as several figural windows by the J. & R. Lamb studio.
The parish reaches over 10,000 people outside its membership through activities such as the New York Common Pantry, the largest community-based food pantry in the city, El Barrio Angels, Positive Exposure, El Taller, and three Girl Scout troops.
"Our grants are important in maintaining historic religious institutions," said Peg Breen, President, The New York Landmarks Conservancy. "But our assistance also helps these institutions provide vital help to their communities. These 15 recent grantees have food and outreach programs that reach more than 32,000 persons."
"I was overjoyed to learn that The Church of St. Edward The Martyr received a sacred rights grant to continue its vital work in the East Harlem community," said Glenn Hunter, Co-Executive Director at Harlem Cultural Archives. "In order to effectively complement the improvement of the church's existing physical structure, how the church community-based efforts contributed and continue to contribute to the ongoing story of East Harlem must be memorialized and made available for current and future generations."
The Sacred Sites Program provides congregations with matching grants for planning and implementing exterior restoration projects, along with technical assistance, and workshops.
Since 1986, the program has pledged 1,588 grants totaling over $15.2 million to 836 religious institutions statewide.
The New York Landmarks Conservancy
The New York Landmarks Conservancy, a private non-profit organization, has led the effort to preserve and protect New York City's architectural legacy for nearly 50 years.
Since its founding, the Conservancy has loaned and granted more than $54 million, which has leveraged more than $1 billion in 1,850 restoration projects throughout New York, revitalizing communities, providing economic stimulus and supporting local jobs.
The Conservancy has also offered countless hours of pro bono technical advice to building owners, both nonprofit organizations and individuals.
The Conservancy's work has saved more than a thousand buildings across the City and State, protecting New York's distinctive architectural heritage for residents and visitors alike today, and for future generations.
For more information, please visit www.nylandmarks.org.
---