---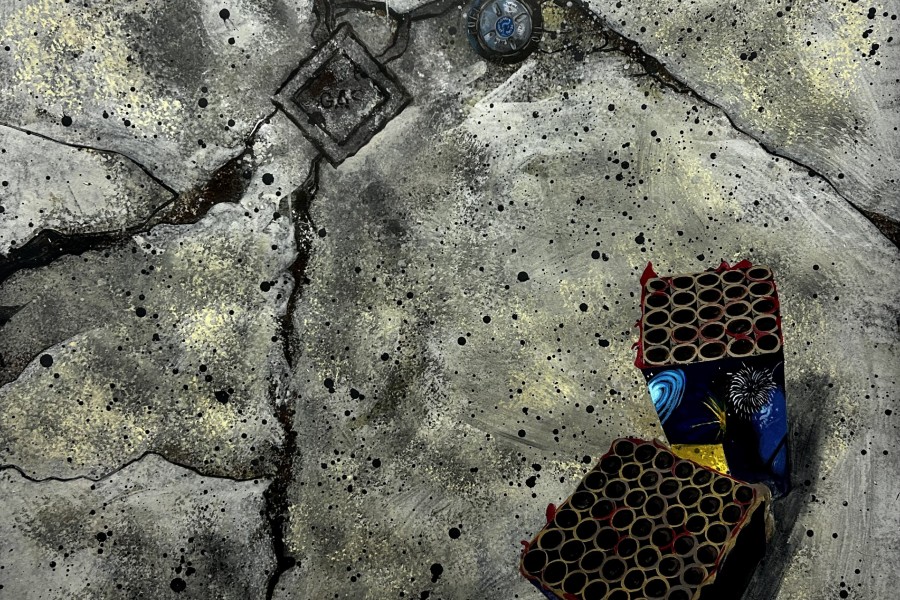 The Children's Art Carnival is proud to present Concrete Realities, a solo presentation of works by artist Dionis Ortiz centering the various stages of his dynamic practice as a multimedia artist.
His work stretches from painting, printmaking, collage, and sculpture –while his commitment to community centered art-making influences the material and subjects. Working with deeply personal ideas and processes Ortiz also honors collective memory that is rooted in his home in Harlem and his Dominican descent.
In Concrete Realities, Ortiz highlights the paradoxes of play, making, and the urban sprawl. Some pieces were made in community, where there is humor and play while others are meant to engage and be played. Simultaneously Ortiz calls for a deeper sense of value in objects that can transform from the everyday lightbulb to a community celebration. Positioning the everyday to be questioned and reconsidered, Ortiz uses found-objects and materials like floor tiles, bottle caps and cigarette buds that are transformed into patterns and colors. Through collage and assemblage the sense of play is engaged but often also considers the undertones of the difficulties and often hidden realities of urban life.
The street scenes and portraits are collages of senses, words, and recognizable moments that present Black and Brown faces. Highlighting a neighborhood that holds youth and joy and also the challenges of systemically hindered communities. In the painting, Concrete Realities, from which the exhibition takes its title, the tension of play and city living is abstracted further. Where the concrete slates are cracked with textured pores and rock; there is a slight hint of the smell that lingers after firecrackers. Showing that growth is possible as grass inches through despite the density of concrete, the will to breath and survive on the surface is clear –the same way that Black and Brown communities have persevered in the city. Painting becomes a meditative action that reflects on memories and the future imagining of a city street or sidewalk where generations of people have and will continue to walk and play.
Ortiz explores the complexity of living in an ever changing, gentrified, and politically dismissive city, he combats the challenges through encouraging curiosity and creativity. His work celebrates creativity that alleviates and ultimately nourishes community and growth. In Concrete Realities, the multimedia installations, paintings, and assemblages invite us to rethink the possibilities that exist every day.
Concrete Realities will be on view at The Children's Art Carnival (62 Hamilton Terrace) from September 23, 2023 – October 31, 2023. An opening reception will be held September 23, 2023, from 5:00 – 7:00 pm EST.
The Artist
Dionis Ortiz received his B.F.A from SUNY Purchase College and his M.F.A from CUNY Hunter College. He was a participant in the Artist in the Marketplace (AIM) Program at The Bronx Museum of the Arts and received a Rema Hort Mann Artist Community Engagement Grant. In 2021 he was a recipient of the City Artist Corps Grant from New York Foundation for the Arts, an Artist in Residence at Sugar Hill Children's Museum of Art and Storytelling, and his mural design was selected by PubliColor for an elementary school in East Harlem.
Curator
Eva Mayhabal Davis is a cultural advocate and curator, collaborating with artists and creatives in the production of exhibitions, texts, and events. Recently the co-curator of 'Bronx Calling: The Bronx 5th Biennial' at The Bronx Museum of Arts and a co-director at Transmitter, a collaborative curatorial initiative in Brooklyn, NY. Her writing has been featured in exhibition catalogs and various art publications. Her work in cultural advocacy and equity is rooted in Indigenous and diasporic dialogues. She is a founding member of El Salón, a creative meetup based on a soulful potluck.
ABOUT THE CHILDREN'S ART CARNIVAL
Since 1969, The Children's Art Carnival has provided arts programs for young people and families in West Harlem and the broader Harlem community. Understanding that the arts are a bridge to learning and to overall competency, CAC's long-standing objective has been to support the development and growth of participants from early ages through adulthood and to provide creative experiences that will engage young people, their families, and community members. We are equally committed to providing professional development opportunities and resources to early-career and emerging artists from Harlem, New York City, and throughout the region.
---