---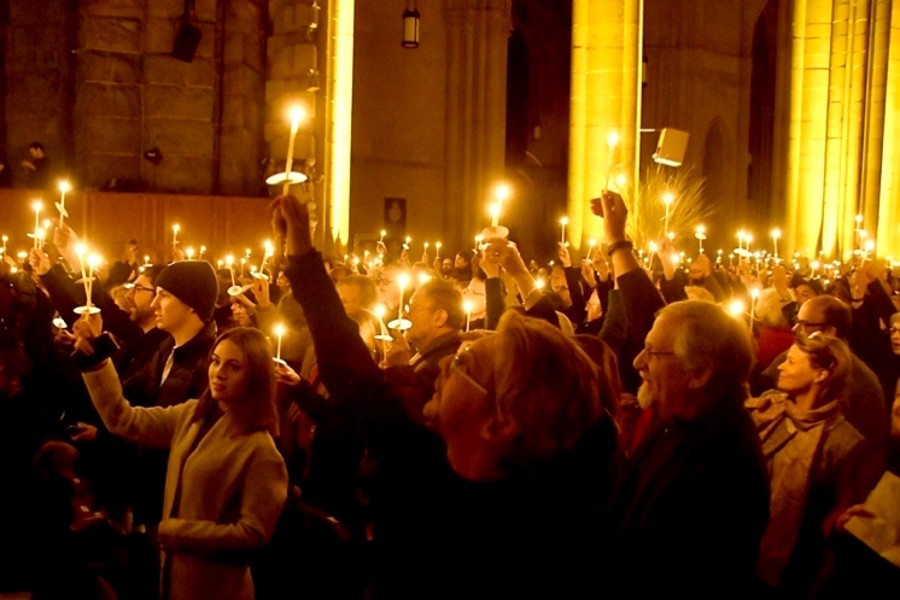 Harlem's Cathedral of St. John the Divine closes out the year with celebration and song with the annual New Year's Eve Concert for Peace.
The event will take place on Saturday, December 31st, 2023, at 7 pm EST, at the Cathedral of St. John the Divine, 1047 Amsterdam Avenue (at 112th Street) in Harlem, NY.
The New Years Eve Concert for Peace, a NYC tradition founded at the Cathedral by Leonard Bernstein in 1984, is a joyous tradition with the music of inspiration and social conscience. After weathering pandemic-related changes to these treasured performances in 2020 and 2021, the Cathedral is delighted to bring the concert back in person this year.
Through the generous support of Mount Sinai Health System, the concert will also be available to Livestream on the Cathedral's website, Facebook page, and YouTube channel.
This year's concert will be hosted by renowned journalist Harry Smith and features the Cathedral Choir and Orchestra with vocal soloists Jamet Pittman, Mary Beth Nelson, Peter Stewart, Halley Gilbert, and Paul D'Arcy. The program includes the world premiere of Joseph Turrin's Lullaby for Vaska, dedicated to the people of Ukraine. The performance encompasses works ranging from Gustav Holst's St. Paul's Suite and J. S. Bach's Dona nobis pacem to David Lang's Make peace and Wang Jie's The Name That Never Dies. Ending the year on a high note of musical togetherness, the concert concludes with the classic spiritual This Little Light of Mine.
The Cathedral gratefully acknowledges the Mount Sinai Health System for its generous sponsorship of the 2022 New Year's Eve Concert for Peace. For tickets and more information on the New Year's Eve Concert for Peace, visit the Cathedral's website.
PROGRAM
Conductors
Harry Smith, host
Mary Beth Nelson, mezzo-soprano
Jamet Pittman, soprano
Peter Stewart, baritone
Halley Gilbert, soprano
Paul D'Arcy, tenor
St. Paul's Suite, Op.29 No.2, Gustav Holst (1874–1934)
Make peace (2016), David Lang (b. 1957)
Lullaby for Vaska (2022 – world premiere), Joseph Turrin (b. 1947)
A Prayer for Ukraine, Mykola Lysenko (1842–1912)
Two Songs
Walt Whitman in 1989, Christopher DeBlasio (1959–1993)
I Chose for You, Daniel Ficarri (b.1996)
Elegy: in memoriam Stephen Lawrence (1999), Philip Herbert
The Name That Never Dies (2022), Wang Jie (b. 1980)
Dona nobis pacem, J.S. Bach (1685–1750) from Mass in B Minor
This Little Light of Mine , trad. Afro-American Spiritual arr. Nolan Williams, Jr. (b. 1969)
Postlude: Symphonie V in F: Toccata, Ch. M. Widor (1844–1937)
About the Artists
Harry Smith is an NBC News Correspondent and recognized as one of television's most distinguished journalists. Before joining NBC News, he hosted the CBS News morning shows The Early Show and its predecessor CBS This Morning for 17 years. Smith served as a senior correspondent for CBS News and substitute anchor for the CBS Evening News, Face the Nation and CBS News Sunday Morning. He also hosted the A&E series Biography. Smith has interviewed a who's who of world leaders from Barack Obama to Margaret Thatcher. He has reported from the Persian Gulf War, the Iraq War and the war in Bosnia as well as live from Tahrir Square the night Hosni Mubarak fell from power. Smith has also reported from disaster zones in the United States as well as Japan, Sri Lanka, Haiti and the Philippines. Smith has won several Emmy Awards and an Edward R. Murrow Award, as well as numerous other honors. He is a proud graduate of Central College in Pella, Iowa. He is married to the remarkable Andrea Joyce, a sports reporter. They are the parents of two fine young men.
Kent Tritle is one of America's leading choral conductors. Called "the brightest star in New York's choral music world" by the New York Times, he is Director of Cathedral Music and Organist at the Cathedral of St. John the Divine in New York City and Music Director of the Oratorio Society of New York and Musica Sacra. An acclaimed organ virtuoso, Kent Tritle is the organist of the New York Philharmonic and performs regularly as an organ recitalist in Europe and across the United States. His discography features more than 20 recordings on the Telarc, Naxos, AMDG, Epiphany, Gothic, VAI and MSR Classics labels. Kent Tritle has been featured on ABC World News Tonight, National Public Radio, and Minnesota Public Radio, as well as in The New York Times and The Wall Street Journal. He is the 2020 recipient of Chorus America's Michael Korn Founders Award for Development of the Professional Choral Art.
Bryan Zaros is a young American conductor recognized for his "strong musical imagination" and "deep sense of musicality and communication." Bryan is the Associate Director of Music & Choirmaster at the Cathedral of St. John the Divine in New York City where he leads the Cathedral Choirs, Orchestra and Brass in liturgical as well as concert performances in the grand space of the world's largest Gothic cathedral. He is also the Music Director of Central City Chorus, Music Director of The Pro Arte Chorale and a frequent guest lecturer at the Manhattan School of Music and at music conferences throughout the USA. Currently he serves on the Board of Directors of the New York Choral Consortium, on the Advisory Board to Music Sacra New York and is a conductor for the American Federation Pueri Cantores.
Recent conducting engagements have included invitations with choirs and orchestras throughout the USA, Europe and South America. Most notably he has conducted ensembles at Alice Tully Hall-Lincoln Center, the National Cathedral in Washington D.C., at American Choral Director's Association Conferences, on the film set at Warner Bros. Studios and at various cathedrals in England including Westminster Abbey, St. Paul's Cathedral-London and Canterbury Cathedral. He is a recipient of several conducting awards and fellowships including an American Prize award in Conducting. For more information about Bryan, visit www.bryanzaros.com
Named one of the top "20 under 30" organists by The Diapason magazine, Daniel Ficarri (b. 1996) is Associate Organist at the Cathedral of St. John the Divine, NYC and a published composer of organ, choral, and chamber music. A dynamic concert artist, Daniel has made appearances in Carnegie Hall and Lincoln Center's Alice Tully Hall under the batons of Marin Alsop, Itzhak Perlman, David Robertson, and James Gaffigan; and he has performed in many of the country's great houses of worship, including St. Patrick's Cathedral in NYC and Christ Cathedral in Garden Grove, CA. The New York Times has featured Ficarri in the "Week's 8 Best Classical Music Moments," and WQXR-FM presented him as part of the 2014 Bach Organ Marathon. Daniel studied the organ with Paul Jacobs at The Juilliard School, where he earned his bachelor's and master's degrees.
A composer of exceeding detail and imagination, Ficarri has been commissioned by organizations from the Madison Symphony Orchestra to the British magazine Choir & Organ. Much of his music is published by E. C. Schirmer and MorningStar, including multi-movement works for solo organ and unaccompanied choral motets. Daniel studied composition privately with Rachel Laurin.
Mezzo-soprano Mary Beth Nelson was recently praised by Opera News for her "ardent, focused, von-Stadean mezzo" in Handel's Atalanta with Juilliard Opera. This spring, she will appear in recitals at Lincoln Center, and in summer 2023, will join the Filene Artists roster at Wolf Trap Opera, singing Siebel in Gounod's Faust and in recital with pianist Steven Blier.
Last season, Ms. Nelson debuted at Lincoln Center's Alice Tully Hall as the alto soloist in the Bach B Minor Mass with the Philharmonia Baroque Orchestra and Maestro Richard Egarr. An advocate of new music, Ms. Nelson was the soloist for the world premiere of Paul Frehner's Sometimes the Devil Plays Fate, which will soon be released on Centrediscs label with the Hamilton Philharmonic Orchestra and conductor Gemma New. Ms. Nelson is a current recipient of the FENDI Vanguard Award. She has won prizes and awards with Career Bridges (2022, 2019), the Loren L. Zachary National Vocal Competition (2021), the Rochester International Vocal Competition (2020), the Metropolitan Opera National Council Auditions (2020, 2014), and is a proud recipient of a Kovner Fellowship at The Juilliard School. She holds a degree from Oklahoma City University and is currently pursuing her Master of Music degree at The Juilliard School.
Jamet Pittman, soprano, earned both B.M and M.M. degrees in Voice from The Catholic University of America. While there, she competed in the Metropolitan Opera National Council Auditions and one of the judges took note and invited her to study in New York at the Manhattan School of Music, where she was a Paul Robeson Scholarship recipient. Since then, Ms. Pittman has performed as a classical soloist and also in professional choral groups, such as Musica Sacra, NY Choral Artists, and the esteemed Choir of St. Ignatius Loyola. She has also performed on Broadway (Baz Luhrmann's La Bohème), and in non-classical genres with the group Just Friends (specializing in music from the African-American experience).
More recently, Jamet was part of 3 Mo' Divas, which was showcased in a PBS special, and showed her ability to sing several styles, including opera, musical theater, spirituals and R&B. In 2019, she performed as part of Jason and Alicia Hall Moran's Work Songs exhibit at the Biennale Art Festival in Venice, Italy. Jamet is honored to be a member of the professional Choir of the Cathedral of St. John the Divine.
Peter Stewart has been a member of the Cathedral choir for many years, arriving the same time as Kent Tritle. Before that, he was a frequent visitor here, singing many Messiahs with Johnson Flucker and featured on the Christmas Traveler album with Dorothy Papadakos. Earlier this season, Peter performed Drowning, a new chamber opera by Philip Glass. In it, he sang with beloved colleague from the cathedral Greg Purnhagen. He also worked on the development of a new opera La Balloniste by Lisa Bielawa.
Besides touring worldwide in many different projects with the Philip Glass Ensemble, Peter worked extensively with Lee Hoiby, recording his songs for baritone for the CD Conversations with a Silent Man with the composer at the piano. He toured various operas with jazz greats Leroy Jenkins, Julius Hemphill and Anthony Braxton.
Peter has performed much Early Music. He is a longtime member of Pomerium, touring for many years with the Waverly Consort and the Philharmonia Baroque Orchestra. Peter is on the voice faculty at Montclair State University. He lives in Manhattan with his wife María de Lourdes Dávila and their daughter Beatriz.
Great Music in a Great Space
Revived in 2011, Great Music in a Great Space reprises the legendary concert series first held at the Cathedral in the 1980s. Great Music in a Great Space presents choral, orchestral, and instrumental music, in the magnificent, deeply spiritual setting of the world's largest Gothic cathedral. Concerts take place in many locations: the vast space of the Crossing, the more intimate setting of the Great Choir, and the exquisite Chapels of the Tongues. The beloved holiday traditions of the Christmas Concert and New Year's Eve Concert for Peace are an integral part of our concert series.
The Cathedral
The Cathedral of St. John the Divine is the Cathedral of the Episcopal Diocese of New York. It is chartered as a house of prayer for all people and a unifying center of intellectual light and leadership.
During the COVID-19 pandemic, the Cathedral has responded to changing needs in the local community and across the city and state. People from many faiths and communities worship together in daily services held online and in person; the soup kitchen serves roughly 50,000 meals annually; social service outreach has an increasingly varied roster of programs to safely provide resources and aid to the hardest-hit New Yorkers; the distinguished Cathedral School prepares young students to be future leaders; Advancing the Community of Tomorrow, the renowned preschool, afterschool and summer program, offers diverse educational and nurturing experiences; the outstanding Textile Conservation Lab preserves world treasures; concerts, exhibitions, performances and civic gatherings allow conversation, celebration, reflection and remembrance—such is the joyfully busy life of this beloved and venerated Cathedral.
---