---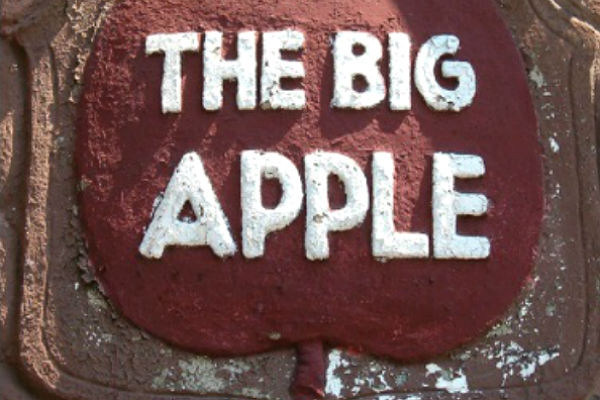 In 1934, the Big Apple Night Club founded by Bertram Errol Hicks opened in Harlem on the northwest corner of West 135th Street and Seventh Avenue in Harlem, NY.
The Big Apple Night Club was across the street from the Savoy and his wife the legendary Adelaine Hall-Hicks was the official business manager.
One of the club's most enduring legacy was the sign set in the fake stone exterior of the building — a brown stucco coat of arms featuring an upside-down apple painted red and overlaid in white letters.
There are accounts from 1935 of the jazz club in The Amsterdam News that stated that it was run by "sportsmen" (bookies traced to horse racing) and was highly visited by people listening on the radio to blow-by-blow descriptions of Joe Louis' fights.
Related: Get more of the History of Harlem at the Harlem World Magazine Facebook Harlem History page.
There are Harlem residents who said that the Big Apple was a number joint. It's said that the name was supposedly based on the apple cart salesman along 135th Street from the Harlem pier on the east side.
"Apple" and "Big Apple" quickly entered the famous slang lexicon of Harlem in the 1930s. A film short called The Big Apple came out in 1939, with an all-black cast featuring Herbert "Whitey" White's Lindy Hoppers, with Harlem's top ballroom dancers in the Swing Era.
In a book published the same year, bandleader Cab Calloway used the phrase "Big Apple" to mean "the big town, the main stem, Harlem." The meaning of "the main stem," was Broadway slang for the "main dino."
The Big Apple Night Club opposite the better-known club Small's Paradise, which, after a number of owners (including the basketball great Wilt Chamberlain), closed in 1986.
Today, decades after the music and dancing stopped the club has been transformed into a Popeye's Chicken and Biscuits fast food business.
Photo credit: Photograph from Harlem World Magazine Gear archives.
---