---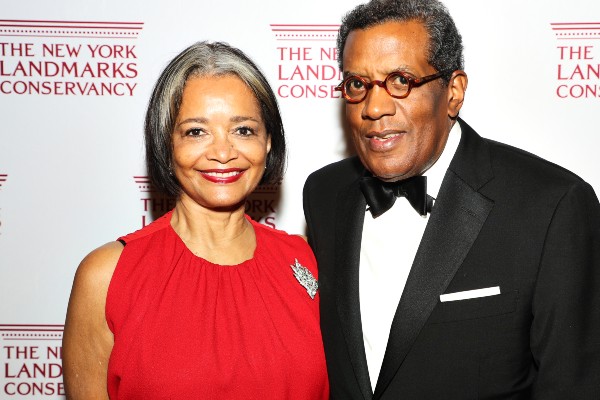 On Wednesday, November 3, 2021, The New York Landmarks Conservancy hosted its 28th Annual Living Landmarks Celebration at The Plaza. 
This year's honorees were Marina Kellen French, vice president of the Anna-Maria and Stephen Kellen Foundation; David R. Jones, President and CEO of the Community Service Society of New York; devoted community leader and philanthropist Patricia D. Klingenstein; Gilbert C. Maurer, Hearst; real estate titan Morton Olshan, and Jonelle Procope, President and CEO of The Apollo Theater.  The event raised more than $1.2 million for the nonprofit organization with 250 guests in attendance.
The following previous honorees also participated: Stephen S. Lash as Master of Ceremonies and Gordon J. Davis, Ronnie Heyman, Leni & Peter May, James L. Nederlander, Daryl Roth & Jordan Roth and Robert E. Wankel as Honorary Co-Chairs for the evening.
Guests who gathered to celebrate the year's extraordinary honorees included:  Cece and Lee Black, Maggie Bult, Joyce Cowin, Gordon J. Davis, Boo Grace, Mai Hallingby Harrison, Ghislain d' Humieres, Wolfram Koeppe, Laurence Leeds, Jr., Wendy Lehman Lash, Louise Mirrer, Emily Rafferty, Franck Sciame, Cynthia and Thomas Sculco, Wendy Silverstein, Elizabeth Stribling and Guy Robinson, Barbara Tober, Caroline Wamsler, Ian Wardropper, Arete Warren, Kathryn Wylde, and Kulapat Yantrasast.
The New York Landmarks Conservancy honors distinguished New Yorkers from all professions as "Living Landmarks" for their contributions to the City.  The Conservancy, a private non-profit organization, has led the effort to preserve and protect New York City's architectural legacy for nearly 50 years.
Since its founding, the Conservancy has loaned and granted more than $54 million, which has leveraged more than $1 billion in 1,850 restoration projects throughout New York, revitalizing communities, providing economic stimulus and supporting local jobs.
The Conservancy has also offered countless hours of pro bono technical advice to building owners, both nonprofit organizations and individuals.  The Conservancy's work has saved more than a thousand buildings across the City and State, protecting New York's distinctive architectural heritage for residents and visitors alike today, and for future generations.  For more information, please visit www.nylandmarks.org.
Photo Caption & credit: Living Landmark Honoree Jonelle Procope, President and CEO of The Apollo Theater, and her husband Fred Terrell. Photo credit Noel Sutherland
---