---
The Off-Broadway world shone brightly at the 38th annual Lucille Lortel Awards, as stars from Harlem to Harare gathered at NYU Skirball for the highly anticipated event.
Hosted by a star-studded lineup including Kevin Cahoon, D'Arcy Carden, Crystal Lucas-Perry, Bonnie Milligan, Arian Moayed, and Tamara Tunie, the ceremony celebrated the best of Off-Broadway talent in 15 categories, along with four special honorary awards.
The Off-Broadway League and Lucille Lortel Theatre, with support from TDF, produced the awards show, which saw "Wolf Play" triumph with an impressive five awards, including Outstanding Play, Director, Ensemble, Scenic Design, and Sound Design. Meanwhile, the hilarious Celine Dion-inspired musical "Titaníque" made a splash with three accolades, including Outstanding Musical, Outstanding Lead Performer in a Musical, and Outstanding Costume Design.
Oskar Eustis accepted the award for Outstanding Revival on behalf of The Public Theatre's production of "A Raisin in the Sun." In a touching moment, the Edith Oliver Service to Off-Broadway Award was presented to Victoria Bailey, in honor of her more than 20 years of service as Executive Director of TDF.
The night's special honorees included Lifetime Achievement Award winner Stephen McKinley Henderson, Playwrights' Sidewalk posthumous inductee Ntozake Shange, and A.R.T./New York, celebrated for their impressive Body of Work.
Produced by the Off-Broadway League's Lortel Awards Producing & Administration Committee and the Lucille Lortel Theatre, with direction from acclaimed writer/director Michael Heitzman, the ceremony was determined by a voting committee comprised of representatives from the Off-Broadway League, Actors' Equity Association, Stage Directors & Choreographers Society, United Scenic Artists, theatre journalists, academics, and other Off-Broadway professionals.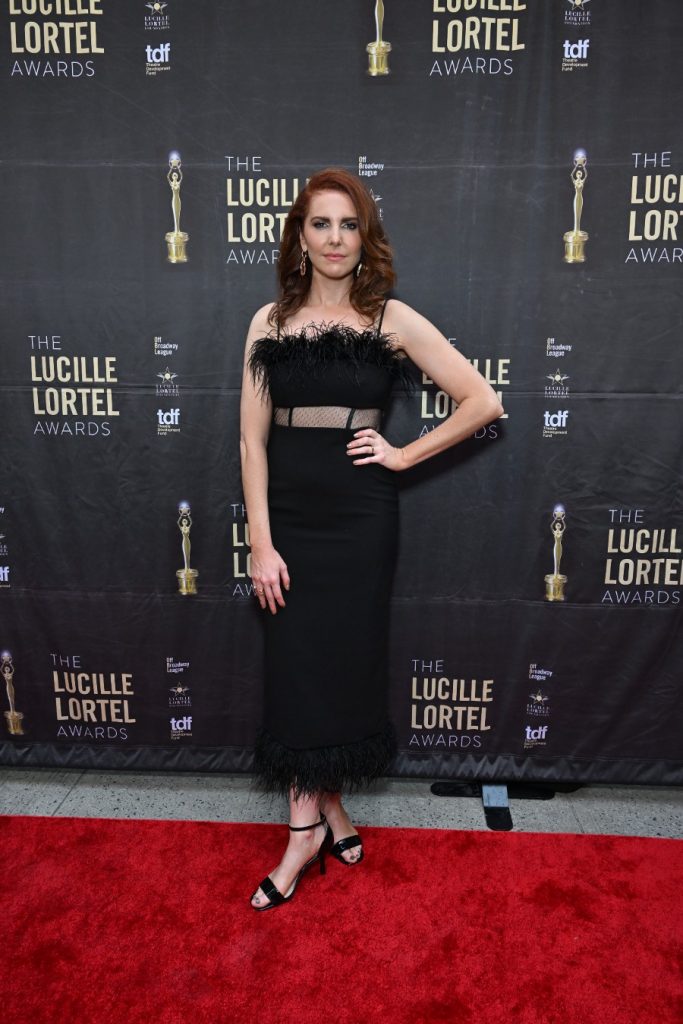 The Lucille Lortel Awards
The Lucille Lortel Awards for Outstanding Achievement Off-Broadway were created in 1985 by the Off-Broadway League and are produced by the Off-Broadway League and the Lucille Lortel Theatre. The Lortel Awards recognize excellence in Off-Broadway by honoring the invaluable contribution of artists to the theatre community. Representatives of the Off-Broadway League, Actors' Equity Association, Stage Directors & Choreographers Society, United Scenic Artists, and the Lucille Lortel Theatre, in addition to theatre journalists, academics, and other Off-Broadway professionals, serve on the Voting Committee. Awards may be given in the following categories: Play, Musical, Solo Show, Revival, Alternative Theatrical Experience, Director, Choreographer, Lead Performer in a Play and Musical, Featured Performer in a Play and Musical, Ensemble, Scenic, Costume, Lighting, Sound, and Projection Design. The following honorary awards may also be given: Lifetime Achievement Award, Body of Work (awarded to an institution), Edith Oliver Service to Off-Broadway Award, and induction onto the Playwrights' Sidewalk in front of the historic Lucille Lortel Theatre in New York City. For more information, please see www.lortelaward.com.
The Off-Broadway League
The Off-Broadway League was founded in 1959 to foster theatrical productions produced in Off-Broadway theatres (productions in Manhattan in venues with 76-499 seats), to assist in the voluntary exchange of information among its members, and to serve as a collective voice of its membership in pursuit of these goals. In recent years the League has grown to represent an average of 150 individual members and theatres and 100 not-for-profit and commercial shows per season.
The Lucille Lortel Theatre
The Lucille Lortel Theatre's mission is to foster both new and established artists, increase awareness and appreciation of Off-Broadway, and uphold fair and equitable business and artistic practices in service of creating a larger, more diverse community of theatre makers and audiences. The Theatre most recently produced "Dangerous Acts" in partnership with Howard University, currently streaming on All-Arts' House Seats program. This season the company also produced Four Saints in Three Acts, performed by David Greenspan, and co-produced Kate Berlant's sold-out one-woman show Kate, both New York Times Critic's Picks. Its programs include NYC Public High School Playwriting Fellowship, now in its fourth season, Fellowships in NYC Theatre at Bennington College, The Lortel Theatre Music Theatre Lab: Immigrant Experiences at The New School, Lucille Lortel Awards and Playwrights' Sidewalk, Internet Off-Broadway Database (IOBDB.com), and Non-Profit Theatre Strategic and Management Services.  Under the direction if its two new Artistic Directors, Caridad Svich and Michael Heitzman, the company will be announcing more new programs in support of playwrights, composers and other theatre artists in the near future. For more information, please visit www.lortel.org.
TDF
Founded in 1968, TDF (formerly known as Theatre Development Fund) is a not-for-profit service organization dedicated to bringing the power of the performing arts to everyone. TDF's mission is to sustain live theatre and dance by engaging a broad and diverse audience and eliminating barriers to attendance. We fulfill our mission with a variety of programs that expand access, cultivate communities, and support the makers of the performing arts. We are known for our theatregoing programs, including the TKTS by TDF Discount Booths and TDF Membership program; Accessibility programs (including open captioning, audio description, Autism Friendly Performances and the Veterans Theatregoing Program), Education & Community Engagement programs (serving more than 12,000 New York City students annually and thousands of underserved individuals), as well as the TDF Costume Collection Rental and Research Programs. During the COVID-19 theatre shutdown, we continued to serve our constituents by creating virtual adaptations of our programs via Zoom and other streaming platforms. TDF envisions a world where the transformative experience of attending live theatre and dance is essential, relevant, accessible and inspirational. To learn more about TDF, go to tdf.org. Facebook/Instagram/Twitter: @tdfnyc.
NYU Skirball
NYU Skirball, located in the heart of Greenwich Village, is one of New York City's major presenters of international work, and has been the premier venue for cultural and performing arts events in lower Manhattan since 2003. The 800-seat theater, led by Director Jay Wegman, provides a home for internationally renowned artists, innovators, and thinkers and presents ground-breaking events ranging from re-inventions of the classics to cutting-edge premieres, in genres ranging from dance, theater and performance arts to comedy, music and film. NYU Skirball's unique position within New York University enables it to draw on the University's intellectual riches and resources to enhance its programming with dialogues, public forums and conversations with artists, philosophers, scientists, Nobel Laureates, and journalists. nyuskirball.org.
The Entertainment Community Fund
The Entertainment Community Fund, formerly The Actors Fund, is a national human services organization that addresses the unique needs of people who work in performing arts and entertainment with services focused on health and wellness, career and life, and housing. Since 1882, the Fund has sought to ensure stability, encourage resiliency and be a safety net for those who shape our country's cultural vibrancy. Learn more at entertainmentcommunity.org.
For all the latest news and updates, be sure to visit www.lortelaward.com, follow the Lortel Awards on Twitter (@Lortel_Theatre), Instagram (@lorteltheatre), and Facebook (Lucille Lortel Theatre | New York NY), and subscribe to the Lortel Awards YouTube channel.
Photo credit: Lucille Lortel Theatre.
Related Articles
---