---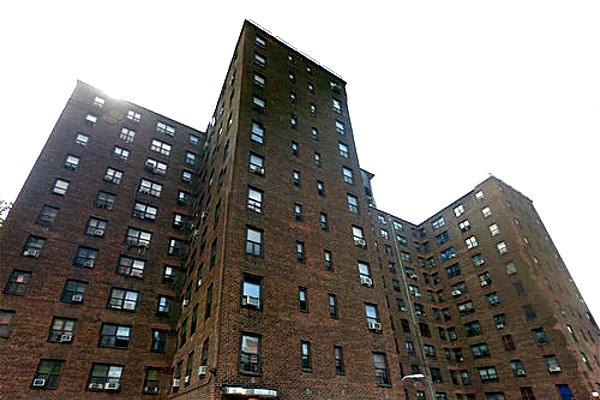 On Tuesday, March 23, 2021, a coalition of New York City Housing Authority (NYCHA) residents, organized NYCHA workers.
Tenants' rights advocates and supporters rallied to protest NYCHA's latest plan to avoid its obligations as a steward of New York City's public housing via its "Blueprint for Change."
The Blueprint is NYCHA's plan to create a separate state authority, distinct from NYCHA itself, to which NYCHA will lease its land and buildings using 99-year ground leases. NYCHA is calling this proposed new authority a "Public Housing Preservation Trust."
The Trust plans to raise funds for the repair of the neglected buildings that it will lease through a combination of private debt for which it will use NYCHA properties as collateral and converting the properties to Section 8 to access enhanced "tenant protection" vouchers.
If the Trust is unable to make payments on the debt that it takes on, the creditors will have the power to foreclose on the Trust's lease of the properties and replace the Trust with a private landlord.
NYCHA is pushing this plan forward during a pandemic that has disparately impacted public housing residents, proving more deadly for them than for other New Yorkers.
The Trust cannot be created without the State Legislature passing its creation into law. In December 2020, the New York State Assembly held a virtual public hearing on a bill that would create the Trust.
Hundreds of residents and advocates, including many who marched today, testified at that hearing with a clear message to Assembly Members: "Do not give NYCHA the power to create this Trust."
As of today, legislation for the Trust has not been reintroduced this legislative session in the State Assembly or Senate and vouchers have not yet been approved by the U.S. Department of Housing and Urban Development (HUD).
The Blueprint is intended to include all the units that NYCHA does not convert to private management through the Rental Assistance Demonstration (RAD) and Permanent Affordability Commitment Together (PACT) programs.
Under RAD and PACT, NYCHA leases its land and buildings to private property managers who convert them to Section 8.
If NYCHA goes ahead with both plans, it will eventually lease away its entire portfolio of properties, ending public housing in New York City as we know it.
NYCHA is currently under court-appointed oversight: a federal monitor to monitor conditions and operations in general and an ombudsperson to monitor its responses to resident complaints of mold and leaks.
"Although NYCHA plans to remain the property manager for properties it leases to the Trust, the Trust will not be regulated as a public housing authority under federal law," said Paula Segal, staff attorney at TakeRoot Justice. "Its properties will not be subject to oversight by the court-appointed monitor or the settlement that residents got when they sued NYCHA for its mismanagement of mold and leaks. The Blueprint will expose NYCHA properties to the risk of having them foreclosed on by private lenders, while actually leaving the same NYCHA that has been neglecting residents' homes for decades as the property manager, with less oversight than NYCHA has now. There is nothing in the Blueprint aimed at improving NYCHA's maintenance of New York's public housing."
"Everyone must unite and resolutely oppose the privatization of public housing and expose [NYCHA CEO and Chair Greg] Russ' scam," said CAAAV Asian Tenants Union member Ms. Lim, translated from Cantonese. "His beautiful words deceive tenants. His words are like beautiful eggs. The outside is beautiful, but the inside is rotten and villainous. We cannot accept it. Now is a very critical moment. We will lose everything if we don't protest strongly. Our predecessors fought for us, and we must also fight for the next generation to defend our homes, bring stability to our communities and struggle together!"
"Privatization is a false dream that NYCHA's CEO Greg Russ is trying to sell us," said Cathy Bladykas, Queensbridge North resident and Steering and Executive Committee member of Justice For All Coalition. "I attended three to four of the Blueprint town hall meetings, and he speaks in code; he uses investment terminology intended to confuse us and get us on board with a plan that will eventually sell off our homes and displace us. We are dealing with years of failure and neglect, and we need and deserve public funding now."
"Today, CAAAV Asian Tenants Union and other groups are here to protest against the so-called 'Blueprint for Change' NYCHA Chairperson Russ introduced last year," said the CAAAV Asian Tenants Union in a written statement distributed at the rally. "Its purpose is to use our homes as collateral assets and take on private debt, changing the status of public housing forever. They will cannibalize state-owned assets for private interests, threatening to drive us out of our homes and onto the streets. If public housing is gone, no one can escape the rubble. Only we can save ourselves, and we must take it seriously. We hope that this action will garner support from allies, elected representatives, and the media. As long as everyone unites to fight privatization, we can win environmentally friendly, safe, and sustainable homes."
"Today, we stood together in front of NYCHA's executive offices," said Brenda Temple, Committee for Independent Community Action. "It is important that we rally here. We are making the point to the executives that we are people with families who work and contribute to the City and that we deserve to live with dignity. For too long, NYCHA has failed in its responsibility to provide decent living conditions. And now, they have invented schemes like the Blueprint and PACT to cover up their incompetence and negligence by turning over our homes to developers who want to profit. We are here to stand united in our opposition and to continue building power towards resident management. Rather than react to what NYCHA offers us, we must create our own organizations so that NYCHA must react to us, come to our table."
"NYCHA knows that now is not the time to be pushing through another complicated alternative funding source for public housing and today we're making it clear that we won't stand for it," said Mu'nir Smith, organizer at Good Old Lower East Side (GOLES). "Tenants must be at the forefront of these decisions and so many are being left behind due to a lack of access to technology."
"These problems are not new and have been further amplified by the advent of the COVID-19 pandemic; and NYCHA and the City of New York have again descended into avoidable negligence of routine maintenance, repairs, and safety matters, while proposing a major 'BLUEPRINT and TRUST' reorganization," said Daniel Barber, chair of the Citywide Council of Presidents of NYCHA resident organizations. "Even with the federal monitor overseeing NYCHA, this current ambitious agenda to restore and repair the NYCHA is not reaching acceptable goals. We have seen more than two decades of 'Plans to Preserve, and Blueprints for Change' with no progress. We do not support these current proposals, and would like to meet with the elected officials to discuss the next steps for our residents and their constituents, to avoid another decade of failure."
"It is shameful that during a global pandemic, NYCHA is very adamant in pushing their 'Blueprint.' We are sick and tired of all their privatization schemes," said Saundrea I. Coleman, co-founder of the Holmes-Isaacs Coalition and the 1NYCHA podcast. "The decades of systemic failures and neglect by the New York City Housing Authority should be criminally investigated. It is dangerous to live in New York City public housing developments — our physical health is put at risk daily due to the inhumane and unsanitary conditions. We desire for our homes and the infrastructure to be preserved, while still keeping public housing public."
"Those of us who work at NYCHA have seen our jobs outsourced to private consultants for years, at great expense, while the number of workers and resident hires shrinks," said a representative of the NYCHA Union Coalition. "Privatization always means making corporations rich and cutting vital services, whether it's public health, transportation, schools, education or housing. We have to keep public housing public. RAD is privatization, the Blueprint is privatization and private money always comes with strings attached."
"For any plan to preserve public housing in New York City to be successful, its residents must be included in the process and participate in decision-making," said Residents to Preserve Public Housing in a statement. "A top-down approach that leaves residents scrambling for answers will not only create panic and fear amongst the people who call NYCHA home, it reminds us of the bad faith we've seen from policymakers and politicians in the past. We expect that NYCHA and our local elected officials will embrace the opportunity to work with us. These are our homes and nothing will happen to us without us."
"The NYCHA Blueprint plan was developed without sufficient input from NYCHA residents and creates too much uncertainty about the future of our public housing stock and how it would be managed," said New York State Senate Deputy Leader Michael Gianaris. "The desperation to do what is necessary to fix NYCHA should not lead to the adoption of a plan that could make things worse if not developed properly."
"This is not the time to be shortchanging critically-needed repairs and improvements across NYCHA properties, but that is exactly what the NYCHA Blueprint proposes," said New York State Assembly Member Yuh-Line Niou. "This plan privatizes public housing and encourages the minimum investment in maintenance and upkeep, disproportionately affecting the services our most marginalized residents depend on every single day. Instead, we should be supporting our public services with public funds that guarantee a decent standard of living."
"The New York City Housing Authority Blueprint's proposal has serious deficiencies and can't move forward," said NYS Assembly Member Harvey Epstein. "I am extremely concerned that NYCHA is trying to 'inform' residents of a proposal during a pandemic without meaningful input. The Blueprint proposal falls short in many ways: NYCHA residents did not develop this plan and the protections for residents under a trust either don't exist or are unclear. Investing in public housing means keeping public housing public and ensuring residents are calling the shots. Under a new federal administration and Democratic makeup in the U.S. House and Senate, we have a great chance to win billions of dollars for capital improvements under [U.S. Rep. Nydia] Velázquez's Public Housing Emergency Act. Let's make that happen."
"We have an obligation to public housing residents to provide a solution that will increase their quality of life and provide remedies to their ailing living conditions," said NYS Assembly Member Khaleel Anderson. "NYCHA residents should not have to choose between losing protections afforded to them by the Baez v. New York City Housing Authority, in exchange for habitable living conditions. This is why we must say no to misguided privatization and hold the federal and State government accountable for decades of disinvestment in our communities. The funding for public housing should be a top priority, as public housing improves economic activity and the lives of residents living in public housing."
---