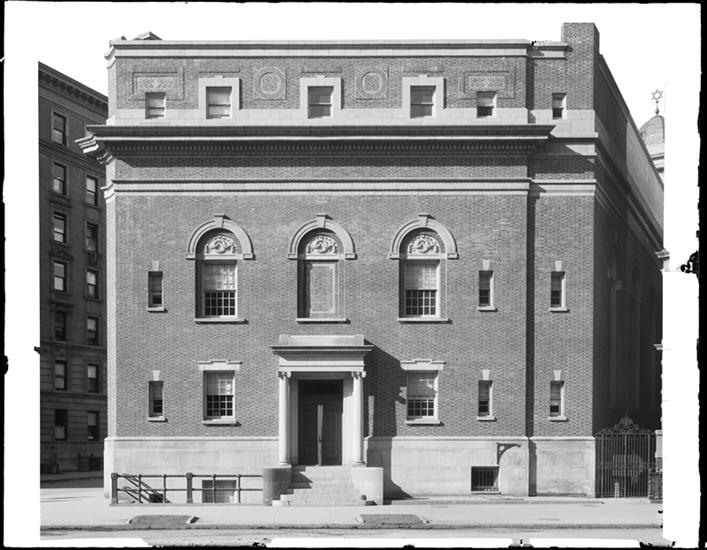 View from West 114th Street at the corner of 7th Avenue (re-named Adam Clayton Poell Blvd., today), Temple Ansche Chesed Synagogue rear in Harlem, New York, 1910.
"Ansche Chesed was at the vanguard of the lay-led prayer group movement that sparked an explosion of independent minyans in West Side synagogues." –– The Jewish Week
The congregation was founded in 1828 by a group of German, Dutch and Polish Jews who split off from Congregation B'nai Jeshurun. By the time the congregation erected the building on Norfolk Street on Manhattan's Lower East Side that is now the Angel Orensanz Center in 1850, there had been further secessions and the congregation was composed of immigrants from Germany. It was also the largest in the United States.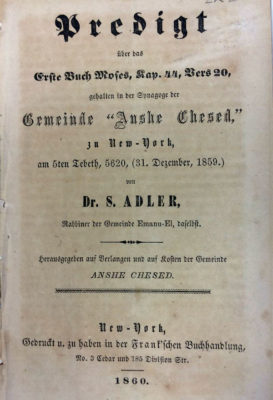 In the 1870s, the congregation merged with Temple Emanu-El, but by 1881 the more traditional German Jews of Ansche Chesed had reformed, been joined by newer immigrants, and were meeting in Yorkville at Lexington Avenue and 113th Street.
In 1908, the congregation was part of the movement of upper-middle-class New Yorkers to the newly fashionable neighborhood of Harlem. The congregation opened a handsome, brick, Greek revival Temple Ansche Chesed, at Seventh Avenue and 114th Street.
In 1928, the congregation again followed fashion, from Harlem to the even newer Upper West Side of Manhattan, opening its present Byzantine revival building at West End Avenue and 100th Street. The architect was Edward I. Shire.
Photo credit. 1) Museum 2) German sermon delivered by Rabbi Samuel Adler to the Ansche Chesed Congregation in 1860. (From the Library of the Leo Baeck Institute New York, call number r 785.). 3) Temple Ansche Chesed. Via source
___________________________________
Related Articles